Joseph Colonel (EE '15)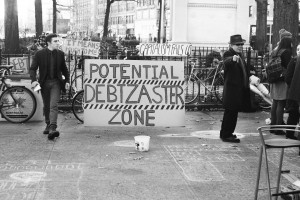 "That's a valid argument, that's not what they care about. That's not how they think.
"We can't have a conversation like that. They get heated."
"Look at them, how they can get away with doing that for three days."
"It makes me mad, I have so much work to do. They're not doing anything. #artists #assholes"
These are a few of the comments I've heard made by students in the New Academic Building regarding the people protesting inside the Peter Cooper Suite and the people supporting them in front of the Foundation Building. That these comments have been lifted out of context is irrelevant. To a passerby these statements seem inflammatory, divisive, and ignorant. It is surprising and upsetting to hear such words come out of the mouths of students attending one of the top undergraduate engineering colleges in the country. It is disturbing and disappointing to hear these words spoken by my colleagues and peers.
These types of statements spewed from "both sides of the issue" embody a more startling trend I have noticed since entering the Cooper Union last fall: engineering students disregarding the opinions and intellect of art students. Discourse and collaboration between the Art, Architecture, and Engineering schools cannot happen until students abandon this type of rhetoric and attempt to uphold mutual respect and understanding for their peers.
The time for sarcasm and jokes in legitimate discussion has long since passed. Whether or not it ever existed I leave up to you. We as students owe it to one another to uphold a policy of honesty and transparency in conversation, both face to face and online, should we expect any sort of exchange of ideas or collaboration to exist between students.
Shouting across the lobby of the New Academic Building at one another or putting up posters that mocking claim that we can summon the ghost of Peter Cooper who will shit out enough money to solve Cooper's financial troubles should we wish hard enough do nothing but strengthen the bi-partisan trend overtaking the Art and Engineering schools.
As said by Kurt Vonnegut, "We are what we pretend to be, so we must be careful who we pretend to be."
Healing this apparent divide between the Art and Engineering schools begins with the recognition that anyone you talk to or talk about is a human.
Like you, these people were conceived in some manner, and have spent the entirety of their lives on or near the surface of the Earth, where they have grown up and accumulated life experiences that have shaped them into the people they are today. Referring to the people in the Peter Cooper Suite and those supporting them outside the Foundation Building as "the artists" is not only fallacious but also dehumanizing. As one person told me, "We shouldn't let our interests define us. I'm a Cooper Union student before I am a Cooper Union Art Student."
On the topic of Cooper's Future, that same person went on to say, "It would be unfair to expect everyone to think the same." In a time where the future of our institution is uncertain, it is ludicrous to believe that everyone will come to the same conclusion as to how to protect it. Respect these opinions, for that is all they are: opinions.
Engineers, artists, and architects are all creators based around certain guiding principles. Engineers typically design with practicality and efficiency in mind. Some artists may create in the name of aesthetics or provocation. Some architects design in the name of progress. It must be recognized by everyone that each of these disciplines has its merits and its place. By no means should any be belittled; these differences should be celebrated and explored by each party individually. Some may see how a wider scope during the creative process can produce beautiful results.
I applaud the action taken by Unify Cooper Union, a group created by Rob Brumer (ChE '14) and dedicated specifically to generating interschool dialogue and collaboration. The group hosted an event named "Common Ground," held on December 6th. The event was created by Brumer and hosted by Caleb Wang (EE '13). The Facebook page for the event states:
"As artists, architects and engineers, we all love our school. When things get heated it is hard to remember [what] we all have that in common. This event is about trying to understand each others' perspectives by getting to know one another and why we are passionate about what we do.
"We will do this by splitting up into small groups of 5 or 6, ideally with at least one person from each school in each group. After a brief introduction from representatives from all three schools, the groups will go through the studios, classrooms, and labs to collaborate about the engineering, art, and architecture projects that we are all working on."
The event received nothing but enthusiasm and praise from those that attended. Talks of student-run courses and lectures to be held for students from all three schools have been met with the same response. I hope that this movement pans out, and that it is not simply a moment of clarity to be lost among the commotion of daily Cooper life.
Everyone has the well being of the Cooper Union at the bottom of their hearts and the forefronts of their minds, of that I am certain. Hopefully a revised rhetoric will allow more fruitful dialogue to exist between all members of the Cooper community.
Photos by Jenna Lee (ME'15)