Caroline Yu (EE '15)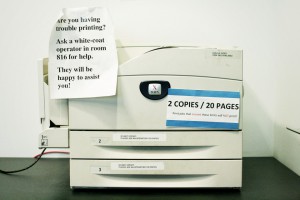 The Cooper Union Computer Center serves as a place every Cooper student can use to print out what they need. Fortunately, after the decrease of operators working per hour in the computer center, the amount of printing problems has not increased. However, around each printer, students have noticed the piles of paper that were printed but not picked up. Not only is it wasteful, Computer Center Student Manager Alexander Erb, says that because many of the papers left were printed double-sided, the CUCC could only throw these documents away.
The CUCC has now instituted a printing page limit. The biggest issue was the amount of printed pages left at the CUCC last semester. It was noticed that "more students seemed to have found their books online in the past couple of years and end up printing multiple copies and only taking one of them." Alexander Erb also believes that "one thing people don't seem to realize is [that there] is a small fee for each page printed that Cooper takes care of. And now that people are printing out textbooks, they're leaving Cooper to pay for their books."
Although there are only signs at each printer, the new limit is enforced by the means of a new system where printing several copies of the same document or a document over twenty pages is not allowed. If this new limit system works, the CUCC will not have to consider other options where students would have to pay an extra fee for printing or have a printing page limit as other colleges do.
Alexander Erb has advice for Cooper students: "print double sided when you can, try to print in black and white whenever possible, don't print textbooks all at once [it is] easier if you just printed portions you need every few weeks, and only print out sections needed for your class." If you already have pressed the print button at a computer, don't press it again unless you are positive the printer did not receive the printing request!
Photos by Jenna Lee (ME'15)