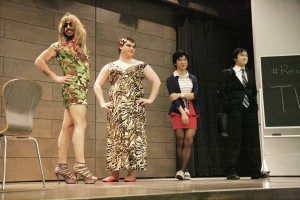 Josephina Taylor Conquistadora (EE '15)
On Thursday, March 29, Cooper Union's GLASS (Gay Lesbian and Straight Spectrum) club held a drag race in the Rose auditorium, and we ain't talkin' bout no cars Miss Thing.
The anticipation was mounting as the minutes ticked by. Hercules and Love Affair played through the speakers of the Rose Auditorium, failing to satiate the appetite of an audience that filled nearly half of the space.
A picture of RuPaul, drag queen extraordinaire, shined on the projector and smiled upon the artists and engineers waiting for the show to begin. The music stopped, and the audience began to shift, itchy. It was supposed to start at eight, right?
A petite Asian girl came on to the stage and clumsily made her way to the podium, wearing a form fitting grey dress, black leggings, heels, and a blonde bob with fierce bangs. The audience erupted into applause, some stamping, some brought nearly to tears with laughter.
The girl flipped her hair, put a hand on her hip, and introduced herself: "Hi everybody, my name is Lulu Lemon, and welcome to Cooper Union's first ever Drag Race!"
Emcee Lulu Lemon, four drag queens and one drag king, all sickening, left an audience that filled half the Rose Auditorium gagging on their eleganza. Lulu Lemon, Rosie, Erika, Benedick O. Steele, and Harry Vagina stomped the stage, kicking off the drag race with a runway walk to RuPaul's "Cover Girl (Put the Bass in Your Walk)."
Events of the night included a literal race around the Rose Auditorium, a lipsync to Carly Rae Jepson's "Call Me Maybe," a group twerk to Azealia Banks's "212", and a pole dance. There were more than a few standout moments: Erika, serving up middle aged Asian mama realness, conquered the lap dance competition, leaving Benedick O. Steele covered in lipstick; Rosie's flawless harassment of the audience, complete with winding and grinding on the mainstage; Benedick O. Steele giving all the queens a turn.
Most impressive, was Harry Vagina's multiple surprise wardrobe changes, transforming her outfit from red carpet couture to daytime drag to Kinbaku swimsuit fierceness.
After all was said and done, the audience voted Harry Vagina as the winner, who won an Amazon gift card. The night was great fun, a welcome change from the doldrums of an often busy and flustered existence here at Cooper. Many look forward to the return of the Cooper Union Drag Race in the upcoming academic year.
Photos by Jenna Lee (ME'15)