By Anthony Passalacqua (CE '18)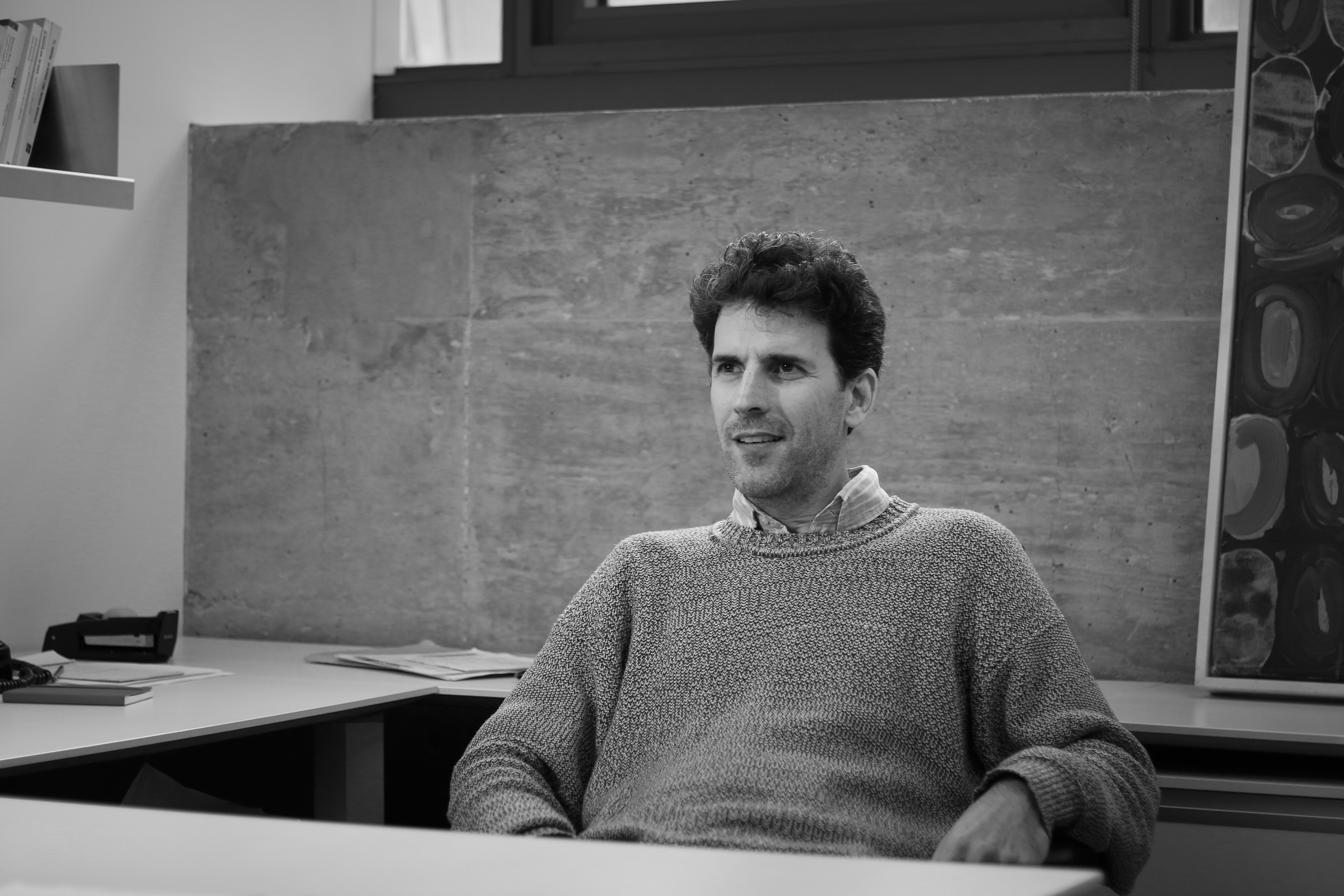 Can you give us a little background about yourself?
My academic background is relatively simple. I started physics at the beginning, and I got a PhD in astrophysics. I worked as a researcher in astrophysics for a few years in the evolution of galaxies and quasars. I published some articles on the subject, and then I gradually moved to philosophy. It was not a rupture, but a long transition, in the sense that even while I was working as a researcher in astrophysics I started giving conferences on the philosophical foundations of cosmology, and even modern science like quantum mechanics. This was my first serious approach to philosophy. Later, I moved a lot through different countries, and I finally arrived in Barcelona, Spain. There I started collaborating with the faculty of philosophy, teaching several subjects in the field of epistemology and the philosophy of science, at different levels. I came from science, and thanks to my experience as a researcher and an astrophysicist they opened the door to me. At the same time, I decided to simultaneously study philosophy, seriously. Even though I didn't follow the whole curriculum of philosophy, indirectly I started on my second PhD in philosophy. I followed some courses on the curriculum, without being officially enrolled, and they accepted me as a PhD student. I started again. I wrote a master's thesis on the concept of time – [translated] "The Concept of Time – Some Thoughts on Kant and Einstein." It is sort of a comparison between idealistic philosophy on the conception of time and the theory of relativity. Thereafter, there was a sort of interruption in my research; it was after 2009, and the whole world was chaos. The effect of the crisis on Europe lasted several years, and I couldn't continue my collaboration with that university, even though I had some level of responsibility as the director of a research group. I had to find some way to survive elsewhere, so I also worked as a highschool teacher for four years. I taught mathematics, physics, and philosophy at the same time. So I had to interrupt for a while my research work. Thereafter I started again, and instead of continuing my work, which is the natural thing when working on a PhD thesis, I decided quite naturally to focus on how artists express through art the conflict between the objective and the subjective dimension of time. Therefore my PhD thesis focused on contemporary art. The title is "Time and Temporality in Contemporary Art." I moved from astrophysics to philosophy of science, and then again with a continuous transition to the philosophy of art. I think there is a continuous line in my academic and personal evolution. From a reflection on the evolution of the universe as a whole, I moved to the conflict between subjective and objective time, and I finally approached the very question of the expression and the perception of temporality. To add something more, I'd like to describe my personal evolution. It of course follows a parallel path, in the sense that I've always been moved by a sincere desire of exploring my internal restlessness. I've always been decided to focus on what I really consider the most worthy subject, in any situation. As you can imagine, my personal life has been the same way: very unlinear. I've been to many countries and done so many things in my life – not because I was tired and wanted to change, but because I am always looking towards the horizon. I always try to imagine the essence of things past the surface. I remember clearly that this is a personal attitude which I had even when I was a child. I think it's simply the application of my way of being and what I've done.
How long were you in the field of astrophysics before you started to transition into the philosophy of science?
If you say "before you started the transition," then it's difficult to say, because my transition started even before concluding my first PhD in astrophysics. I can tell you sincerely that even while I was spending sleepless nights following my calculations about black holes, which I was very enthusiastic about, and moved by a sincere passion for, it was clear to me that what was the most worthwhile question was not the object of our gaze, or even our imagination, but the very fact that we, a small creature on a small planet called Earth, dare to imagine such a complex world. I was fascinated – and I'm not saying this now just because I'm a professor of philosophy – by the very fact that we were trying to reconstruct such a complex reality. Of course, I didn't pretend, and I've never pretended, to reach the final, absolute truth. This was the biggest difference between myself and some of my colleagues. I had the impression from some of them that they pretended to arrive at the final answer about the big bang theory, or the nature of galaxies, or their evolution. To me, it was a very fascinating subject, and I put forth all my effort in order to make a worthwhile contribution, but it was clear that it was just speculation; it was a sort of fascinating play, but the truth, if it exists, was very far from our model. And it was just a model. Sometimes they work, in that the results of our model are not so far from what we observe, and we can compare observation to our model. It's always distant though, the two cannot match. When it's not so far, we can say "oh it's not so wrong, our model." Maybe it's just by chance that we arrived at this similarity, but the nature of what we are trying to describe is beyond not only our mathematical capabilities, but even our brains' capacity. I wasn't worried about that. I thought, and I think, that it's still worthwhile to put in that effort, because in trying to reconstruct such a complex reality we are going out of the cave, as in the image of Plato's cavern. This desire to reconstruct the external reality moved us from a simply material, and trivial way of living, to a different attitude, with respect to all reality, not just with respect to astrophysics. That's why it's worthwhile, even if the truth, if we can say that, is very far from our models. Mine is quite a peculiar attitude when compared to many of my old colleagues, which is why I think now that I really had a philosophical attitude. Even at that time I was more interested in the relationship between we as a small creature, and the infinite.
If you could go back, would you do it in the same way, starting with the field of astrophysics?
I recognize that it has been a very long, and complicated path. If you think about which is the easiest, or more effective path to arrive as a professor of philosophy, I'd tell you to study philosophy at the beginning and go straight forward. So I have no doubts that what I have done has been much longer, more difficult, and riskier, but I would still do the same. I do not regret the effort which I lived. I say lived because it's really something that I experienced in myself, deeply. I think that that kind of intellectual effort has been very useful. If I write as I do right now, it reflects my effort to try to synthesize the complexity of reality. When you have to manage so many things – I'm thinking of the evolution of galaxies, which is a subject in which you consider simultaneously in detail both physical processes and the overall structure of the universe – in your mind, and propose an original model, you need to be able to combine both an analytic and a synthetic way of thinking. This is also very useful for anything else you will do. So I don't regret it. It took a long time to take this path, but I consider that, in everything we do, what matters is not the final result, but the path. Otherwise, we'd all simply wish to die because that's the final end. Meanwhile, we have a lot of things to do, and the path is more interesting than the result. It's difficult to say if I would so the same thing, because I'm so curious, and there are so many things that I would like to do, and I've had no time to do them. But if the question is "do I regret having spanned so many years studying astrophysics," then the answer is no.
Can you tell us a little bit about your travels.
The easy part is to tell you that I've lived in eight countries. I started in Italy. Then I did my first PhD in Paris, where I did my research project. After that I spent one year in Israel, at a post-doc fellowship. After September 11th, the whole situation in the middle east was quite hot, so we decided to move to a totally different environment: Mexico. I spent three years in Puebla working as an astrophysicist, at the National Astrophysics Institute. Meanwhile, I have also spent almost one year, at different periods, in India, invited by another important institute of astrophysics. I spent three intervals of three or four months at a time in India. After that I arrived in Spain, and spent more or less ten months in Barcelona, and then, as I told you, I started working directly in the field of philosophy, teaching the philosophy of science, and another of my interests, the philosophy of music. And now I am here. I move a lot, following not only my internal curiosity, but also, and above all, my desire to confront myself with other cultures and realities. I never try to hold on to my fixed point of view when I travel. I try to listen, and understand different points of view. While I cannot forget that I am a western person, I really try to put forward an effort to approach, as close as possible, Indian culture, for example. I even studied Hindi, even learning how to write. I did it not only because of my curiosity, but that it is also a way to demonstrate by word and action that I wanted to approach their culture. That's very useful; when I was on the road, I could totally change the relationship I had with a passerby just by speaking a few words in Hindi. I studied Indian music, and playing it was an incredibly emotional experience with another musician. I couldn't forget my culture, and of course I didn't want to simulate being Indian. I really wanted to move from my fixed point of view, to try to understand the other. After living in many countries, I think that it's useless to look for the best place in the world. It simply doesn't exist. Instead, we have to find it in each situation of our life to learn and understand something. After my experience in many countries, in many situations, and even in many jobs – even my experience as a high school teacher, which was the hardes job I've done – I have found that it's very useful to experience different points of view. It allows you to more easily understand, for example, the problems of teenagers. As a father, it's especially important to put forward that effort. We can't consider that the younger generation are… I don't want to say stupid, but this is unfortunately the attitude – not my attitude – of many old, mature people. I think the opposite. Young people, even teenagers, have brilliant minds, full of enthusiasm, and curiosity, much more than other people. Unfortunately, they lose themselves for other reasons, but potentially you have incredible potential. My attitude has always been to listen to everybody, even in the case where my situation has been hard for other reasons. I've always tried to learn from every country, and every experience.
How has that experience been so far for you in the states?
Well it's too early to tell so far. I arrived at the end of August, for the first time. I had just been here in May, to give my talk. So I can't say anything.
What do you feel your role as a professor is for students here, and do you think that's different from what you've seen abroad?
Here I can tell you something. Even though it's been just one month, I've had a very positive opportunity of getting to know you guys, and the dynamic of teaching here. I really have been positively surprised. In Europe I taught in different universities, and there is a more passive conception of teaching. Sometimes students give presentations, but only as official, formal assignments. We don't have this kind of round table, where we share our opinion, with the direction of the professor, who can moderate, or give hints. I think that's very important, and I'm happy to have this opportunity. Not only do I think that it important for you, the student, to have the chance to be involved in the process of learning, in the Socratic sense. The professor is just helping you to get out from yourself what you already have at an intuitive level, or in ordering your thoughts. It's important that one participates, and not just be a passive spectator of a play. It's also more useful for me as a teacher, as I really have the opportunity, in both the ethics course and in the freshman seminar, to understand what you receive. I have in mind an idea of what I hope to transmit, but sometimes I'm far from reality. Having this chance to share, and participate together, even though we can't always do that since I need to give formal explanations, is very useful to me in seeing what you receive in the discourse I try to organize. I can also learn from you, both because you can have interesting ideas that stimulate me to go in deep and understand something more, and because I can find tune and adjust my way of explaining something. Although it's been just one month, it's a really positive experience.
Do you have any advice to offer the students here?
I've just discovered Cooper students, with just a glimpse of an intuition of you. Up to now it's been very positive, so it's difficult to understand your weak points. I'm happy with both my ethics course and the freshman seminar. I haven't seemed to see if there are weaknesses in you. I will just say what I say to all my students, at any level: try to be curious. Something I have experienced my whole life, even to be a good engineer, is that it's very important to think about art, literature, and many other things. This can make you a better, more complete person, but also in your own work, this allows you to have a wider view. Einstein played the violin, and many other important scientists had other interests besides physics. To be a good physicist, even, you need to be involved in other kinds of thoughts. It is clear why it is so. If you just focus on one, specialized, thing, you'll be good at that field, but as soon as the conditions are slightly different, you will be lost. I've seen this in some of my colleagues who have spent years studying one specific problem, with no idea of the whole picture. Once they took one step outside of their field, they couldn't move. So it is important to study The Odyssey when you are a physicist. Reading an old text obliges you to learn how to analyze the different levels. Moreover, it gives you a wider view, besides making you a better person. If you want to be a good scientist, you first have to be a good person. So my advice is be curious, travel, and try to see a different point of view. Even if in the end you decide "I prefer my country, my city, my point of view," that's fine, but first you have to go out, live, and see the other perspectives. Later, if you come back to your own place, you will have a much wider viewpoint. Travel both physically, and mentally, and move away from a narrow point of view, which is a problem in both science and in society. There is an important American physicist, David Tong, who points out that one of the problems with contemporary science is the fragmentation of knowledge. We are choosing to be in subfields that are too narrow, and people can remain their whole lives in these narrow spaces. We need to open our minds, and Cooper students are in a very positive environment for this. You have a wonderful opportunity to open your mind, with students of the engineering school having to follow literature courses and philosophy courses. I think this is the best place for my conception of education, and maybe, on the other hand, it's not by chance that that is so – perhaps I was chosen for my conception of education.
What are your hobbies, and how do you spend your free time?
I would like to have free time [chuckles]. If you want a simple answer, listening to music, sailing and walking. ◊