By Matthew Grattan (ChE '19)
You may have noticed fences springing up around the East Village and the Lower East Side—mounted on the north side of the Foundation Building, nestled between two buildings on East Seventh Street, or lining the exterior of the Essex Street Market. Those fences, along with a host of larger sculptures and banners on street lamps are part of the Public Art Fund's exhibition, "Good Fences Make Good Neighbors," by artist Ai Weiwei.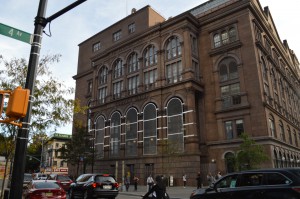 Ai spoke with the Public Art Fund's director, Nicholas Baume, in a practically full Great Hall two weeks ago. The talk celebrated the official opening of the citywide exhibition, which will remain until mid-February. "Human Flow," a documentary by Ai Weiwei about global refugee crises, is also out in theaters.
The exhibition name, "Good Fences Make Good Neighbors," references an old saying that appears in Robert Frost's poem, "Mending Wall," about two neighbors coming together to repair the boundary between their properties. Ai's public installations can be seen as physical manifestations of that silent paradox: Fences divide people, but can also bring them together. Tensions between ongoing refugee crises and international borders also seem to have inspired the public art project.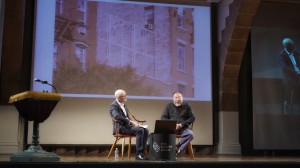 Yet at Thursday night's talk, Ai seemed to brush off such analyses with brief answers and quips. In person, Ai is a man of few words but quick with a witty remark. His comical side came as a surprise, considering his political activism, the gravity of his work, and his introduction by President Laura Sparks as one of the "leading cultural influences of our time."
One audience member asked in a well posed question if there are such things as "good fences," and if bad fences can somehow be made better. Ai's response: "There are no good fences. Okay, next."
Rather than directly answering questions from Baume or the audience, Ai side-stepped with humor. Perhaps he wanted to avoid a 'correct' interpretation of his work, and instead leave the meaning of his art up to the viewer.
So, next time you pass the Washington Square Arch or take a trip to Central Park, keep an eye out for large fence-like sculptures. What are they separating? Who are they bringing together?