Saimon Sharif (ChE '15) & Caroline Yu (EE '15)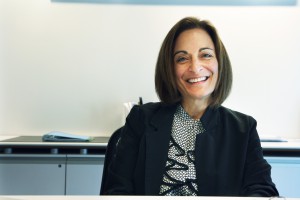 Editor's Note: An unedited version of this interview was incorrectly published in-print. The interview below is the edited version.
This past Wednesday, the Cooper Pioneer (TCP) interviewed the new Dean of Engineering, Dr. Teresa Dahlberg (TD).
TCP: Do you mind giving some background on your education and past job experiences?
TD: Sure! I received a B.S. in Electrical Engineering, and worked for IBM as a hardware and software development engineer for 10 years. I later received an M.S. and PhD in computer engineering and then moved to a faculty position. I've been a faculty member in electrical and computer engineering in a college of engineering. In the last dozen years, I've been in a computer science department in a college of computing and informatics.
TCP: What prompted you to move into an administrative role from a teaching role?
TD: I've actually been in administrative roles for a number of years.  I've been at UNC Charlotte – a teaching and research university.  So, in addition to teaching classes, I had to build a funded research program.  In so doing, I started a wireless networking research lab and founded a research center called the Diversity in Information Technology Institute.  In the latter, our focus was on enhancing computing education as well as attracting a larger and broader group of people to the discipline.  I've managed lots of projects, having been a principal investigator for over $20 million in grants.  I was also associate dean of a computing and informatics college with oversight for the undergraduate programs in the college.  We had about 1400 students – including over 1000 undergraduates.  I also founded a consortium called the STARS Computing Corps, which is now a non-profit company.  We developed a service-learning program that engages college students in building the science, technology, engineering and math (STEM) K-12 pipeline, as a way to strengthen the leadership skills of college students majoring in engineering and computing.  Over eight years, 50 colleges and universities in the country have adopted our program and participated in the consortium.  Since I've done a lot of teaching, curriculum development, project management and research, a dean's position seemed like the next challenge.
TCP: Why did you choose to pursue electrical and specifically computer engineering?
TD: I started out as a music therapy major.  I was encouraged by my high school piano teacher to pursue music. I didn't want to do performance, so I focused on music therapy.  In the 1980s this was a new field, using music and peoples' interactions with music in therapy. I was this music therapy major, but I loved and missed math.  I ended up being the girl in my dorm that helped everyone with their math problems even though I didn't have any math courses.  After the first year I wanted to change majors.  A friend's father said, "Why don't you try engineering? It's math-based." So it was a leap of faith. I changed my major. I've taken lots of risks in my life – like coming here. I look at the options and then I go with my gut. When I entered engineering, I took the typical survey class that goes through all the different kinds of engineering majors.  Electrical seemed to be the one I least understood because it was more abstract, but it seemed more mathematical. It, again, was a leap of faith. I became more interested in computer engineering a few years later when it was introduced as a new undergraduate program while I was still an undergraduate.
TCP: Do you enjoy teaching, conducting research, or managing the most?
TD: I've enjoyed them all at different points in my career. One of the things I love about being a professor – and I'm always telling students to think about the professoriate as a career – you can evolve your focus and change what you do over time. I like doing something when I feel like I'm at the edge of confidence. I want to feel challenged and a little bit scared: "Oh I have to learn this. I have to figure out how to do it." Once I get really good at something it gets a little bit boring. When I was in product development, it was fun for 5 years – brand new environment. I was intimidated by more experienced people. After a few years it was "I could do this" then it was "I could do this in my sleep." I loved teaching and it was all consuming in the early years.  When you're teaching you're helping develop another person.  I loved starting up my programs in wireless networking and in computing education research.  When you're doing research, you're doing the work yourself; then you're building a team and building bridges between people to do larger projects.  As a manager you're helping to facilitate other people.  You're putting the vision and the team together.
TCP: What attracted you to Cooper Union?
TD: A search firm contacted me and convinced me to apply.  I became intrigued during the first interview with the search committee.  There was something special about The Cooper Union.  It's a close and intimate atmosphere.  The students are very high-achievers and are nice people.  I like the focus solely on engineering, art and architecture in culturally rich New York City.  I saw unique opportunities for interdisciplinary collaborations on and off campus.  I read the papers, and my colleagues were sending me links asking "Are you crazy?!"  I'm very much an optimist.  I just don't let problems deter me.  I thought "Well, there's a challenge."  It's a high risk – high reward position.  They could close engineering and I'm out of a job.  But if we succeed, the decisions we're making over the next year or two will set the course of the institution for the next 100 years.  I feel optimistic that we can make it clear to the outside world how amazing this place is.  The reward will be having been a part of the rejuvenation of this unique institution.
TCP: What has surprised you the most since coming to Cooper?
TD: The closeness of faculty-student collaborations. When I talk to faculty, even the faculty that are frustrated, when they start talking about their students, they become passionate.  The students are wicked smart but, again, very nice people. The students really seem to enjoy the intellectual environment.
TCP: What are your main goals as the new Dean of Engineering?
TD: Since arriving I've continued to discover hidden gems. The Cooper Union has much more to offer than is visible to the outside world.  I'm very much in learning and listening mode but a key goal is to identify and promote special attributes of The Cooper Union, especially to incoming students as well as to companies and graduate and professional schools.  I also want to work with faculty and students to not only maintain, but to enhance our academic excellence, for example by insuring that our curriculum is responsive to the New York City job market and to the global need for engineering to address important societal problems.
TCP: How do you like living in NYC? Is this your first time living here?
TD: Yes it's my first time living here. I love it. It's very different for me. I've always lived in suburban neighborhoods. I left my big house in Charlotte. I left my car. I'm very close to the college. I'm on foot – living in an apartment – and I love it! It's a completely different lifestyle. There are so many things going on in the city.  I think it'll be a long time before it wears off.
TCP: What are some of your hobbies?
TD: I work a lot, and I spent a lot of time with my daughter, Kristen, who's 15, our dog Clyde, and my husband Brian.  I have a 22 year old son, Nathan, but he's on his own in graduate school.  I like to run, lift weights, listen to music, and read.  These are my stress relieving activities.
TCP: Where do you think Cooper Union's engineering school stands in terms of academic competitiveness with other engineering schools?
TD: I think that the engineering school's curriculum is highly competitive. In particular, it's very rigorous. It seems to be highly project oriented, which I think is great. There are a lot of opportunities for unique experiential learning – like Invention Factory, internships, research experiences – lots of competitions. There are rich experiences for the students. If we look at the national and regional landscape for engineering – what is needed for the 21st century engineer, I think we can use some tweaks. New York City has set this aggressive goal to be the East Coast Silicon Valley, and there are a lot of startups and technology. Even though we're small and there are lots of big players in the city, I think we have an opportunity to create a niche and a unique contribution.  When we look back ten years from now, when NYC reaches it's goal, Cooper Union should be remembered as a player in that.
TCP: What advice do you have for Cooper students or faculty?
TD: The advice I have for Cooper Union students is to stay optimistic. This is a great place to be. It's going to continue to be a great place. I think students come here knowing they have to do well in class, and I'm told students take a lot of course credits. That's terrific. You should also have fun – I have to remind myself of that too. We tend to be all Type A people. Work all the time. Set the goal. Reach the goal. It also matters to do fun things. Look at your educational experience as not only what happens inside the classroom, but also what happens outside of the classroom. I mean out of the classroom in a number of ways. First, competitions and research experiences, going to lectures and seminars. Those you should do. But also, it's great that we're here in this city with art and architecture. So go to lectures and performances and art exhibits and things that stretch your comfort zone because that's what's unique about being at this institution. My advice for faculty is to stay positive, and work with me to transform The Cooper Union.
Photos by Jenna Lee (ME'15)