By Toby Stein (CE '19)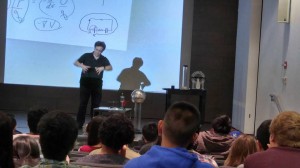 Photo by Brendan Fernes (EE '18)
This article was written in response to the Matthew Grattan's previous article 'Lectures Do Not Work'. It focused on Professor Alan Wolf's Physics 112 Mechanics lecture as a case study. 
Of late, lecture teaching has received a lot of criticism. Ubiquitous at most higher level institutions, university education is growingly dominated by large lectures that introduce students to material by ushering them into large lecture halls and having a professor speak for 50+ minutes. Although this is by far the most common method in universities, it is time that people ask themselves: does lecture style teaching work?
Although this is by far the most common method in universities, it is time that people ask themselves: does lecture style teaching work?
Although larger lectures at Cooper are few and far between, they exist, and every Cooper student attends at least one before walking across the stage in the Great Hall. During their sophomore year, all Cooper students sit through an HSS-3 lecture, however, this piece concerns itself with only one of the three physics lectures that all engineering students endure. More specifically, this piece focuses on PH-112 Mechanics as a basis for discussion.
Depending on how you look at it, Alan Wolf is a very lucky man, or a very unlucky one. He is one of the only professors to, almost guaranteeably, teach every single engineer to walk through Cooper Union's doors; and it has been that way for the past 30+ years. He teaches the first two installments of Physics at Cooper [Mechanics – PH112 and Electromagnetism – PH213], and has long looked to increase the efficiency of his lecture setting. He has taught a large physics lecture at Cooper for longer than most students here have been alive, and to him, David Hestenes and alternatives to lecture are nothing new. Hestenes' work, which was discussed in Grattan's earlier article, proposes a new style of learning, one driven by active teaching. Here, students are more engaged in their learning through cooperative assignments and interactive classes. Placing a focus on the quantifiable effect of his study, Hestenes' proposed system decreased the student failure rates by 55%.
Professor Wolf, who has been following Hestenes' work for decades, was not hesitant to conduct a test developed by Heste`nes and two associates to test his own teaching methods. Professor Wolf explained that he was curious to investigate the effectiveness of physics lecture, as well as the effectiveness of his teaching as a whole with some type of test. To do so, he administers a test, the "Force Concept Inventory" test every five or so years, which looks to give him an introspective look into the performance of his lecturing style. This multiple-choice test was designed to test a student's mastery of mechanics concepts before and after a semester's worth of physics education. Hestenes' published result demonstrates that nationwide, the test reported a 13% increase in score. On average, students would score a 50% as a baseline, and after completing a semester of physics education; they would score a 63%. Comparatively, Cooper students came in scoring an average of 68% on the exam, and after a semester in Professor Wolf's mechanics lecture scored an 86%. Pundits could argue that the 13% increase and the 18% increase lack enough distance to be significant, however, the study also published a statistic referred to as Normalized Gain, which attempted to standardize all exam scores against each other. Accepting that it's harder to increase the score the closer you get to a perfect score, the normalized gain attempted to compare effectiveness on a standardized scale. Cooper's scores correlated to a normalized gain score of .56, compared to the nationwide average of .23.
This means that Mechanics PH-112 class was not more effective than the national average by 5%, moreover, by 250%. And frankly, Professor Wolf argues that that alone should convince you. Professor Wolf admitted to not having given a similar exam to test the effect of E&M lecture, but has looked into the prospect of it.
As an engineer who has taken ChemLab, I realize that this one point of data should not prove everything. We cannot take our goggles off and hang up our lab coats; in fact, this is where we should put our goggles back on, because anyone can argue the inefficiency of lecture just as much as I can argue its effectiveness. Consider this, do you think that this 250% improvement over the national average is a fair enough trade for the other costs of lecture teaching? Admittedly, this is just a singular point of data, and although it overwhelmingly suggests that Professor Wolf's Mechanics lecture works, does that justify multiple-choice tests and a bell curve designed to fail students? You can still come up to me and argue that Cooper students should not be tested on a scale that tests the national average, nor should we compare ourselves to the national average, as we are certainly not the average, and in fairness you are correct. Ultimately, what you take from this article is your call not mine, but I certainly urge you to weigh the benefits of Professor Wolf's uncompromising style against the negative aspects of lecture. In this thought experiment, try to set aside any personal discontent since after all, in ChemLab you must always zero the scale.