Saimon Sharif (ChE '15)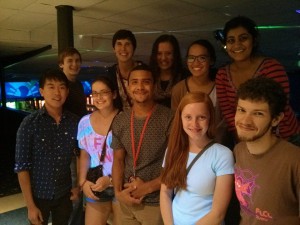 The Cooper Pioneer interviewed current students from the art, architecture, and engineering schools about their summer experiences. The interviews will be published as a series. We hope they will serve to highlight the diverse achievements of our student body.
Here is our interview with Allison Tau (ChE '15).
The Cooper Pioneer: Where did you work?
Allison Tau: I was part of an REU program in engineering education at Olin College of Engineering.  My project involved using a method called discourse analysis to look at transcripts of student team meetings in undergraduate design courses.
TCP: What was your daily routine?
AT: I worked with ten other students (and later two K-12 teachers) in the same studio for five days a week, usually 9 to 5ish. Studio culture could get distracting, especially because we were all friends, but it also created an environment where we all knew what each other was working on and could share relevant information about each others' projects. We had research meetings several times a week where we could talk about our work and hear from other students doing research at Olin who weren't a part of the REU.  My favorite part of each day was "tube-thirty", a break the other REU students and I took at 2:30 every day to watch YouTube videos.
TCP: What was the best part about your internship?
AT: It was really rewarding to be a student researcher rather than just a research assistant. My partner and I were able to take our own direction with the data we had. If we needed more direction, our mentor was able to provide guidance, but for the most part we had the freedom to study what interested us. The other best part of my program was being able to interact with other engineering students with similar interests from across the country.
TCP: How was it different from what you've done thus far?
AT: Behavioral sciences research is an entirely different animal compared to technical research. It uses a mixed-methods approach, so you have to be comfortable with both quantitative and qualitative methods. Technical researchers tend to be skeptical of qualitative analysis, so you have to be prepared to defend your findings and know the ins and outs of your work.
TCP: What do you feel was the biggest takeaway from the experience?
AT: Doing research in engineering education has given me the opportunity to reflect on my own experiences as an engineering student. I read a lot of literature within the field of engineering education, so it gave me a fresh perspective on my education as well as something to think about this upcoming year.