By Pranav Joneja (ME '18)
When charging tuition at Cooper Union became a reality, a fear began to take root in the community that we were going to dilute the excellence of our students by charging tuition—a fear that we might now let in anybody who could pay to attend. The fears were understandable, and indeed, there have been perceptible shifts in the type of student that now enrolls at Cooper Union. Moreover, the fact that tuition is now charged has drastically changed the questions on the minds of prospective students as they weigh Cooper against other schools.
Though only two years have passed since tuition was first levied, there is now some concrete basis of fact to begin to understand the enrollment trends. In a recorded interview with The Pioneer last month, Dean Mitchell Lipton, Vice President of Enrollment Services, and Dean John Falls, Associate Dean of Admissions, explained some of these trends. The Office of Admissions also submits an annual "Admissions Summary" report to the Board of Trustees, with enrollment statistics and demographic data. The Admissions Summary for Fall 2015 was shared with The Pioneer to supplement this interview.
What follows here is a brief overview of the analyses without any jargon. In simple terms:
The academic quality of students has not changed.
The Admissions Summary report includes historic data on the quality of incoming students stretching back 15 years. In the report, the academic profile consists of high school average grades and SAT scores. By the numbers at least, the quality of students has not changed significantly.
In theory, SAT scores are a direct way to measure aptitude of students. The big caveat, however, is that SAT scores are also indicators of wealth. Broadly speaking, students with higher income levels tend to achieve higher scores on the SAT—and Lipton is aware of that. So maybe that means Cooper Union just has wealthier students now, not smart ones?
When asked to scrutinize the SAT for its use in the admissions process, Lipton responded, "it's only one [indicator], and it's not the only indicator we use. Standardized tests like that SAT are only way to compare students from different schools and education systems. Two students coming from two very different educational backgrounds, how do they perform on this one test on this one day?".
Lipton was quick to point out that there are other indicators, too. The Deans of the three schools are in the position to comment on the performance of students after enrolling.
The admissions team is focused on choosing students who are able to survive and thrive in the intense academic setting at Cooper. Lipton: "the million-dollar question is how do we find a way to take students that are disadvantaged by a lower socioeconomic level, and so on average have test scores lower than we're used to seeing at Cooper Union, and figure out which of those students will be successful here?" Lipton continued by saying that this is the motivation for having home-tests in the admissions process for the schools of art and architecture—and perhaps a home-test for engineering in the future.
More students from higher income backgrounds, more students from lower income backgrounds, and fewer students from the middle. 
That's not to say Cooper is only seeing high- and low-income students or that the admissions office is doing this in a targeted way. The trend is one of stratification: more movement to the upper and lower ends of income. This is a result of financial considerations on the minds of students applying and enrolling at Cooper.
For all students, regardless of income, there are non-tuition costs of attending school in New York City. That's living costs like food, rent, books and other supplies. It adds up to $9,000 on the low end and $24,000 on the high end, per year. Even with a full-tuition scholarship, it still costs money to come to Cooper.
Lipton explained how some students with lower incomes are now in a better position than before. Right now, they may receive the full-tuition scholarship from Cooper; other private grants from Cooper and many are also eligible for Pell grants from the federal government. These are parts of the 'sliding scale' that makes up financial aid. Any combination of these can help to offset the costs, even the non-tuition ones listed above.
Middle-income students are typically not eligible for Pell grants. And with only a half-tuition scholarship, the costs of attending Cooper are even greater.
On the other hand, students with higher incomes could probably afford to pay higher tuition ($30-50k) elsewhere, but they choose to come to Cooper instead.
The concerning part is, Lipton said, "What we're struggling with now is how do we do our best to help middle-income students?" The people in the middle will go to college somewhere, but right now, that's more likely to be somewhere other than Cooper. Particularly for middle class New Yorkers, the option of attending state schools like SUNY and CUNY is now more affordable. Again, that's not to say there are no middle-income students at Cooper—just that the choice of enrolling at Cooper is tougher for them right now.
In general terms, Cooper will remain less attractive to middle income students for the foreseeable future. Lipton said, "The Office of Development has been trying to make more money available for financial aid. Until that happens, the concerns about making it easier for middle-income students will remain."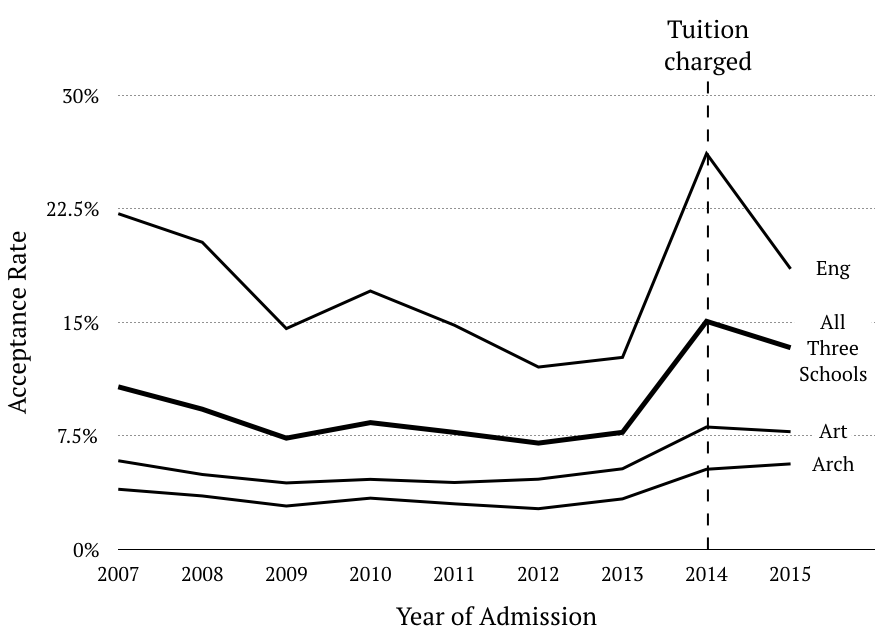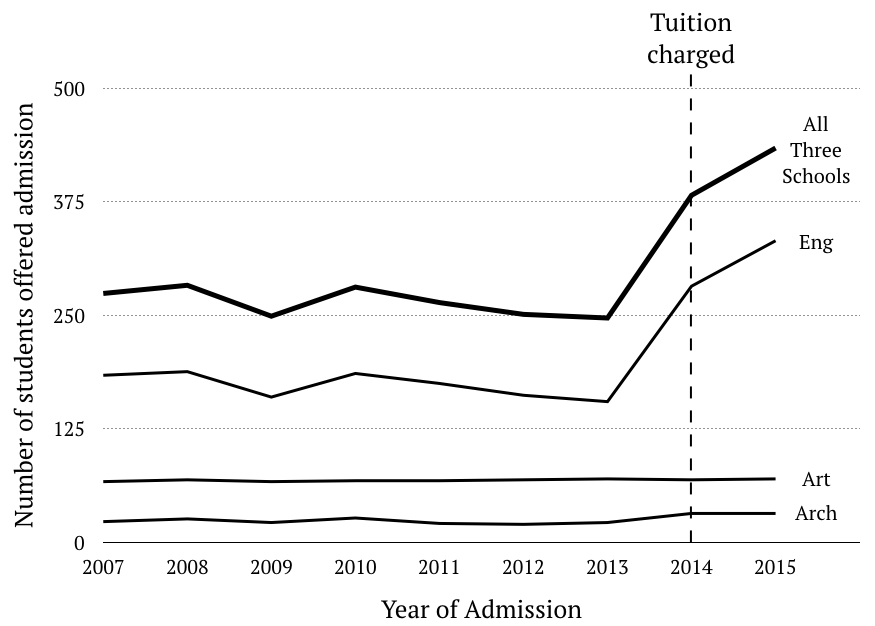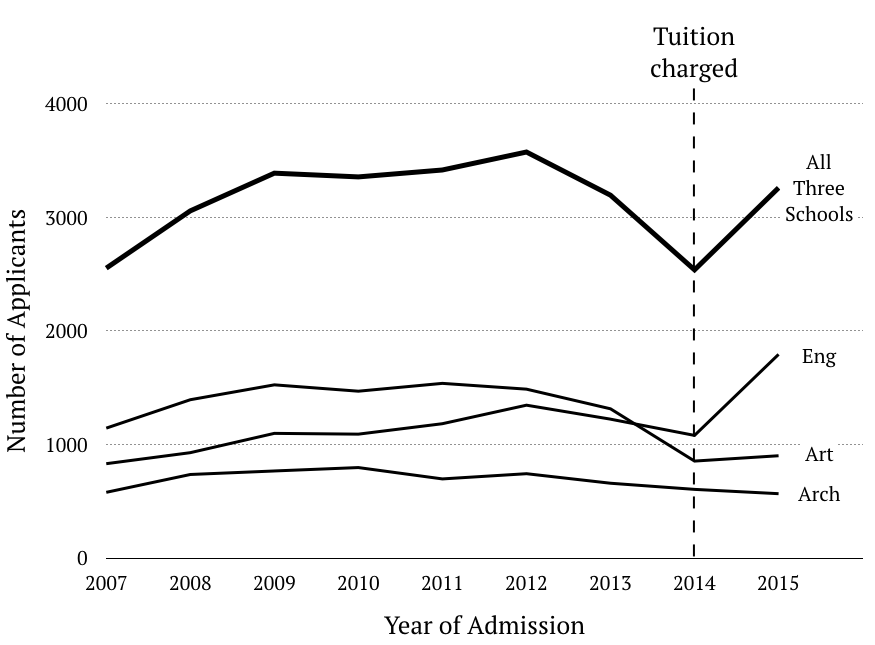 Attracting students to apply is more difficult now. Cooper is expending more effort to attract students from outside the New York area.
"When I first came here 20 years ago, there were no tours for prospective students. There was just an open house once a year in the fall. So I asked, what happens if you're not able to come to that event?" That's to say the sentiment in the past was "we're really good at what we, people want to be here. They'll find a way to look at us, find a way to apply and find a way to come here"—even if the school does little to make itself accessible and known to prospective students.
In the spring of 2013, when the Board decided to charge tuition, it obviously damaged Cooper's attractiveness to prospective students. This was no surprise however. Lipton: "We knew that there was no way we were going to just survive on our contacts in the local area." In the past, Cooper has consistently accepted students from magnet schools in the New York area like Stuyvesant High School, Bronx High School of Science and Brooklyn Technical High School, and others outside New York like New World School of the Arts, Design and Architecture High School and Interlochen Arts Academy. But enrollment from these high schools will not drastically increase to make up for Cooper's reduced attractiveness now.
In other words, it was immediately obvious that Cooper would have to spend more energy to actively attract applicants. "We can't just sit back and say 'we're still this great school and people are going to find us on their own.' We have to be more aggressive about seeking out applicants." And further, in Lipton's opinion, "we need to do that in a way that maintains our integrity and identity. It doesn't mean we should sell out and do things that are cheesy."
So where is the Office of Admissions looking outside of New York? There have been trips to Texas, Florida, California, and Lipton confirmed that there were international trips to China and India, too. Lipton: "Yes, we visited schools in China to try and find students who would be interested and appropriate for Cooper. We've had some really strong students from Beijing No. 4 High School, for example."
But, why were these places picked in particular? The short answer is that these efforts are limited by cost. "We might go for a week and try to visit 15-20 high schools so that we can meet as many students as we can." The shortlist is made through Cooper's membership in a network called World Leading Schools Association. Through this network, Cooper finds high schools that have exchange programs with American universities, and so by Lipton's argument, are places that his team can potentially find students who will fit in and do well at Cooper.
Beyond that though, the Cooper community has a perception that international students perhaps have more money and so are being admitted in greater numbers.
When asked to reconcile with this perception, Lipton responded, "My main goal was not that we can find students there that can pay. My main goal was making sure we have a large pool of quality applicants."
An increase in the number of women applying and being accepted to engineering.
Lipton credits this to the annual Women in Engineering event that the admissions office puts on, strong initiatives from student clubs like the Society of Women Engineers and the fact that the electrical engineering department hired a female full-time faculty member. "We moved the needle a little bit, but not to any great degree just yet," said Lipton. "It continues to be an area that we clearly need to do more."
A drop in the number of applicants to the School of Art; more engineering applicants than ever before
For the first time, the art school saw fewer applicants than the engineering school. There was a decrease in the total number of applicants across all three schools in 2014, but that bounced back in 2015 due to a vast increase in the number of engineering applicants. The number of art applicants, meanwhile, has remained low. (Caveat: two years doesn't fully make a trend. Look at the charts on reverse).
A drop in the number of engineering applicants who choose to enroll at Cooper after being offered admission
It used to be that around 65% of engineering applicants who were offered admission would follow through and actually enroll. After tuition, it dropped to 52% in 2014 and 45% in 2015. In simple terms, this happened for two main reasons: first, and most obvious, tuition means an increased cost of attending; so fewer applicants choose to enroll. The second reason, according to Lipton, was that Cooper's applicant pool has always been at the higher end of the academic profile. We always have smart students apply. After tuition, the admissions team has been sending offers to students that have shown even higher levels of achievement. Lipton puts it this way: "All else equal, if you admit a student with near perfect scores—well, that person has many options and offers from other schools and is less likely to choose you [Cooper]."
This trend has not been observed in the schools of art and architecture, which both continue to enjoy around 90% 'yield' as they always have.