By Matthew Grattan (ChE '19) and Kavya Udupa (BSE '19) 
Elections for student council representatives for the upcoming school year are happening right now. Architecture reps have already been chosen, art reps are being chosen now, and elections for engineering reps open today and are to last for the next week.  The link to vote will be sent to each student—make sure to vote!
The student body has voted Clara Zinky (Art '18),
Julian Mayfield (Art '18), and Jacqueline Baum (Art '18) as the top three candidates for Student Trustee. Zinky and Mayfield each earned 68 votes while Baum trailed by a small margin with 66 votes. A total of 314 students voted in the elections. The Board of Trustees will interview each of the three candidates and ultimately select one for a two-year term as Student Trustee.
The Cooper Union's accreditation by the Middle States Commission on Higher Education will take place in spring 2018. In preparation, Cooper Union will undergo a series of planning and review activities, according to a campus-wide email from Acting President Bill Mea. The Cooper Union's mission statement (last approved in 2000) must be "reassessed and updated" in order to comply with particular requirements and standards published by Middle States.
On April 9, a team of Cooper civil engineering students won first place at the 2016 regional Steel Bridge Competition hosted by American Society of Civil Engineers (ASCE) and the American Institute of Steel Construction (AISC) at
the City College of New York.  The students designed a steel bridge according to strict specifications that emphasized strength, short build-time and cost. The team was led by Co-Captains Brian Wong and Nolana Wong, Design Captain Amos Chung, Fabrication Captain Zach Chang, Build Captain Nina Berlow, and Outreach Manager Miles Barber. The team hopes to compete in the national competition, held in Utah, in the end of May.
This week is Sexual Violence Awareness Week.
Organized by RAs Jessica Marshall (EE '17) and Stephanie Restrepo (Arch '17) in conjunction with the Office of Residence Life and Student Affairs, the week-long sexual assault awareness campaign aims to increase the visibility of sexual assault and to break down stigmas. The Clothesline Project, in the lobby of the NAB, is an installation exhibiting anonymously submitted stories from Cooper students.
Coming Soon: The Cooper Union Library Initiates Friends Program. Cooper Union alumni have always been welcome to use, but not borrow, the Library's books and materials. Coming soon, the Library will initiate its Friends of the Cooper Union Library program. For a nominal annual fee, with a special discount for this year's graduates, alumni will be able to borrow circulating items. (Please note: borrowing privileges are valid only at the Cooper Union Library, not at other libraries associated with Cooper's Library Consortium.) Watch for detailed announcements soon via campuswide email and on the Library website.
Dean of the School of Art, Saskia Bos, plans to resign her position and move to Europe by June 30. She has spent over ten years in that position. The announcement comes as the School of Art is seeking candidates for a full-time faculty position. Dean Bos wrote in a campus-wide email that she is "leaving on a high note" now that Cooper Union is "on the way back to its original mission." She indicates that the move will provide her more time to travel, work on new projects, and reconnect with friends and family. Dean Bos adds: "Cooper will remain forever in my heart as a place where talent and critical thinking are the key components of a small and very special student- and faculty-focused community."
All three student councils are coming together to reform the Joint Student Council this summer. The JSC constitution hasn't been updated since 1998 and is being edited by a proposed Constitution Committee that will consist of two representatives from each of the three student councils. The structure and reps that will sit on the committee have not been decided yet.
The Pioneer's own Monica Chen (ME '18) was named the Grand Champion of this year's game of Assasins. "Most kills goes to the generally incompetent and probably just lucky, Chris Panebianco (ChE '16)." Meanwhile, Andrey Kovalev (CE '16) won second place.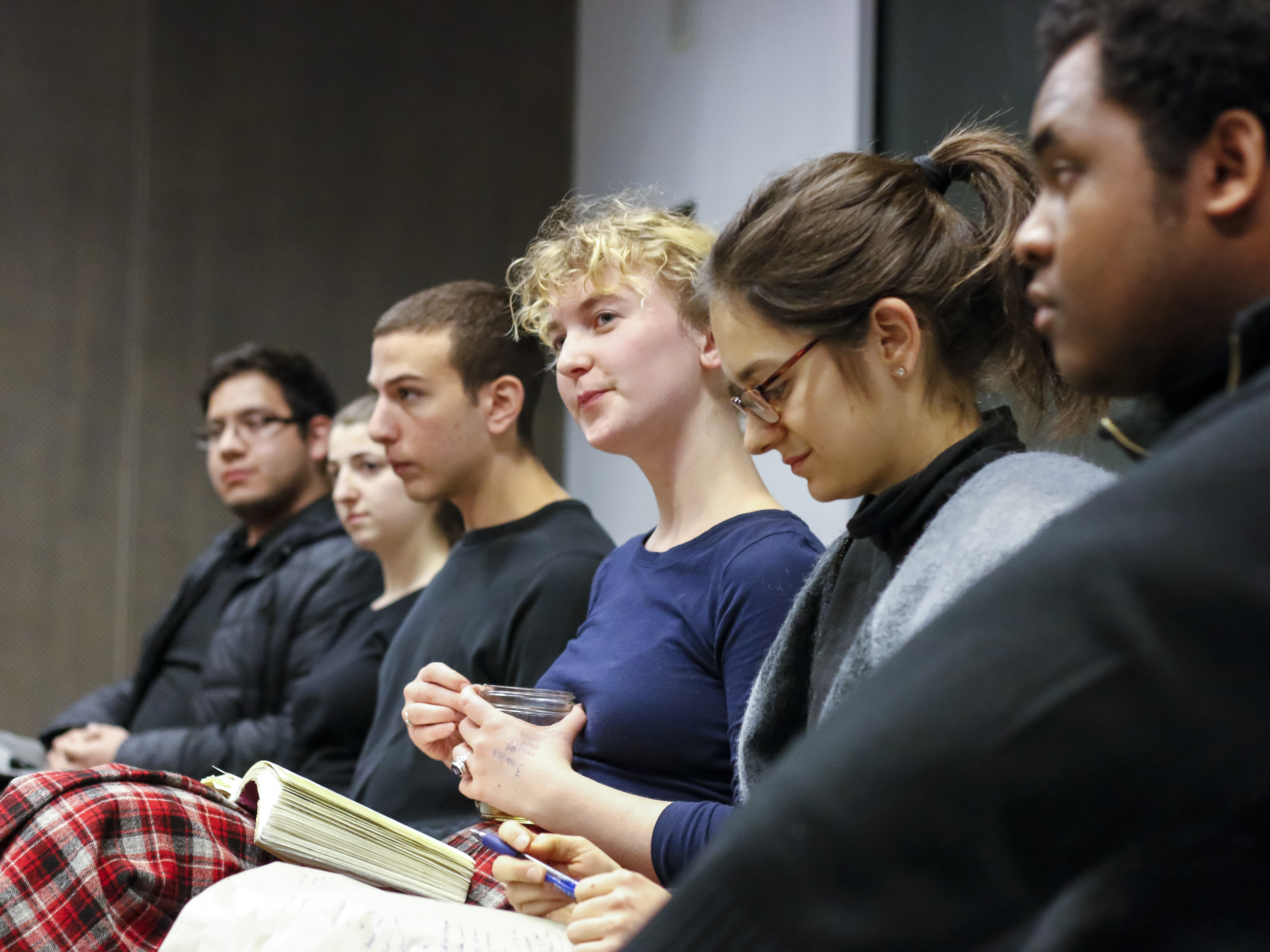 Student Trustee candidates at the open forum hosted by The Pioneer on April 4. Within strict time limits, candidates answered questions about their understanding of the role and their personal stances on free education, transparency, and governance. Photo by Wentao Zhang (ChE '19).