Marcus Michelen (BSE '14) and Saimon Sharif (CHE '15)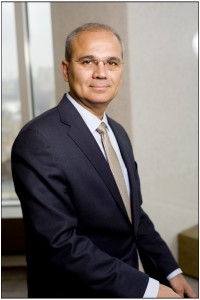 It has been about a year since Cooper Union's dire financial situation was revealed to the community as a whole and a little more than a year since President Bharucha assumed his position. Over the course of this year, he has received much indignation as well as praise from members of our community. However, not many members of our community have much knowledge about Jamshed Bharucha: the man. We interviewed President Bharucha for our Faces of Cooper series to get a better understanding of this interesting man.
The Cooper Pioneer: First, where were you born?
Jamshed Bharucah: In Mumbai, which used to be called Bombay.
TCP: What did your parents do?
JB: My father was a civil engineer. A structural engineer. My mother is a musician. They met at the University of Michigan where he was studying engineering, he had come from Mumbai. My mother came from Albany, New York and she was studying music and the rest is history, or biology or chemistry!
TCP: What instrument did your mother play?
JB: She played organ and piano and she conducted choirs. She also composed some music.
TCP: What was your educational experience?
JB: My educational experience was mostly at a school that my parents helped found called The Bombay International School. They and several other couples in the city, many of them bi-national couples, all kinds of combinations got together and said they weren't happy with the schools in the city because they were too traditional, exam and memorization focused. They were single sex. They had the old caning and hitting with the ruler kind of stuff. The boys were caned and the girls were hit with rulers.
So they started this new school called the Bombay International School. And I was the guinea pig and my sisters. I started in that school in first grade and went all the way through. I was in the first class to go through all the way as the school increased. And it was fabulous.
The primary and middle school were based on an American curriculum and high school was based on a British curriculum. It was University of Cambridge O levels. We had to decide starting in the ninth grade between the sciences and the humanities. I picked sciences and it was pretty rigorous. Physics, chemistry and math every semester with a few other elective courses.
I was very much interested in science and my favorite subject was physics, so at one point I thought I would do physics. Then I went to college for a year in India and got some more science and then I started as a freshman at Vassar College and very quickly got seduced by the liberal arts. I studied philosophy and music and majored in biopsychology.
Then I went to graduate school at Yale for philosophy because I was interested in the mind and body problem, which is what I was after when I majored in biopsychology, to put together the biological and the psychological. But then, while I was in graduate school in philosophy at Yale, I missed the scientific side of it so I finished up my master's degree, went to Harvard and got a PhD in cognitive psychology. Today the field would be called cognitive neuroscience. I did a lot of music on the side.
TCP: What did you do your thesis on?
JB: My PhD thesis was on cognitive models on the perception of music. So I was able to combine music with it.
TCP: While you were in grad school, what did you think you wanted to do?
JB: I wanted to teach and do research, so I was pretty clear about that once I started graduate school. That doesn't mean I was assured of getting a job. It's not easy for PhDs to get academic jobs and back then it was really touch-and-go. I think had I not gotten a tenured track job, I would have gone into computer programming. I did a lot of programming on the side, but I was lucky. I got a job teaching at Dartmouth and I worked my way up.
TCP: Did you teach psychology at Dartmouth?
JB: I taught psychology and helped found the department of psychological and brain sciences, which had previously been psychology but we made it more biologically oriented. When I got into administration I helped the department get an MRI machine. It was the first non-medical school MRI machine in the country, for teaching and research which even undergraduates could use to scan their brains and email brain images to their parents.
TCP: How did you end up at Tufts?
JB: At Dartmouth, I rose up through a number of administrative positions including deputy provost and dean of faculty. Tufts asked if I'd be interested in being Provost. I thought about it and thought it would be a great opportunity. Tufts was poised to get to the next level. I was looking for institutions that are ready to take that next step. Boston was a big attraction after Hanover, New Hampshire. And I took it.
TCP: Compared to Boston, how do you like New York City?
JB: Oh New York is amazing. The East Village is where everything is happening, right? This is, right now, Cooper Union's location, the most exciting place to be a student. As a faculty member, I'm essentially a lifelong student so this is a great place to be.
TCP: Is the house on Stuyvesant Street your first New York City residence?
JB: Yes. It is not Jesse's (my wife) first New York City residence, but it is mine.
TCP: Who do you live there with?
JB: Jesse Papatolicas, my life partner who I just married two weeks ago and our two dogs Charles and Hudson. Charles because of the Charles River and Hudson because of the Hudson River since we moved from Boston to New York. Jesse is the first lady of Cooper Union. You should get to know her. Interview her. She's very nice and a person of considerable accomplishment on her own.
TCP: In the little free time that you do have, what do you like to do?
JB: I like to listen to music and play music. I also like to play chess on the computer. It's quite addicting and if I start on the low levels of difficulty, I get really happy that I can win. So then I turn up the difficulty and it kills me. Then I decide to go on to do something else. I run two or three times a week and I go to the gym a couple of times as well.
TCP: Is music still a big part of your life?
JB: It is.
TCP: Do you go to concerts?
JB: We were at a concert last night. We'd like to do more of that and that will happen when things settle down a little bit more. Mostly what I like to do is play on an amateur basis with other people in the city. Ideally, I like to do that once a week or once every two weeks. We play string quartets at people's houses, which is what I used to do. But things are a little bit busier now. I'd say a maybe year from now that will start to become more of a routine.
TCP: What do you like to do when your job becomes stressful?
JB: Jesse and I like to go for walks. On weekends we sometimes take long walks. We've walked over the east river sometimes. We walk the dogs. We go to concerts. We check out some of the New York City restaurants. It's amazing. We have friends over and family over and the other things that I mentioned, like music and chess. Don't get me wrong, I'm not great at chess. I know some students are really good, but it's good for relaxation.
TCP: Do you have a favorite place to eat around here?
JB: Yeah. There are two restaurants that we like because they're owned by a friend of ours whose name is Jehangir Mehta who's also from Bombay. It's his own special fusion cuisine. One restaurant is called Mehtaphor. And the other is called Graffiti. They have a little bit of an Indian touch here and there but he combines Indian with Spanish, Indian with American, and it's really quite wonderful. We like the Italian restaurant on 11th street between Broadway and university place.
TCP: Do you have any advice that you'd like to tell to Cooper students?
JB: I know that it's a very demanding curriculum at Cooper Union and that's one of the great qualities. I'd say even while you excel academically, find ways to broaden your perspective. Involve yourself in other activities, be they origami or Steve Baker's athletics. He welcomes everyone even if they may not be serious athletes. Go to Great Hall events. We had a brilliant lecture last night on the U.S. Constitution, free. The Great Hall is one of the great assets. For Cooper students it would be a great opportunity to learn things outside of the classroom.
Photo was found on cooper.edu, photographer unknown.