Saimon Sharif (ChE '15)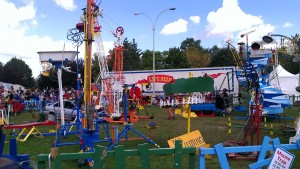 The World Maker Faire 2012 occurred on September 28th and 29th at the New York Hall of Science. It wouldn't be an overstatement to say many Cooper students attended Maker Faire. About 90% of students acknowledged they attended when Professor Wolf conducted an informal survey in physics lecture. Their motivation for attending was likely the same as the majority of the public. Maker Faire is ridiculously cool. Between 3D printers, life size mousetraps, ice cream eating competitions, Phineas & Ferb kites, there's no reason to not make time for Maker Faire.
Beyond being entertaining for a day or two, Maker Faire serves the higher purpose of engaging both the public and children in science and engineering. A bit reductionist perhaps, but the more we engage the public in these fields, the more likely funding for them will increased. Furthermore, I can safely say that many of my fellow classmates would not have gone into science or engineering if they had not been exposed to the fields at a young age. We, as students, should present our projects as makers and inspire the next generation while passing on our passion for engineering and science.
Photos by Henry Wang (ME '15)