Marcus Michelen (BSE '14)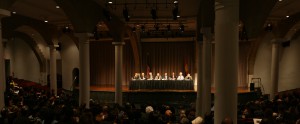 On Friday March 1, 2013 a few members of the Board of Trustees, along with President Bharucha, spoke before the Cooper Community in the Great Hall.  We were treated to a brief history lesson from trustee Michael Borkowsky (ME '61), followed by a Q&A session.  The first batch of questions came from a cache of roughly 120 questions that were submitted online by various members of the Cooper Community.  The second batch of questions was asked by members of the audience.  These questions were moderated by trustee Edgar Mokuvos (EE '78).  Also present from the Board of Trustees were Don Blauweiss, A '61; Raymond Falci, ME '86; Thomas Driscoll, ME '77; Francois de Menil, ARCH '87 and, of course, Mark Epstein A '76.
These seven members of the Board of Trustees took their seats at 6 PM, almost exactly on the hour.  President Bharucha wasn't there at first.  Something felt very off.  There are a lot of members of the Board of Trustees, presumably with a fair amount of diversity.  Why, then, would they pick seven, white men with glasses in their forties?  At the risk of sounding exceedingly snarky, the panel bore more than a passing resemblance to Statler and Waldorf, the grumpy millionaires of The Muppets.
I was not the only one to notice the homogenous group of men that sat before the hungry audience; at the forum, Professor Anita Grossman of the Humanities Department said, "Never have I been confronted with a podium that is so entirely male."  Mark Epstein responded, with the right amount of humor and self-consciousness, "we're well aware that we're too male and white."
I don't bring up the lack of diversity for the sake of a cheap joke and obvious reference.  Clearly, there must have been a reason that these seven were selected, especially since a female member of the Board of Trustees sat in the front row of the audience, not a member of the panel.  Looking at the list of Trustees on cooper.edu (cooper.edu/about/trustees), we see 22 names listed, including Jamshed's.  Of these 21 (I omit Jamshed), eleven have degrees from Cooper Union.  All eleven are male.  The members of the Board of Trustees who spoke on March 1st were all male, yes, but more importantly, they all have degrees from Cooper.
I'm sure many of you are writing this off as a mere coincidence already, so I did a little bit of number crunching.  Let's assume that the seven members were chosen randomly from the pool of 21 names; the odds that all seven members chosen were Cooper graduates are approximately .284%, less than 3 in 1000.  To me, this shows that these men were chosen largely because of their direct ties to the Cooper Community.
It's no secret that we as students and faculty members have alienated the Board of Trustees.  In their own way, I think this choice of having Cooper grads speak is a very well-intentioned attempt to connect with the fairly intimidating Cooper Community more.
Demographics aside, the forum was quite typical.  Many fantastic questions were asked, a few repetitive questions were asked and, as expected, Professor Sohnya Sayres calmly and elegantly explained the beauty of the meritocratic nature of Cooper Union.  Most familiar, perhaps, were how the members of the Board dodged and avoided questions.
The members represented did not take any kind of responsibility for mass deferring of the Art school's class of 2017, they failed to tell us when real decisions will be made (they have told us that March 6 is an important meeting, however) and, in some cases, the members simply dismissively disagreed with points raised.  For instance, a student brought up the lack of transparency in the Board of Trustees and Thomas Driscoll simply responded with "I think there's been a very transparent process."
What else were we expecting?  I joked before the meeting that the best case scenario would be the announcement of a large-scale gift and that the worst case scenario would be the announcement of the closure or implementation of tuition at any of the three schools.  We didn't get either of those, clearly, but frankly we didn't gain any substantial information at all. Which naturally brings to mind a more complicated question: why even hold this meeting in the first place?
We'd all love to believe that the Board of Trustees would like to the hear the opinion of the community before making any dramatic decisions, but it's a little bit late for that.  The Board is well aware of what the community feels about nearly everything at this point; I don't know how much that affects the decision that they will eventually reach, but at this point it would be outrageous if they didn't know how the community feels.  Given the sheer lack of new content that appeared during this meeting and the choice of all Cooper graduates, this seems like an attempt to reach out to the community gone wrong.
In retrospect, nothing else could have really happened.  We're at the point in time where we, as a community, cannot influence the Board's decisions.  All we can do is wait.  In lofty terms, this meeting was a form of anagnorisis: the moment in a Greek Tragedy when the tragic hero is suddenly made aware of his fate.  While it may be a reach to compare the troubles of the Cooper Community to a hero in an Aristotelian tragedy, this meeting was nothing but a severe kick back to reality.  It was the time we collectively realized that this is really happening.  Just like the classic Greek Tragedies, there's nothing we can do about our fate.  Whatever happens at this point is completely out of our control.
The only thing we can do is attempt to reach out to the Board of Trustees.  Regardless of what happens to the Cooper Union, every single person in the Cooper Community can only better from more secure and real connections between the Board of Trustees and the rest of the community.  We've tried to reach out to Board on numerous occasions; many of the questions that students presented before the Board on March 1st were strictly about improving relationships between the Board and the Cooper Community.  I know it's a cliché to say so at this point, but the Board is not reciprocating our effort.
As a community, we have to keep trying. March 1st was a day where we tried very hard to reach out and the Board simply gave us nothing.  When Professor Sayres beautifully described the appeal of Cooper Union, she stood before the Board of Trustees in an attempt to communicate she believed they did not understand.  A friend of mine took a screenshot from the live stream when she was speaking to the Board; the results are quite poignant.
We see our Sohnya Sayres standing before these power-tie wearing gentlemen. This photo encapsulates the clear and apparent barrier between the Board of Trustees and the Cooper Community, a wall both parties lent a hand to help erect.  Visually, it bears much resemblance to the iconic photo of a man standing alone before a column of tanks in the Tiananmen Square protests.  It is all too easy to demonize the Board of Trustees as a vaguely fascist, imposing and mechanical group of scary men in suits.  We must move past this.  These were Cooper grads we met with.  They aren't an extension of the Community; they are a part of the Cooper Community.
There's room on both sides to try harder.  Somehow, we need to improve our image of this collection of people.  In turn, they need to reach back to us when we reach out to them.  Someone has to make the first move; this ball won't get rolling by itself.  Let's keep trying to reach out to them.  Let's not think about them as Statler and Waldorf, but as our brothers and sisters in the Cooper family.  It's all we can really do.
Photos by Jenna Lee (ME'15)