Saimon Sharif (ChE '15)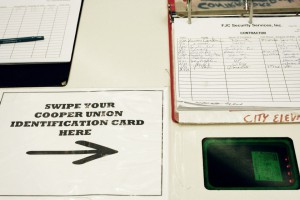 On January 23rd, a campus notice was sent to faculty, staff, and students with the subject "A Message About Safety." The email stated that faculty, staff, and students attempting to enter 41 Cooper Square (NAB) would be required to swipe in using their Cooper Union ID card. The same group must show their Cooper Union ID when entering The Foundation Building. Previously, the ID requirement was only occasionally enforced.
According to Dean Lemiesz, the change in ID policy is due to a higher frequency of incidents involving outside individuals, previously related to Cooper Union, gaining entrance to buildings. Since older Cooper Union ID had color-coded validation stickers, a swipe policy for the NAB was planned when the building was constructed, but other matters interfered with the installation of the card readers.
Photos by Jenna Lee (ME'15)