Caroline Yu (EE '15)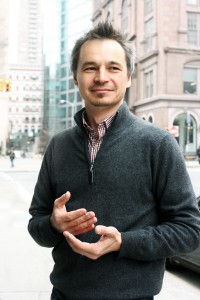 The Cooper Pioneer: Where are you originally from?
Maxim Marienko: I am from Russia. I was born in Omsk but I got all my degrees in Moscow where I moved at the age of 17. I graduated from Moscow Institute of Physics and Technology (Phystech), one of the most selective and arguably the best physics school in Russia.
I got my PhD from another excellent place – Kapitza Institute for Physical Problems. I've been specializing in theoretical condensed matter physics – superconductivity, superfluidity, quantum liquids and gases, organic and high-temperature superconductors, physics of correlated electrons and complex quantum phenomena in general.
TCP: Why did you choose physics?
MM: Because I love it and I have a passion for it. Physics is the most fundamental of natural sciences, and it teaches us to think and to understand the world around us. I love questioning how things work. I like the idea that my research is making a contribution to world of knowledge. I like to solve problems.
It is the analytical thinking that physics develops that helps you with everything, not textbook problems – everything. And I really enjoy teaching and sharing my knowledge, it is a very rewarding experience.
TCP: Which university or research lab was (or is) the most exciting place to work?
MM: I've been working at several universities. I went for a postdoc at the University of Sherbrooke in Quebec, Canada. That is a great place for a condensed matter physicist and I learned a lot being there. I love it here in NY. With many universities around, there is a huge potential for learning, exchanging ideas, communicating with best researchers. My PhD years back in Moscow were absolutely great.
That was the first time I've got an experience working in a real research group, at a famous institution, wondering, discovering and publishing. The atmosphere was amazing – I probably didn't have that anywhere else. And I love to be at Cooper. I love the students and their attitude. I feel that they are very energetic and many of them are trying to do more than just simply attend lectures, do the homework and pass the course. It reminds me of my years at Phystech, too.
TCP: What is your role in Cooper? What is your department's role in Cooper?
MM: This is my 2nd semester here. I started with a recitation section. This semester I'm very excited to teach [the] lecture course of modern physics. It is a big class, and [that] is always a challenge, but it's so exciting to teach such a complicated subject. I am enjoying doing that – working on my lectures, being in a classroom, trying my best to explain and I hope it works for students!
TCP: What brought you to Cooper Union?
MM: I knew Cooper is an excellent school and heard many good things about it. I thought, "I want to teach a course here," and I am very glad that at some point it became possible!
TCP: Do you have a favorite professor or colleague at Cooper?
MM: So far I've been working with Prof. [Alan] Wolf and with Prof. [Partha] Debroy. It's going very well so far, and I look forward to meeting with other Cooper faculty members.
TCP: What are some of your hobbies?
MM: Black and white traditional film photography, skiing, and mountain biking, if you wanted me to name three of them.
I am a big fan of black and white street and abstract photography. I do all the stages of it, including developing and printing in the dark room, even though I don't have much time for it now. I like the style of Magnum photographers, Cartier-Bresson, Joseph Koudelka, Mary Ellen Mark, Robert Frank, Ralph Gibson – the list is long actually. I've been very pedantic about a composition which is often hard to have in a street scene. You never think about the moment when you press the shutter button. You just do it when you feel everything in the viewfinder is at the right position. If you think, you will be a split second late and everything will change. So for me it's some king of sport, too.
I do mountain biking in the summer and I ski a lot in the winter. I enjoy challenging terrains, bumps, moguls, trees. And I am glad to share my passion with many friends from whom I can learn too. After all, skiing is a social sport.
TCP: What advice would you give to Cooper students?
MM: To be creative. To use their own initiative. Know your goals and be focused on them, but always try to invent something new in your life. Use your time at Cooper wisely. And once again, be creative.
Photos by Jenna Lee (ME'15)