Yara Elborolosy (CE '14)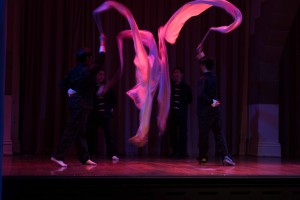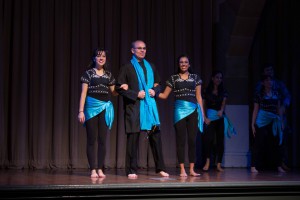 On April 6th, hundreds of students filled the great hall for the annual culture, run by the South Asian Society. Sponsored by Dean Baker, the culture show demonstrates that Cooper Students can bring more to the table than their intelligence. The emcees for the night were once again Marcello Ricottone (ChE'14), Jonathon Ostrander (ME'14), Alexa Reghenzani (Arch'15), and Sharang Phadke (EE'14), entertaining the crowd between every act. The night started off with Poco a Poco, an instrumental group that just started up this year. They broke up their act into two parts, the first part composed of tubas, trombones, and trumpets while the second part composed of the string instruments. Playing classics that most of the audience recognized made the act a great way to start the night. Next up was SAS Girl Dance, a recurring act that manages to be different every year. They danced to a mixture of contemporary upbeat Bollywood music, which made the act enjoyable to listen to and watch. Afterword, the Cooper Union Breakdance club performed with some new recruits including, for the first time in my last three years here, girls.
Professor Lepek once again awed us by playing a classic on the piano, filling the great hall with beautiful music. Ballroom dance club danced elegantly, showing off their Argentina Tango and Salsa skills. Chinese Yo-yo, an act that started off as a one-man show, evolved into an eight-person group during the culture show. This allowed for many amusing tricks, such as passing yoyos to each other. To end the first half of the talent show, SAS performed the guy's dance, which was just as wonderful as the girl's dance. Once again, they picked upbeat music and kept the crowd in good spirits. After a fifteen-minute intermission, the culture show started up again with the Cooper Union Gospel Choir, a singing group that just started up this year. Singing with beautiful, strong voices, Gospel Choir had the entire audience joining in, either by encouraging spectators to clap to the beat or sing along. Afterwards, CooperNova, another group that also just started up recently, entertained us with their dance moves. Dancing to songs from all over, CooperNova integrated cultures from members of their group into one great performance. Sons of Pitches, a male acapella quartet took over after CooperNova. They sang two songs, one more well known then the other, but did a wonderful job with both songs.
A new act performed by Mary Madison Mazur (CE'15) was up next, an Irish step dance called Kilkenny Races, a unique and wonderful act, showing us a great dance we may have never seen elsewhere. Coopertones came up next, our very own singing group. Celebrating their last performance with one of the senior members of the group, Coopertones sang beautifully as always. The dombra, a two stringed lute from Kazakhstan was played beautifully once more. Playing two well-known songs, Diana Yun (Art'13) filled the hall with elegant musical notes.
Chinese Student Association (CSA) performed a Chinese cultural dance, similar to the one performed last year. Their Chinese cultural dance fused ribbon and fan dance together with great light effects to create a beautiful performance. Last but certainly not least was the SAS group dance. Group dance was a very upbeat and fun performance to watch, made even more enjoyable was the reaction the audience had when President Bharucha came out during the Group Dance and joined along. Ending the night with delicious food that, Culture Show 2013 was an amazing event. The unsung steer of this year's culture show was its integration of the three schools, across all years, into its acts.
This year was a shining example of how much better the performances will be because of it. If you missed the Culture Show, be sure to check out the videos all over Facebook.
Photo credits to William Biesiadecki (ME'14)