Anamika Singh (Art '17)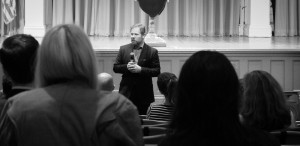 Our perception of warfare is a result of the mass media culture we dwell in. Within the realms of many of our imaginations, warfare continues to exist in the rugged terrains of war torn countries. However, with the urbanization of the world increasing at unprecedented rates, warfare is in a continual process of evolution.
On Thursday, October 3 the Cooper Union was privileged to host David Kilcullen, a leading expert on Modern Warfare and author of Out of the Mountains: The Coming Age of the Urban Guerilla. Among an intimate audience in the Great Hall David Kilcullen introduced his new book and began his talk with a brief outline of Out of the Mountains. Kilcullen opened with an account of his experience in Afghanistan nearly four years ago when a group he was travelling with was ambushed midday in a remote location. While Kilcullen's group mates attributed the attack to the Taliban, Kilcullen had alternative ideas suggesting that the ambush was not necessarily conducted by the Taliban. This event saw Kilcullen begin to realize the oversimplification of complex conflicts, especially through spectator perspective. Through this experience Kilcullen realized that a new set of ideas were needed to understand the paradigm shift occurring in current warfare and future conflicts. In regards to this new age of warfare Kilcullen posited that "as Afghanistan and Iraq come to an end, [we will] see a high level of operational continuity but a very strong degree of environmental discontinuity."
As David Kilcullen continued to speak he provided strong facts to accompany his theories and analysis. Kilcullen soon proceeded to create a verbal visualization of the upcoming generation in which warfare and conflict will be effectively different from that of the past decade or so. While previously common military action involved hunting armed non-state groups in unoccupied and remote terrains, current and future action has shifted towards "urban fighting." With this information Kilcullen outlined the four major trends that are beginning to shape the future environment of modern warfare and conflict: Population growth, Urbanization, Costal Growth and Digital Connectivity. As the global population sees accelerated increase, urbanization grows. The global phenomenon of the migration of rural populations to urban areas contributes extensively to these factors. From Syria to Mumbai, Kilcullen touched upon numerous examples in order to further illustrate how these four trends are affecting warfare and conflict. However, as urbanization quickly manifests, local insight will play a larger role within conflicts as many cities are created through socio-economic variables including the influence of non-state groups, drug cartels etc.
Kilcullen also mentioned the advent of Virtual space, a new kind of "space" to be kept in mind going forward. As digital connectivity grows, access to information and global communication also creates a whole new area to be considered in future conflicts.
As David Kilcullen finished his talk, members of the audience were given the opportunity to ask questions and the floor was thrown to open discussion. One audience member asked about the preparedness of American cities to cope with conflicts to which Kilcullen reassuringly responded that we live in perhaps one of the most prepared and safest cities in the world. Kilcullen responded to each question with extensive detail and offered his own opinions as well as stating clearly where he could not answer. Afterward audience members were given the opportunity to buy his new book and indulge further. ◊
Photo Credit: Vincent Wai Him Hui (Arch '15)