Caroline Yu (EE '15)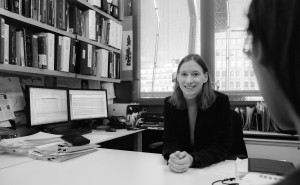 Meet Professor Melody Baglione, Professor of Mechanical Engineering. Read about how she became interested in mechanical engineering, the projects she and her students are working on, and her fantastic advice for current Cooper students.
The Cooper Pioneer: Where are you originally from? Can you tell me about your educational and professional background?
Melody Baglione: I grew up in Detroit, Michigan. I often have to repeat that it's Detroit – Detroit, meaning inner-city Detroit, because people often think I'm from the suburbs. I'm a product of Detroit Public Schools. It was a unique environment to grow up in. It really shaped who I am. It's also the automotive capital of the world, thus I became interested in cars and the automotive industry. My brothers, my father, my uncle, and most people around me worked for or were associated with the automotive industry so I became interested in cars and technology and ultimately decided to pursue engineering.
I did my undergraduate degree at Michigan Tech in Houghton, Michigan. It's an engineering school in the Upper Peninsula of Michigan. It's further north than Toronto. My freshmen year we accumulated 328 inches of snowfall – we went snowmobiling in May. It is very different from New York City. It is very rural and used to be a copper mining town. The university is surrounded by old ghost towns and nature. It's completely different from Cooper Union and being in an urban environment. I like being either in an urban setting or the country.
I also spent a year abroad on the Congress-Bundestag Youth Exchange Program. I studied a semester at a German technical university and did a "Praktikum" (a sort of German apprenticeship) at BMW spending two months in the Motorsport engine plant and four months working on powertrain vibration testing. I also spent a semester at the ETH-Zurich (The Swiss Federal Institute of Technology).
After Michigan Tech, I decided to try management consulting. I worked for one of the big consulting firms for nearly two years. I quickly realized I missed doing real engineering work. I worked on business strategy projects but I missed designing and engineering products and decided to go back to grad school. I went to the University of Michigan where I got my Master's degree and then I went to industry in an international management training program at DaimlerChrysler. I traveled back and forth between Stuttgart, Germany and Auburn Hills, Michigan. After the training program, I took a job as a power systems engineer doing calibration and control system modeling before ultimately deciding I wanted to finish my PhD. I worked part-time at Chrysler and completed my dissertation at the University of Michigan.
TCP: What is your role at Cooper?
MB: I'm an Associate Professor in the Department of Mechanical Engineering. I teach courses related to systems and control as well as vibration. I am also interested in advanced vibration testing (modal analysis) and acoustics. In terms of my role, I see myself primarily as an undergraduate educator. I hope to make the curriculum more interesting by adding real world projects and by working together with other faculty to create meaningful lab experiences and help students develop professional skills that prepare them to take on meaningful roles in industry and academia.
TCP: Could you tell me about the project NY1 came to look at a few weeks ago?
MB: The Interactive Light Studio project started a few years ago. There's a desire among Cooper Union students to do more interdisciplinary projects. As part of my vibrations class, I require students to approach real world vibration projects and try to reduce unwanted vibration or solve acoustics problems. One year, students and I decided to take a creative twist by using vibration to make an interactive LED display. Nick Wong, a particularly creative Master's student, and a few other ME students created this interactive LED sound projector for the End of Year Show. Mike Essl from the art school also helped to advise this project. The idea was to bring art and engineering together. When I found out about the School for the Deaf on 23rd Street, I thought what better way to use something like this than to help deaf children visualize sound. From my understanding from talking to teachers at the school, deaf people can feel vibration from sound. Often when one of our senses has a deficiency another one takes over. The concept turned into a number of projects over the past few years where we create technology to help these students visualize sound and also help all students become interested in science and engineering. The project also shows them the creative side of engineering and technology. The school gave us an entire room – in NYC that's really rare – that's at our creative disposal to try things out. We received three Diversity Action Grants from ASME to help fund the project. We're really hoping that the Light Studio spurs more collaboration between all three schools as we come up with creative ways to make this room engaging, but also artistic and creative, and showcase technology. Channel 7 came to report on the Light Studio project a few years ago and NY1 ran a story a few weeks ago.
The studio has interactive fireflies designed by Nick Wong. Alumni Bridget O'Meara, a mechanical engineering student, and Hannah Clevenson, an electrical engineering student, made LED flowers which "talk with light". A deaf girl from the school was interviewed by NY1 and explained using sign language how the flowers talked to her through lights, which was really inspiring. David Tan and Dale Short created a giant interactive projector that senses and responds to sound and movement using sensors from an Xbox Connect. There's an interactive fish tank where the children chase fish around. We learned that children who require physical therapy or need help in developing fine motor skills benefit from the interactive fish tank since it encourages them to reach for the fish. There's another sound and light installation in which students play musical instruments and see the sounds they create visually on a projector. They can interact with a Radiohead song that's digitized by using their hands to turn on certain parts of the song. It's really fun. If people are interested they're welcome to come see me and come up with other ideas for the space.
TCP: Do you have a favorite professor or colleague here at Cooper?
MB: I don't have one particular but I have many for different reasons. The more I learn, the more I'm impressed by all the things that people are doing. We just launched the new engfac website and what other people do is impressive!
I really enjoy that in the ME Department we have a very collegial and collaborative environment and we bounce ideas off each other. It's a great cast. We're all very busy and there are so many things we want to do. We have a desire to work together and we're coming up with new lab and project experiences that build on concepts from all different classes. I'm trying to integrate the systems in 41 Cooper Square into projects – the building has electrical, mechanical, and structural components – all the stuff we learn about are housed here. Other professors are working to integrate the building systems in their courses, as well.
TCP: What are some of your hobbies?
MB: Hobbies. Currently I don't have a lot of time for hobbies. I do enjoy swimming. I try to make time for swimming. It's a great way for me to stay in shape and reduce stress. I also have two children at home – a one and a half year old and a six year old – so spending time with them is really important.
TCP: What advice would you give to Cooper students?
MB: First of all, I'm very opinionated and I'm always willing to give my opinion so students are always free to stop by regarding different things. For incoming students, my advice would change along with their progression at Cooper. When students first come to Cooper Union, the curriculum is kind of intense and focusing on your studies is important, but as time goes on, students need to find a balance and their college experience should be more than just studying. When you get involved in a project – either with a professor or with some other organization or something that students start on their own – there can be a lot of learning involved in that, too. So I encourage students to get out and get involved at Cooper or in the city. There's a lot to be gained from activities outside of the classroom.
TCP: What hopes do you have for Cooper over the next ten years, and beyond?
MB: Well, obviously, we have a lot of challenges with the decision to charge tuition. People are anxious about what the future holds. But there are many people who care a lot about Cooper Union and I'm sure if we put our minds together we can continue to make this a great place to be. I really think that we have a unique learning environment and it can continue to be a unique environment with close student and faculty collaboration and with community projects in New York City. I see us trying to understand the needs of the students and what skills they need in the future and realigning the curriculum to maintain its academic rigor but at the same time provide experiences to help students become productive members of society in order to influence the world in a positive way and came straight to Cooper.
Photo Credit: Vincent Wai Him Hui (Arch '15)