Anamika Singh (Art '17)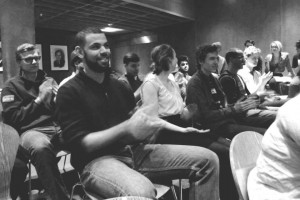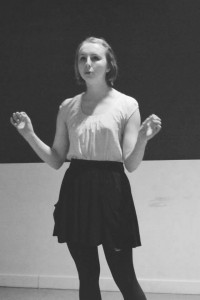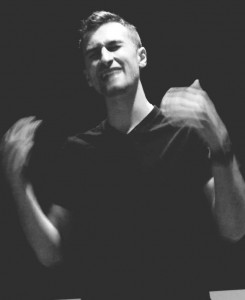 On February 27th, Cooper Union poets gathered to celebrate the long tradition of spoken word poetry. Hosted by the Black Students Union (BSU), The Poetry Slam was an opportunity for all to get in touch with their inner poets and share the passion of poetry. While the tradition of spoken word poetry dates back to Ancient Greece, the modern form of spoken word originates from the African American Civil Rights Movement and Harlem Renaissance.
Osaze Udeagbala (ChE '15), President of BSU and host of the event was the sacrificial poet of the night, meaning he would begin the line up. Osaze opened the night with his intense but humorous poem Blackberry, his first spoken word performance. Michael Ketigian (BSE '12), a Cooper Union alum and phenomenal poet then took the stage, setting the tone for a successful night ahead with his poem. After Michael various other poets such as Carson Foley (Art '17), Steven Neuhaus (ChE '15), Chaimaa Makoudi (CE '14), Kenneth O'Neill (ChE '16), Anthony Traina (ChE '16), Hindi Kornbluth (ChE '14) performed. After a short intermission Keagoe Stithm (Art '13), Ratan Sur (CE '15), Keith Caskey (ME '15), Anamika Singh (Art '17), Jimmy Espinoza, and Emma Faith Hill (Art '17) followed, bringing their words to life. The night closed with Sarah Schmitt (Art '17) and her incredible poem "Dear Diary".
The Poetry Slam created an environment in which students were transformed into poets and their words carried the audience to a place of passion, love and understanding. The Black Student's Union gave students here at the Cooper Union the opportunity to truly engage and express themselves through medium of this art. Slam poetry has the power to move and empower its listeners, perhaps a reason why the tradition persists generation after generation.
You can view photos of Poetry Slam, taken by Antonia Stoyanovich (Art '16), here: http://on.fb.me/1nskiwY
Photo Credits: Antonia Stoyanovich (Art '16)