Caroline Yu (EE '15)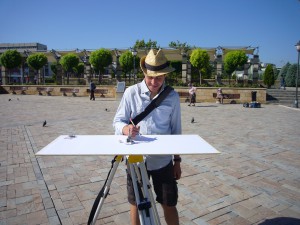 Meet Firat Erdim (Arch '01). The Pioneer interviewed him over the summer in 2013. Check out how his Cooper experiences shaped what he is doing today and what advice he has for current Cooper students.
The Cooper Pioneer: What is your favorite memory of Cooper?
Firat Erdim: There are so many good memories that it's hard to pick one. The architecture studio certainly holds many of those memories for me. I met my wife there. We celebrated our first Valentine's Day together while working overnight in the architecture studio. We both had some sort of deadline the next day. She gave me a copy of John Hejduk's Soundings, which I still cherish, and I brought her a single rose once an hour through the night.
TCP: What clubs or groups did you enjoy the most during your time at Cooper?
FE: I didn't get involved in any groups or clubs while at Cooper. The architecture studio kept me pretty busy, and when I was less busy, there was the whole of New York City to explore.
TCP: What specific aspect of Cooper has influenced you the most during your career?
FE: Without a doubt, the most influential aspect of Cooper for me was the spirit in the architecture studio. The creative energy, support, and dialogue that existed between the students there are like nowhere else I've been. It gave me a sense of what it means to participate in, and hopefully contribute to, a community engaged in creative work and intellectual exploration.
TCP: Why did you choose to pursue a Master of Architecture degree?
FE: After graduating from Cooper, I worked at architecture firms, primarily Pei Cobb Freed & Partners, in New York for about five years. During that time, I was also making drawings and constructions at a studio space I rented with a few friends, all art and architecture alumni from Cooper. After about five years, I had accumulated many questions about the relationships between art, architecture, and the city. I thought exploring, and hopefully resolving, these questions were critical in figuring out how I wanted to practice going into the future. The Master of Architecture degree allowed me the focused time to work on this, and a community of colleagues and mentors to engage in debate. It did not resolve anything, of course, but gave me much more to think about, explore, more reasons to make new work.
TCP: Do you still speak to your classmates?
FE: Yes, I try to keep in touch as best as I can, though unfortunately I have fallen out of touch with some. I think the friends one makes there are like no other. They've seen you at both your best and your worst. It's always inspiring to hear the kinds of things my friends from that time are working on now. There is a process of adjusting to, and finding one's way in the world, and it leads people in unforeseeable, interesting directions.
TCP: Can you describe your current job, industry, and/or company? What is the theme of your current work?
FE: In the last few years, I have been teaching architecture and landscape architecture students, while also working on independent projects, usually involving axiomatic drawings and constructions about architecture and landscape. I spent the past year in Turkey, teaching in the Faculty of Fine Arts and Design at the Izmir University of Economics, and co-directing a project and exhibition space that my wife, Olivia Valentine, and I founded there. This space, which we called "Flash Atölye" became an entirely new direction for me. We rented this small storefront shop in a "pasaj" – a covered commercial arcade – in the old market area of Karsıyaka, Izmir, initially intending to use it as a studio. The space was essentially a large vitrine, with two solid walls, and two glass walls facing the interior court of the pasaj. The pasaj itself, and the surrounding market, is a cornucopia of small craft and trade businesses, with tailors, barbers, bakers, leather-workers, curtain-makers, printing presses, etc. Realizing the potential for an interesting dialogue to happen there, we invited some friends from our community of artists and architects in the U.S., all of whom had a practice engaged in issues of making and place, to come and do a project in our space, send us work to exhibit, or simply send instructions for us to carry out. In the end, we had hosted about a dozen projects, with people from Chicago, New York, and Izmir. I'm very happy to say that the response from the local community was overwhelmingly positive and supportive. Despite the language barrier and lack of a shared cultural context in most cases, an interesting and transformative dialogue took shape centered on a respect for making things with care.
TCP: Can you describe your professorships? Do you enjoy teaching students?
FE: I feel very fortunate to have taught students of architecture at a few different institutions so far, including the University of Virginia, the Illinois Institute of Technology and the Marwen Foundation, both in Chicago; and at the Izmir University of Economics, in Turkey. I'm just starting a new teaching position this year at the School of Architecture and Design at IE University, in Segovia, Spain. I think working with the different curricula and students at these institutions has helped me develop my own voice as an educator. My teaching role has been with, for the most part, students in the early years of their architectural education, especially in the case of the middle-school students I was teaching at the Marwen Foundation. Those students at Marwen were amazing, by the way. We made upside-down, hanging structures inspired by Gaudi's string and chain models. The combination of uninhibited creativity and utter seriousness with which they pursued their work was very inspiring to me, and would give most first year students in college a run for their money. In fact, Marwen has a mission and spirit similar to Cooper, so it's not surprising that it worked so well.
I take my role as a teacher pretty seriously, and I think it is always a challenging, sometimes frustrating, but most often a tremendously rewarding experience. That's something I'm very grateful for. I feel that any given school is, in a sense, re-created every year, based on the space that is constructed between students and teachers in any class, over the duration of any project, and teachers have a crucial role in setting the table for that to happen. I think that space is the one that is important, rather than the building that happens to house the institution. But especially when those two spaces can be brought together, then magic might very well happen.
TCP: Which institution has been your favorite place to display your work?
FE: I think I am more interested in situations where there can be a constructive dialog between the institution and the act or place of making. Perhaps the most interesting situation is where one invents the institution itself. Then it's not just about exhibiting but also continuing the process of making something and engaging the world with it, and maybe even creating the opportunity for something else, something unforeseeable to happen. For me, the most exciting situation was with Flash Atölye, which I've already mentioned. Though Flash was primarily focused on hosting projects authored by others, Olivia and I collaborated for the first (and hopefully not last) time, on the inaugural project for the space. I also worked on a collaborative project with a couple of the pasaj tenants, bringing together the craft of the phyllo-dough maker, Yigit Kara, and Arda Gunduz, the neighboring tattoo artist. I've generally considered myself a fairly hermetic worker, so this institution we invented changed the way I work, and I think that's great. I have a lot of gratitude for the curators and gallerists, especially Roy Boyd in Chicago, who have supported my work, but no pre-existing institution or establishment I've exhibited with has pushed me in that way, so far.
TCP: What advice would have give to current Cooper students, specifically architecture students?
FE: I would say to pursue your work, questions, and interests with determination, but also to keep an open mind and cast a wide net. Make good use of opportunities to pursue lines of thought across subjects and disciplines, because the resources to do so are a lot harder to get a hold of once you graduate. That net you cast might very well become a foundation for work and research you want to do in the future.
TCP: What hopes do you have for Cooper over the next ten years, and beyond?
FE: My hope for Cooper is that it can survive this current financial crisis, and get on better footing for the long run, without losing the spirit and vision that have made it the exceptional and wonderful place that it is.