Joseph Colonel  (EE '15)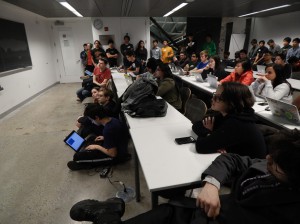 Lecture on explicit and implicit intents by Natanel Fuchs from Google during break time.
Though Cooper staff was on holiday from this past Thursday to Monday, the NAB opened to host the Cooper Union's second annual hackathon. HackCooper, a Major League Hacking (MLH) sanctioned event, brought together corporate sponsors that donated hardware and software packages to the more than 150 student participants. The students, who ranged from high school to graduate students, had 24 hours to create their "hack" and present it to a panel of judges for a chance to win prizes.
MLH strives to "spread the hacker ethos to every student on the planet; to cultivate communities where aspiring hackers have the opportunity to learn, build, and share their creations with the world." As such, hackathons are hosted around the country, enticing students to take a project from concept to final product with free food, energy drinks, and "swag."
HackCooper was sponsored by IBM®, yodle®, Dow Jones, The Hackerati, LinkedIn, Rhine API, littleBits™, Make School, Burak Kanber, Hack Manhattan, Thalmic Labs™, Device Factory, MakerBot®, and MLH. "Hackers" could rent out hardware ranging from an Oculus Rift, Arduino, and Raspberry Pi to a menagerie of littleBits™ modules as well as use software packages and services from IBM and Rhine API. All devices had to be returned after the winners were announced.
All "hacking" had to stop by noon on Sunday for projects to be considered for prizes. Each team presented their "hack" in the Rose Auditorium to a panel of judges and semi-lucid students. A group of sophomores in high school won first place with their "Hopulus Rift," a frogger game built from the ground up that placed a hopping player in the titular frog's place by incorporating an Oculus Rift and Xbox Kinekt. Second prize went to "Tunetap | Touring," a website that promised to overthrow the current paradigm governing music gig booking. Third went to "Palmitron," a prosthetic hand controlled by a wearable device. Nobody from Cooper cracked the top three.
Prizes were also awarded for humorous design (Gif Me), technical prowess (String2String), and extraordinary design (littlePinball). Corporations, too, handed out awards. IBM® gave an award for best use of their Bluemix platform (readme-dot-text); littleBits™ gave an award for best use of their hardware (littlePinball);  Make School gave an award for best mobile hack (Myout). A full list of "hacks" may be found at https://www.hackerleague.org/hackathons/hackcooper-2015/hacks
My hack, "DreadBot," won no prizes.