Brenda So (CE '18)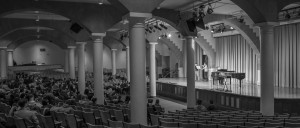 The talent show started at 7pm this past Saturday, but the rehearsals started hours before, around 2pm. All the performance groups were grasping their opportunities to have one final rehearsal on stage, to give final touches and perfect their performance. The Cooper Union Talent Show, which consisted of 16 performances in 3 hours, provided a platform for students, as individuals or as clubs, to showcase their talents.
 The MCs of the evening, Sam Zhang (EE '16) and Gavin Kaplan (EE '16), engaged the audience with their improvisation and humor. A variety of performances, including instrumental music, vocals and dances were displayed that night. "It just got to show that Cooper Union Student Performance are some of the best performers in the world," said Arnold Wey (EE '18), who performed in both Coopernova and a breakdance showcase, said "Peter Morfe's (EE'16) vocal solo made my legs numb."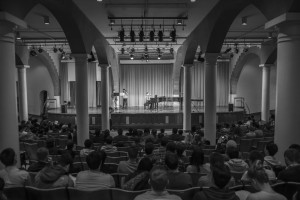 The performance comprised individual and small group performances. Zach Chang (CE' 16), who played the guitar in " Senbonzakura" in a kimono, amusedly recalled that "everything was wrong that night. My guitar didn't work, the keyboard didn't work, there was something wrong with the cables, so at the end we did not try to do it right and just have fun." The Ravel Chamber Ensemble, for instance, was an all-senior group who played the harp, flute, clarinet and string quartet. "I am extremely grateful to have the opportunity to perform with my classmates. We have been planning since sophomore year and rehearsing all of last semester", explained Sophie Lee Lamdau (ChE '15), who played the harp in the ensemble.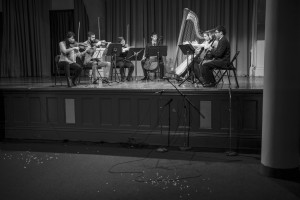 Multiple school clubs also performed. Coopernova performed a hip hop routine of "The Show Goes On" by Lupe Fiasco, a routine that they were going to perform in the US Championships later this month. The breakdance team broke down to amazing freezes and headstands that awed the audience.  Johnny Chen (ME' 17) said that "During the performance, I felt like I had talent. That's why it's called the talent show.  Its sad there are only two more years for me in Cooper." And at the end, Coopertones performed an A cappella medley on "Zedd Medley", "Pompeii" and "On Top of the World".