Anushree Sreedhar (ChE '18) and Caroline Yu (EE '15)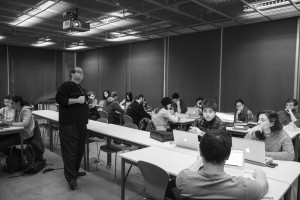 In January 2009, Dr. Eric Mazur of Harvard University published an article in Science Magazine called "Farewell, Lecture," featuring an alternate structure for classes that proved to help students better understand material. Mazur claims, "In hindsight, the reason for my students' poor performance is simple. The traditional approach to teaching reduces education to a transfer of information." Instead of lecturing, Mazur is now developing the idea of an "inverted classroom" in which students read the material before class, go to class to discuss the material, and engage in group work. Mazur states, "I now structure my time during class around short, conceptual multiple-choice questions. I alternate brief presentations with these questions, shifting the focus between instructor and students." The inverted classroom is making its way into The Cooper Union via Professor Daniel Lepek of the Chemical Engineering department and Professor David Wootton of the Mechanical Engineering Department.
Professor Lepek's "flipped classroom" consists of videos that present course content and class time used to solve problems. His classroom uses online electronic textbooks that can be annotated by highlighting and commentary features. Using a pedagogical system called "Learning Catalytics," Lepek can send questions to students' wifi-enabled devices during and outside of class.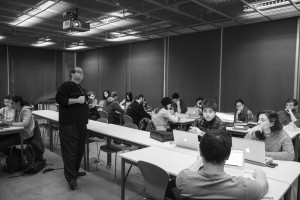 Professor Lepek describes how and when he first starting thinking about the inverted classroom: "Originally, I was considering using the POGIL (process oriented guided inquiry learning) approach to teach the course.  Then I joined the ASEE VCP (American Society for Engineering Education virtual community of practice) focused on research-based approaches to pedagogy.  In the community, I met Professor Steve Yalisove from the University of Michigan, who was telling me about a project that he's been working on with Professor Eric Mazur of Harvard University.  I was convinced that this was a better approach than POGIL and began implementing it last spring in my Heat and Mass Transfer course."
Student reactions have been positive so far, but Professor Lepek is still seeking ways to improve the method. Professor Lepek would also like to further study how the inverted classroom approach enhances student learning and engagement and has a NSF grant under review for the teaching method. He is the recipient of the 2015 Ray W. Fahien Award, sponsored and awarded by the ASEE Chemical Engineering Division. The award, which is based on outstanding teaching effectiveness and educational scholarship, is given annually to an educator who has shown evidence of vision and contributions to chemical engineering education.  Professor Lepek will receive the award, an honorarium and a commemorative plaque, this June at the Chemical Engineering Division Banquet of the 2015 ASEE Annual Conference in Seattle, Washington.