by Anthony Passalacqua (ME '18)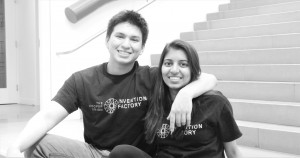 It's common knowledge at this point that this year's lauded winners of Invention Factory are Ruchi Patel (ChE '18) and Giovanni Sanchez (ME '18). Their "Sutureself," a device to quickly and easily stitch up large wounds, has the potential to legitimately help many people and become a staple of the medical field.
This article isn't about that. Information on Sutureself is floating around in many places, and that will be left as an exercise for the reader. Instead, we take you into a regular day of the first-place winners of Invention Factory 2015.
Giovanni wakes up early, far earlier than he'd like to, and a few blocks away Ruchi Patel does the same. After completing their morning routines, they head out to the NAB and prepare themselves mentally for another busy day.
Walking into the third floor physics lab, Ruchi and Giovanni have different jobs. They've split their duties evenly, both playing to their strengths in order to increase their chances. Ruchi works on slideshows and presentations, handling the upfront. Without her, the idea would surely be half-baked, and it probably still wouldn't be patented. Giovanni, meanwhile, handles the lion's share of design, making sure all the pieces move as they should.
A self-proclaimed "dynamic duo," Giovanni and Ruchi both have their hands full. They've named their workspace "Rio Santel Intensive Care Unit" and have Wiz Khalifa's Work Hard Play Hard lyrics posted on the table as motivational excerpts. Needles, thin threads, and empty energy drink cans are scattered over the table. Happily for them, a midday respite comes in the form of free food, although many days they skip lunch in the chaos of getting something to just work already! After chowing down—quickly—they're immediately back to work, hammering away at their computers to get the work done.
One can imagine as Giovanni struggles to figure out the mechanical movements that their device needs to make, through painful trial and error and at least a few eureka moments.
Meanwhile, Ruchi agonizes over wording, making sure that the idea is clear, presentable, and something that people want in their hands, and they want it yesterday.
As the day ends, for Ruchi and Giovanni in the wee hours of the morning, the sleepy pair stumble back to their respective apartments and collapse in bed, preparing themselves for the day ahead, to do it all over again. According to them? Worth it.
For more information on the "Sutureself" and other projects from this summer's Invention Factory, see here: http://cooper.edu/engineering/news/sutureself-takes-top-prize-2015-invention-factory