By Pranav Joneja (ME '18) and Krishna Thiyagarajan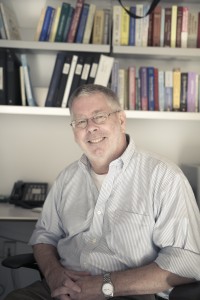 TCP: How were you asked to be Dean? Who specifically asked you to take the position?
RS: In May of last year, I was meeting with Bill Mea and Peter Buckley on a number of issues, including faculty union business. Bill Mea asked me if I would consider taking over as Acting Dean if the situation were to arise. We had a long discussion and at the end, I decided that if asked, I would consider it. But I would not apply or seek it out. If the job came along and I took it, I would step down from the leadership of the union and the chairmanship of chemical engineering. It would otherwise be nonsense to hold both titles: Acting Dean and President of the Faculty Union. That would be a conflict of interest. In early August, Bill Mea asked me and I agreed. About a week later, announcements were made to set the start date as August 10.
TCP: So what was happening from May until August?
RS: People had asked me before but no one was certain exactly how things were going to pan out. Jamshed Bharucha and Teresa Dahlberg left at the end of June, and after that, Bill Mea was just getting his ducks in a row though July. One of the actions Bill took, which in my opinion speaks to his understanding of transparency, was that he spoke to the faculty and staff, both in the engineering school and at other schools, asking for their ideas about who could be Acting Dean. He did a lot of legwork before he made his decision. It was a long, but straightforward process.
TCP: What is happening to your position as the President of the faculty union (Cooper Union Federation of College Teachers, CUFCT) and your position as Chairman of Chemical Engineering?
RS: Peter Buckley was the Vice President of CUFCT, so he's now stepping into the presidency of CUFCT. At the end of last year, I had one more term of my chairman position, so Irv Brazinsky is going to step in and finish my term. The chemical engineering department is pretty lean at the moment because Professor Daniel Lepek is on sabbatical. In that regard, having Brazinsky chair the department is the most pragmatic thing to do, as he has so much experience.
TCP: How have things been for you so far in your position as Dean of Engineering?
RS: Thankfully, I'm still teaching one course every semester. Right now, it's Senior Chemical Engineering Design, which is a fun course to teach. So far, I would say being Dean is a torrent of emails. (During the hour-long interview, the writers counted at least two dozen audible email notifications from Dean Stock's computer). It seems that everybody wants to keep me in the loop, so I get all the emails. There are a lot of things that I still need to learn. I'm not rushing at it. I'd much rather be able to understand it and do it right, than mess it up.
There is a lot of technology and databases, such as WebAdvisor, that I now have elevated access to, but I really haven't had time to play with it. My view of administration is that, while it's important to ensure the bureaucratic system is operating correctly, it's so much more critical to interact with people. I'll eventually get up to speed with technology.
You know, it's funny: since I was conferred the position, virtually everybody has been saying to me "Congratulations! …Or should I say condolences?" And I tell them, I don't have an answer…yet.
More seriously though, both Bill Mea and I have the word "Acting" in our titles. In other words, we find ourselves in a situation where the previous people in these positions are gone and we're in a bit of a mess. What this really means, to a certain extent, is that I've been presented with a shovel and people are looking to me and saying, "Okay, dig us out (of this mess)!" That's really what I'm trying to do. I'm trying to establish a period of stability in the Engineering school and I want to refocus everybody on just excellence in engineering education. I want to achieve that and improve it more in the future.
Right now, I don't want to get into the discussion of whether Cooper should or should not charge tuition. Down the road that's going to be sorted out and mechanisms are being put in place to do that.  But one of the best things that we can do as an engineering school, regardless of whether we charge or don't charge, is to do as well of a job as we possibly can.
As a school, I think that we have been confused about our governance and how we operate. Frankly speaking, I think that confusion has been fostered deliberately in the past and I want to get that clarified. I want to clarify how the committees work, who they answer to, and determine their composition, whether they involve administrators, faculty and/or students. Above all, we're doing it in a way that is transparent. For example, we're making sure meetings are documented, where it is appropriate, and that people know about them.
TCP: What about closed votes? (Closed or anonymous votes are a situation where individual votes are not recorded.
RS: In the past, closed votes arose in situations in which there is perhaps some controversy, like the curriculum or faculty tenure committees. My understanding of Robert's Rules of Order is that if a staff member sets a closed vote in motion, there is no discussion. You just vote as to whether you will have a closed vote, and then simply have a closed vote.
TCP: What tasks do you find most difficult as Dean?
RS: I was surprised at the number of deep individual issues that sometimes occur in a student's life. Until now, I wasn't entirely aware of the ways in which Cooper Union as an institution can and does provide support, for example through people in student support roles, like Chris Chamberlin. We need to rally around and make the situation supportive, perhaps by proposing a year off, or with advice to do this or that, because these issues can be deeply challenging to the student.
I find the depth of discussion among the administration and faculty very surprising. It's all guided by the question "What's the best thing that we could do for that student?" Even in the turmoil that has gone on over the last few years, everybody has worked hard to make sure that the education is still good, and that students are supported throughout their time here. That is one of the key, enduring aspects of Cooper Union. Everyone wants the students who come here to succeed in this environment. Sometimes that's difficult, but I love the way people rally around to make it happen.
TCP: This seems to tie into the Academic Standards Committee (ASC). Do you still serve on that?
RS: No. Before the fall of 2014, Brazinsky was on the curriculum committee and I was on the ASC. We swapped for purely political reasons. The chairmanship of the curriculum committee is rotated among the different departments, and at this time, it was about to be transferred to the chemical engineering department. At the time, Brazinsky was not as aware of the issues that were going on in the school as I was, so we decided to swap. That means Brazinsky was on the ASC last year, while I was appointed chair of the curriculum committee.
Among the reasons for the swap was the fact that we knew difficult discussions were coming down the line in the curriculum committee. Certainly in the fall semester, there were some contentious meetings I presided over. And then later, there were even more contentious meetings in the Academic Standards Committee.
"Acting Dean Stock did not explicitly state what happened during these 'contentious meetings.' For added clarity, the editors elaborate on this reference to the proposed curriculum for the Computer Science Program in another article in this issue."
TCP: In many students' minds, the Academic Standards Committee decides who stays at school and who leaves school. Does the role of the ASC exist outside of that realm? What else do it do?
RS: If you want to find a committee that works really well at The Cooper Union, it's the Academic Standards Committee. Professor Vito Guido, who has been the chair for a very long time now, runs a very tight ship. He keeps us on point. Typically, we don't know which students are coming up to the ASC until very shortly before the meeting. The actual content of the meetings are, again, really deep discussions as to what is the right thing to do for a particular student. Sometimes, it's fairly straightforward. Other times, it's much more difficult. It frequently involves all sorts of things that happened outside the academic sphere.
Occasionally, there will be a request for us to consider something. ASC, for example, has to sign off on everyone who is graduating. Occasionally, we get a senior who is finishing up in the fall semester. We might conduct an online discussion and vote on whether the person graduates or not.
TCP: What is happening with the search for the future dean?
RS: At the moment, there isn't one. The Board of Trustees is gearing up and working out the details of how it wants to do the presidential search. The concept is that it would be better to appoint a new president, and then, after the proper search and appointment, give the new president the opportunity to run his or her own search for the dean. Assuming the presidential search goes well, I will be in this position for two years.
TCP: Is there any chance that Acting President Mea might stay as the permanent president?
RS: As far as I know, there is nothing to preclude him from putting his name in the hat to be considered. However, I'm not sure whether he's thinking along those lines. We haven't had that discussion.
President Mea has been at Cooper Union for only a year. He's looking into the future, but he's cautiously taking it a day at a time. So, nothing can be concluded at this time.
TCP: Please comment on the recent legal settlement reached between the Board of Trustees and the Committee to Save Cooper Union.
RS: In my opinion, it is a very good thing. If you read the document published by the Office of the Attorney General (OAG), it is making Cooper Union do things and I don't see any of that as bad for Cooper Union.
The representation of different constituencies on the Board: though some of them are non-voting, at least it opens up communication that has not been open before. The faculty members, for example, are observers and they're essentially there to talk if they're asked. Still, they can at least report non-confidential information back to their constituencies.
Whenever I've had a conversation with the member of the Board in the past, it was always the case that I was telling them something that they didn't know. I have observed that one of the central reasons has been misinformation, or even no information, getting to the Board. I think opening up those pathways of communications with the board is valuable. I think the fixing the governance issue is valuable. I think the financial focus is very valuable.
I'm convinced we can operate within our means. We should maintain a student population of 950. Our aim is to do those things as an undergraduate school better than anyone else does. I think we can do it within our means.
Having third party oversight prescribed by the Attorney General in the form of the Financial Monitor is a valuable thing. We have demonstrated in the past that we need guidance. That may make some people uncomfortable, but the record states that quite clearly.
No one wants heads to roll; no one is going to go to jail over this. Still, the fact that a group of people was courageous enough to bring the lawsuit is highly appreciable. The fact that this piqued the state's attorney general was essential as well. The involvement of his office has been immensely valuable.
I will go on the record to state the first time I was phoned by the office of the AG was in September of last year. The attorney general had enough circumstantial evidence from his investigation, without doing any depositions or subpoenas. If he had gone through depositions, information damaging to the Cooper Union's reputation would have been released. We are fortunate that this step was not necessary.
Following the AG's release of the documents on September 2, people began asking me, "Where are we now?" And to that I reply, "Imagine you're in a swamp and you're up to your hips in some muddy, slimy, stinky water. You're surrounded by mist and you have no idea which direction to go in.  The mist lifts and in the distance you see hard ground. Now, you know where you've got to go. In order to get there, you still have to wade through all the grime. There are still a lot of things that we have to do. Most of it is not going to be hard for us compared to the previous years, because we can see the hard ground. There are still financial issues that we have to solve. And governance issues that we have to solve. It's especially important to get governance right in an academic setting. We are nearing a solution, but we still have to do work to achieve it.
TCP: What role did the faculty union play in the Attorney General's investigation?
RS: We worked very hard to keep the faculty union out of it. If the union got involved, we would taint the lawsuit from the point of view of the petitioners. Additionally, we would have damaged the union.
Besides, the issues they were bringing up in the lawsuit were not primarily issues of labor. Simply put, it wasn't the union's business.