by Anushree Sreedhar (ChE '18)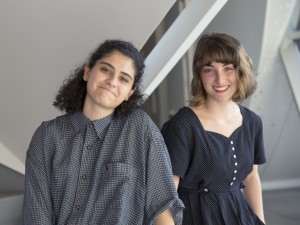 Welcome Jessica Marshall (EE '17) as she joins Devora Najjar (ChE '16) as the new Student Representative to the Board of Trustees. In light of the events of the summer, Jessica agreed to sit down with The Pioneer in order to discuss the future relations that students will have with the Board of Trustees.
The Cooper Pioneer: What is the role of student representative to the Board?
 Jessica Marshall: The purpose of the student representative to the board is to act as a liaison between the students and the Board. Basically, I am to express things that the administration might not know. For example, the sentiments when we were about to be charged an 'overload fee' for registering for more than 19.5 credits. Yes, it's talking to students and getting their opinions, but it is also informing them.
I like to think I have a 'bigger picture view' than most students and keeping that bigger picture to myself would be counterproductive. At a school this small, there should be no reason for any misinformation. It's my dream to have a centralized location where people can go and ask a question at any time of any day and have it answered in an unbiased way. That is what I see the role as: informing both sides. To quote Devora Najjar, "I don't in any way see this as being a position above students."
It's scary because once this year is over, the people who have experienced the occupation [of the President's office] will be gone. People who experienced the lock-in in Peter Cooper's suite will be gone. People who experienced the building of the NAB are already gone.
Besides my own efforts, I think Nonstop Cooper is doing a lot, too. But you have to take the initiative to go there.
TCP: What are some things that you have already done since assuming this role?
JM: I haven't really done much yet; I just started in June.
I found out a couple of weeks ago that I will be on the Presidential Search Committee, alongside alumni, trustees, and faculty representatives. In addition, I'm hosting a pre-presidential search forum in the Nonstop Cooper space next Friday. I'm bringing trustees there for students to meet.
TCP: The Board went through some notable changes this summer. In what ways will that impact the future of this school?
JM: Five Trustees resigned from their roles before my first meeting with the Board. They are Mark Epstein, Francois de Menil, Catherine Hill (President of Vassar College), Monica Vachher, and Daniel Libeskind.
It seems that everyone who stayed on the Board has at least expressed interest in fixing the school. There are no more Jamshed Bharucha supporters. There are very few people stuck in the past since most of them are looking for ways to solve the ridiculous financial mess we got ourselves into.
TCP: What are some of your goals as Student Trustee?
JM: I want everyone to like each other. I know it still seems that when I'm in Trustee meetings and I talk about students, or when I'm in student meetings and talk about the Trustees, that there's still some animosity. It's very easy to blame a group of people from either side, or to have a certain view of them that isn't completely true. It's getting better, but the average student still doesn't know who the people on the Board even are. And the same goes for the Board understanding students.
Part of what I want to do, like I'm doing next Friday, is to bring Trustees to campus and bring students to the Trustees.
TCP: Both you and Devora Najjar are engineering students. Student Trustees are supposed to represent the entire student body. In what way do you represent artists and architects?
JM: Being an RA has given me the opportunity to get to know students in my year and the years below me, regardless of what school they are in. I also bridge that gap by hanging out in studio a lot. Moreover, I go to microdances a lot, which is predominantly attended by students in the art school. I make myself visible and known to students of other schools because you can't do your job successfully if you are only representing half the school. I talk to a lot of people.
We actually tried really hard for them to add two more students so that we could get participation from all three. However, Kevin Slavin and Richard Lincer said there would be too many cooks in one kitchen. This is why I encourage artists and architects to run for the position next spring because now we have a vote and we can do things. Please run!
TCP: What are you most looking forward to in your role as Student Trustee? How do you see the role changing over time?
JM: If you read the Attorney General's consent decree, it outlines how the Student Representative position is being phased out at the next board meeting on September 16. They are going to pass a bunch of new bylaws that will increase the number of alumni and student trustees. I'm going to be a full-fledged student trustee with a vote.
They're also going to pick another student trustee from the two candidates who ran against me last spring. One of us will have a one-year term, while the other a two-year term. From then onwards, elections will proceed as they have in the past: students vote on nominees and the three candidates with the greatest number of votes will be interviewed by the Board. From those, the Board will select one to become a student trustee. Elections will be staggered such that each student trustee will serve a two-year term, overlapping the previous ones. It's kind of happening right now with Devora and myself, where she is the old hat and I'm learning from her before her term ends in December 2015.
Student trustees will truly be part of the Board, with access to executive sessions and membership on the Governance, Free Education, and Presidential Search Committees. The role of the Free Education Committee in particular is to propose a strategic plan to return Cooper to being free. Basically, on January 15 of every year, starting in 2016, the committee is to present to the Board the possibility of being free again. However, this won't happen for a long time because our finances are still pretty bad. (Read the Attorney General's cross petition and consent decree for more background.)
TCP: Why did you want to take on this role?
JM: I didn't. I didn't want to do it. This is going to sound awful, but when it came up second semester last year, my first thought was, "No, it's a huge responsibility that I don't think I could take on. It's such a big role to represent the community." I spoke to some art students who seemed disenchanted with everything. Everyone who I thought would run didn't want to run.
I saw a lot of people wanting this position for wrong reasons. Unfortunately, a lot of people realized it is a great thing to put on your résumé. People who had never attended student council meetings or gone to Free Cooper meetings and had never spoken with professors about things. People who didn't understand how hard previous students fought for this role. Basically, I wanted to run with enough other people who cared so that no matter which of the three the Board chose, it would be someone who would do it for the right reasons.
Devora has often said, "It's the person in the role who makes it." It's important that the person in this role pushes the boundaries that Devora has set and try to make it something more than it already is. A lot of this is really time sensitive. That's the thing with Cooper. Nothing is ever stable. If I never email a Trustee or never talk to anyone, then the boundaries will shrink back and I would be reducing the power of the students.
That being said, I do think that our next student trustee should not be an engineer.
TCP: How do you think this "turnover," both of administration and settlement of litigation, will impact Cooper Union's standing?
JM: It's definitely positive. Mea manages our finances, and now he is in charge of the entire administration. Somehow, he still finds time to meet with students. I've said this before: the fact that we consider that so rare at Cooper is indicative of where we were in the past. We have seen a lot of positive change with the fact that Acting President Mea has met with students on all sides of the opinion spectrum. If you email him, he will set up a meeting with you. In fact, he's going to be at Nonstop Cooper on Wednesday, September 16.
But he's got a lot on his plate. I also think that (and this was echoed at a Nonstop Cooper meeting) while it's great that the administration is doing all these wonderful things, this is what they should have been doing all along.
Up until this point there has been a lot of pointing fingers, and playing the blame game… it's been a culture of infighting. My hope is that we can end that this year and focus on the bigger problem of our finances.
It's like we are in a sinking ship and everyone has a bucket. The water is filling the ship, but instead of bailing the boat, last year we were splashing each other. You can splash all you want, but you are still going down together. Now that some people have jumped off the boat, let's start bailing ourselves out together.
Please join Jess and members of the Board of Trustees on Friday, September 18 at 6:30 P.M. at Nonstop Cooper to talk about the impending presidential search.