By: Mary Dwyer (ChE '19) and Hossam Saleh (ChE '18)
An update on Cooper Athletics as the sports teams begin their seasons
Coming off an intensive training trip to Cape Cod, where teams had two-a-day practices and cross-training sessions with certified professionals in yoga and physical therapy, the Cooper Athletics program is strengthened and well-prepared for its upcoming seasons.
The soccer team's perfect 3-0 record represents the dedication of the athletes who devoted some of their summer to training. After two golden goal victories against the Culinary Institute of America and Vaughn College earlier this month, the team extended their winning streak to 3 games as they defeated The Webb Institute 4-0 in regular time. Charles Dorrance-King (Arch '18) scored two powerful headers through set pieces created by playmaker Andrew Peña (CE '18). Freshman Zalmai Levrat (Arch '20) scored a magnificent volley just outside the 18-yard line, while Wei Tin (ME '18) ended the night with a sneaky chip ball past the Webb goalkeeper.
Following the victory, Peña stated, "So far, the team has shown extreme determination and resilience to win the first three games of the season, and I hope that we continue and improve in the same fashion as the season progresses. The team owes part of its success to the new freshman additions to the team who have solidified our back line and provided goals in each game." The Cooper soccer team was boosted with the arrival of freshmen Kyle Brady (ME '19), Robert Dietz (Art '19), Jonathan Bair (EE '19), Lea Simoniello (Art '18), Casey He (BSE '19), Christopher Watkins (EE '19), Misha Luczkiw (EE '19), and Zalmai Levrat (Arch '20).
The coed soccer team is currently the only team in season. Tennis and women's volleyball will begin their seasons within the month. Kevin Shi (CE '16), senior captain of the Cooper tennis team, commented, "Everyone at Cape Cod and recent practices has shown an incredible amount of improvement.  If that's any indication for the season, I'm expecting another undefeated year." The tennis team's first match is against Pratt on Saturday, September 26th.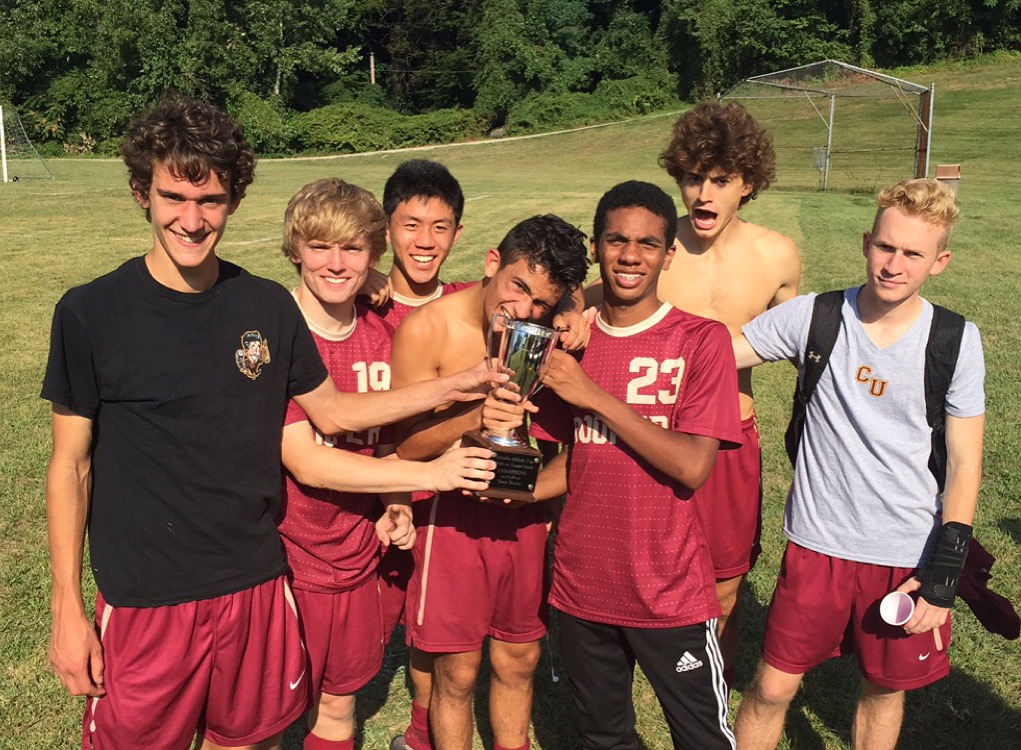 The first official season of Cooper golf begins in October. The coed team, led by junior Jack Donnellan (CE '17) and senior Matthew Smarsch  (CE '16), is looking for more experienced players to join them. Donnellan comments, "the team is looking solid at our weekly practices." For all those interested in joining Cooper's newest athletic team, contact Smarsch, Donnellan, or junior team member Ryan Smith (ChE '17).
Both men's and women's basketball begin their seasons in November after returning from their trip to Florida. The teams are led by senior captains Andrey Kovalev (CE '16) and Matthew Smarsch and Nina Berlow (CE '16), Jamie Chan (ChE '16), and Kayla Weg (CE '16) respectively. Both teams practice throughout the entire academic year and into the summer. Berlow comments, "We have students from every grade and every major playing with us…It's awesome to have a group of accomplished students, skilled athletes, and fantastic people working together." Keep an eye out for the alumni games in October for a chance to see the athletes in action before their seasons begin.