by Pranav Joneja (ME '18)
The consent decree, an agreement brokered by the New York State Attorney General that settles last year's lawsuit, requires that alumni must have greater representation on the Board of Trustees. To that end, the Cooper Union Alumni Association (CUAA) is holding a "Special Election 2015" with 23 alumni candidates on the ballot and a great deal of attention from the wider community. That sounds great for alumni — but why should students care?
Like most things, there's a short answer and a long answer.
The short answer:
The inaction and indiscretions of the old Board of Trustees played a significant role in making tuition at Cooper a reality. The make up of the Board is finally being turned over right now and we need to be sure that Trustees elected now will not only have better practices, but also enact the changes necessary to return Cooper Union to free. Ultimately, students are going to be most affected by the next Board of Trustees and so students should be informed and get involved with the election of the new Trustees.
The long answer:
The Board that has been at the helm for the last 10 years — the same Board the Attorney General describes as having promoted misleading financial information to the public and having failed to show effective internal control, governance and transparent communication — is being changed from within. Among the strongest clauses in the consent decree is the requirement that "all Trustees who served on the Board of Trustees on October 6, 2006 shall have their terms expire on December on December 7, 2016" and none of them can be reappointed ever. In simple terms, old Trustees are on their way out.
Change is happening right now. Most recently, on November 11, Board Chairman Richard Lincer announced that Cooper Union's bylaws have been amended. In accordance with the consent decree, the new bylaws require the immediate election of two additional Alumni Trustees. This is CUAA's Special Election 2015. One newly elected Trustee will begin his/her 4-year term in December 2015 and one will begin in June 2016, but both will be elected during this Special Election. This 4-year window is where Cooper Union is best poised to return to free.
What Lincer didn't explicitly mention in the announcement is that Monica Abdallah (ChE '17) was formally appointed the title of Student Trustee on November 11, joining Jessica Marshall (EE '17) as a full Trustee with voting powers and fiduciary duties. Both Abdallah and Marshall directly represent students, but they must also communicate and engage with other Trustees. Special attention must be paid to how newly elected Trustees will get along with the student Trustees. For this reason, students can and should be aware of the Alumni Trustee Special Elections.
"Special attention must be paid to how newly elected Trustees will get along with the student Trustees.
For this reason, students should be
aware of the Alumni Trustee Special Elections."

Candidates on stage at CUAA's event on November 9.
On November 9, the CUAA hosted a Q&A session with 19 candidates for Alumni Trustee. Wes Rozen (Arch '05), instructor at the School of Architecture, moderated the discussion by asking the candidates specific questions. He asked the candidates about how their particular backgrounds support their candidacy and posed pointed questions about how they would deal with certain issues if they were elected.
The candidates were not shown the questions beforehand, so they were put on the spot. As such, their responses revealed their true opinions and stances. But with only 60 seconds to respond, some candidates weren't able to dig deep enough to reach the heart of the questions asked.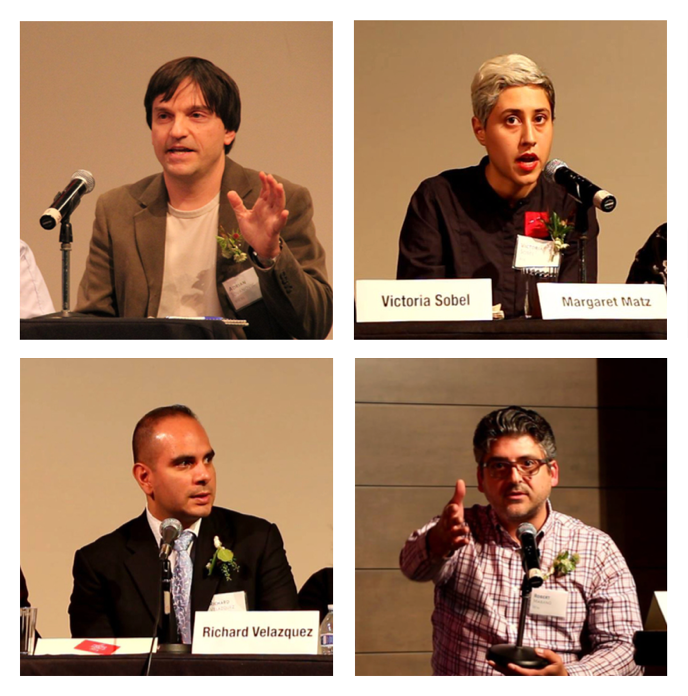 (The opinions in the latter half of this article are the author's alone, and do not reflect the opinion of The Pioneer as a whole).
What's particularly worrying is that some candidates perpetuated certain ideas that are troublingly similar to opinions held by former administrators and old Trustees. That's not to say these ideas shouldn't be discussed or that the candidates who brought them up are ill-suited for the job necessarily. In fact, it's all the more reason to identify what these opinions are and gain an understanding of why they may (or may not) be 'problematic,' for lack of a better word. Listed below are three examples, paraphrased from the candidates themselves, followed by the beginning of a considered argument:
(1) "Treat donors as investors" leading to "what can donors/investors get out of Cooper?" Cooper Union's primary focus should always be within the community, not on those outside it. Seeking funds from the public, particularly corporations, should never take precedence over students or academic programs. Corporate investments into co-op programs or research seem like the ultimate "win-win-win" situation — but only superficially. On the surface students gain valuable experience, the school is enriched with much-needed funds, and corporations benefit by attracting talent. In reality though, these investments don't directly support the ideals of free education and do little to actually raise academic standards.  Instead, the benefits to the corporate donor greatly outweigh everything else. (There could, however, be opportunities for professional societies and clubs to foster such corporate ties.
(2) Cooper Union in the "education marketplace." The marketplace is saturated with bigger, better-endowed schools that can afford amenities and facilities on large campuses. Cooper cannot and should not be among those sprawling schools, so chasing the same goals doesn't make sense. If anything, Cooper "competes" by embodying meritocratic ideals and demonstrating a paradigm of free education.
(3) "Master Plans." The context in which this phrase was brought up was to have a definitive plan in place for returning to free. Indeed, the aim is in the right place and making plans to achieve those goals is typically a good idea. However, "Master Plans" are unilaterally defined by a small group of people at the top — not what Cooper Union needs right now. The consent decree calls for the creation of inclusive committees, like the Free Education Committee and the Presidential Search Committee, where the entire community is directly involved in the reformed governance throughout the process. In a word, recent governance reforms mean that we finally have a chance to elect Trustees who will engage the whole community. A top-down, "Master Plan" approach undermines all of this.
The failures of former President Bharucha's administration showed that policies guided by the ideas above are not only unrealistic but also harmful if they are enacted. These contentious opinions have been compiled here so that students can identify them clearly and hopefully respond in an informed way.
On the flip side, there are candidates who stand for ideas more conducive to Cooper's two most immediate missions: healing the community and returning to free. Among these candidates are those who say, "We have to get our house in order before we go about seeking multi-million dollar donations." To that end, these candidates understand that the real problems are actually structural and cultural. Moreover, they will affirm that Cooper's financial situation is a symptom of those issues.
As elected Trustees, Jessica and Monica are duty-bound to voicing the opinions and needs of students. The candidates who set their sights on the most immediate path to healing the community and directly reinstating free education will engage best with Jessica and Monica once they are elected. And together, as Student and Alumni Trustees, they will collectively have both the mandate (the support of their constituencies) and the agency (the power to vote on the BoT) to fix Cooper Union.