By Monica Chen (ME '18)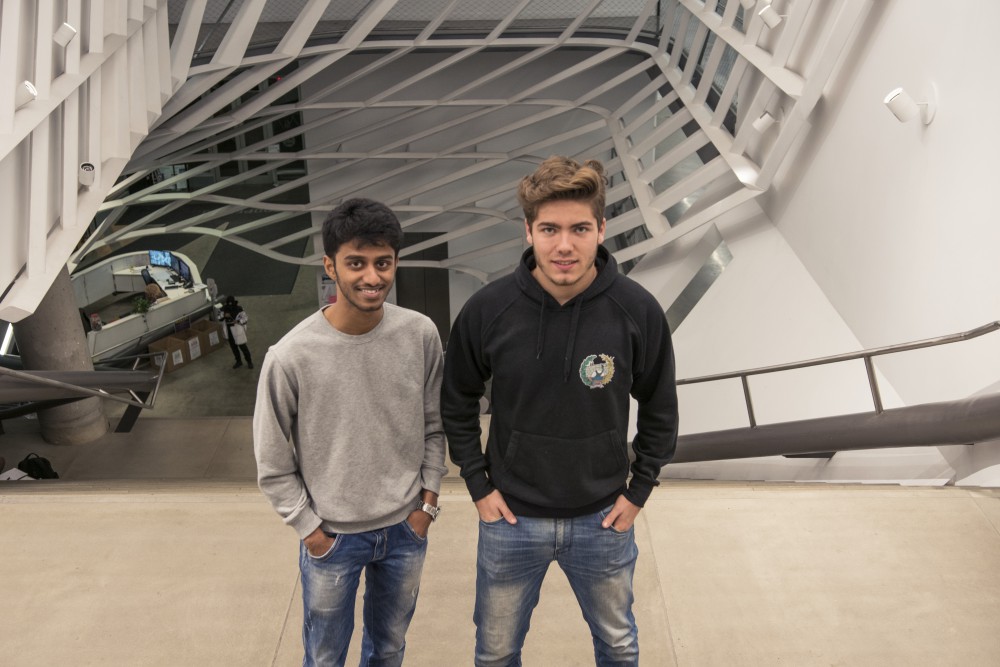 Photo by Winter Leng (ChE '18)
Every semester, Cooper welcomes foreign exchange students to experience the culture of our unique community while living in the heart of the East Village. This year, students from Spain, India, Germany, and more traveled to New York to continue their studies in engineering and art. This interview features two students, Manuel Manso Morato (CE '17) and Shrikant Chavare (ChE '16). 
TCP: What did you expect your Cooper experience to be like before you arrived?
Shrikant: One of my major concerns before coming was that the other students who came before me were in a group of 4 so even if they had any problems or were feeling lonely, they could figure it out amongst themselves. This was a concern because I was the only one coming from India. So far, I haven't faced any problems and overall, the experience is better than I had expected
Manu: I thought the people here were going to be more into studying and not as much into having a social life. Cooper Union chooses the most clever individuals from all over America, so I wasn't expecting them to be as cool as they are.
What motivated you to study abroad?
M:  I've always loved the English language so I knew I definitely wanted to go to an English-speaking country. When I was 15, I did an exchange program in New Zealand with the American Field Service (AFS). It's an organization that promotes intercultural exchange, and I came to learn that the world is way bigger than what I know. I was hosted by a really nice family in New Zealand, where I learned English and attended high school for 5 months. I was able to travel around both islands and to me, New Zealand is the most beautiful country in the world, and I loved the experience. Since then, I've always wanted to live on my own abroad, and now that dream is accomplished.
S: I am interested in two options after I graduate: getting my Masters or getting a job abroad. I've also had experience working abroad for certain summers, but I wanted to know if I could sustain myself for the long term alone.
What made you choose Cooper when you were deciding on where to study abroad?
M: My university has a lot of agreements with other universities, but I did a bit of research on all the colleges I could apply to and Cooper Union was the biggest name on the list. Also, as a Spaniard, living in New York City was a unique opportunity; I could probably only have the chance of living in the middle of the East Village once in my life so I couldn't say no to the opportunity. As soon as I got accepted, I thought, "Okay, I'm going to Cooper."
How does Cooper compare to your colleges back home?
M: Burgos, my college in Spain, has 9,000 students and the engineering section is the largest one, so it's very different though we do have very small classes right now because of the crisis in Spain. Also, our buildings and laboratories are larger, but obviously you can't ask for that if you're living here in the city. In Spain, I live in a very small town of 200,000, much smaller than Manhattan!
S: At IIT Bombay, there are at least 60 people in each chemical engineering class and for the common engineering classes, the number of students in each class sometimes goes up to 120 or 150. After coming here, there are a maximum of 25 people in a class so every student gets more attention.
Also, the exams here are less competitive than the ones at my university. After the first month of lectures, professors are required to give at least 2 or 3 exams every 2 weeks. In every class, there are several short exams, 1 midterm exam, and 1 final exam as compared to 1 midterm and 1 final exam in the classes here.
Best part of your Cooper experience so far?
S: The best part may also be the worst part because Cooper being a small school, you know everyone studying here. It's not like you feel alienated and even if you meet someone new, you end up seeing them quite often within a couple of weeks and end up becoming friends. You basically know everyone when you go to a small school so if you have some problems, you know to ask for help.
M: The people and the location. The people were really open to me when I arrived. There haven't been many foreign exchange students so that was a big shock for my classmates. As for NYC, there's nothing bad I can say about it. I'm living in a wonderful location and I wish I could stay here longer for another semester.
Worst part of your experience?
M: Probably the price of the city. In the city, all the prices are all very expensive, including the rent. That's probably the worst part — having to think about how to spend money when you're here. I feel like Americans earn more money; in America you're able to earn double what you could earn in Spain, but the living expenses are also higher in New York.
S: My university has 16 dorms, a football field, cricket field, a hockey field, and a huge residential area and a lake. There is around 800 acres of campus so even if you're not in school, you can go outside and hang around. Here, if you want to play sports, you need to walk for 15 minutes to get anywhere.
What's the most exciting thing you've done in the States?
M: When I arrived here, I spent 15 days in Fort Lauderdale, Florida chilling on the beach. Since I've started school, I've visited all of NYC and Niagara Falls with some of my classmates. This weekend, I went to Indianapolis, which was a 12-hour journey by bus, where I stayed for half a day then drove up north to Michigan, where I stayed in a cabin for 3 days without electricity. I plan on visiting Tom's River in New Jersey during Thanksgiving. After classes end, I plan on visiting Washington D.C., Boston, and then Florida again before going back to Spain.