By Monica Abdallah (ChE '17) and Toby Stein (CE '18)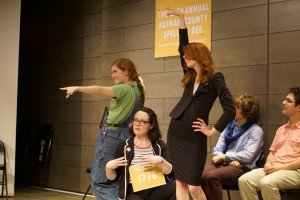 The ladies of the show: Kelsey Mitchell, Deanna Kovalcin, and Erica Umhoefer. Photos by Winter Leng (ChE '18)
On December 5, the Cooper Dramatic Society debuted its production of "The 25th Annual Putnam County Spelling Bee" and it was fucking great. Drops mic. Walks out. Yeah. They killed it.
"It was fucking great. Drops mic. Walks out. Yeah. They killed it."
Directed by Joseph Viola and co-directed by Daniel Galperin, the show's entertaining and impressive cast exceeded all expectations. Starring a whole host of Cooper students, friends and alumni, the cast was fueled by the energy of the audience on its way to a spectacular show.
The production was masterfully executed and a riot from beginning to end. The performances of the cast members won the hearts of the audience. Anthony Traina and Erica Umhoefer, both seasoned veterans of the stage, anchored the cast. Kelsey Mitchell, no stranger to the Cooper stage, played Logainne SchwartzandGrubennierre, an elementary school student with an adorable, endearing lisp that complemented her strong high notes.
Denis Shishkov and Cooper alumnus Alejandro Acosta played Logainne's overbearing fathers who got the audience roaring with their on stage 'daddy conference.' Dennis Burgner performed excellently in the challenging role of William Barfee, a quirky, cocky, and intense boy who suffers from a mucus membrane disorder. Also, the magic foot, amiright?
Other highlights included Deanna Kovalcin's remarkable rendition of "The I Love You Song." Matt Ferreira's charming solo about the unfortunate raging meat stick boner of Chip Tolentino, and Peter Wang's portrayals of Jesus Christ and Leaf Coneybear were also winners, judging by the laughter of the audience. Since two roles couldn't satisfy the talented Peter Wang, he also undertook the choreography of the musical with the help of Amanda Lombardo.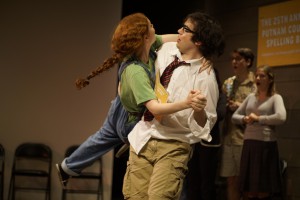 Deanna Kovalcin  and Dennis Burgner on stage! 
Camilo Gaitan played Mitch Mahoney, an ex-convict-turned-comfort counselor who consoles disqualified contestants with hugs and juice boxes. Gabriela Godlewski's portrayal of the uptight and dedicated Marcy Park probably resonated a lot with students in the audience. Her "Just Fuck It" attitude at the end of her performance is something many students may wish they had.
Included in the hilarity were appearances by audience members Justin Richter, Kenneth O'Neill and Calvin Liu. Proving the depth of all characters' improvisation skills, all actors were ready for any audience contribution, including but not limited to Kenneth's correct but irrelevant spelling of the word "Mexico."
If you missed "Spelling Bee," then make amends by checking out the Cooper Dramatic Society's spring production. You won't be sorry.