By Brandon Quinere (CE '19)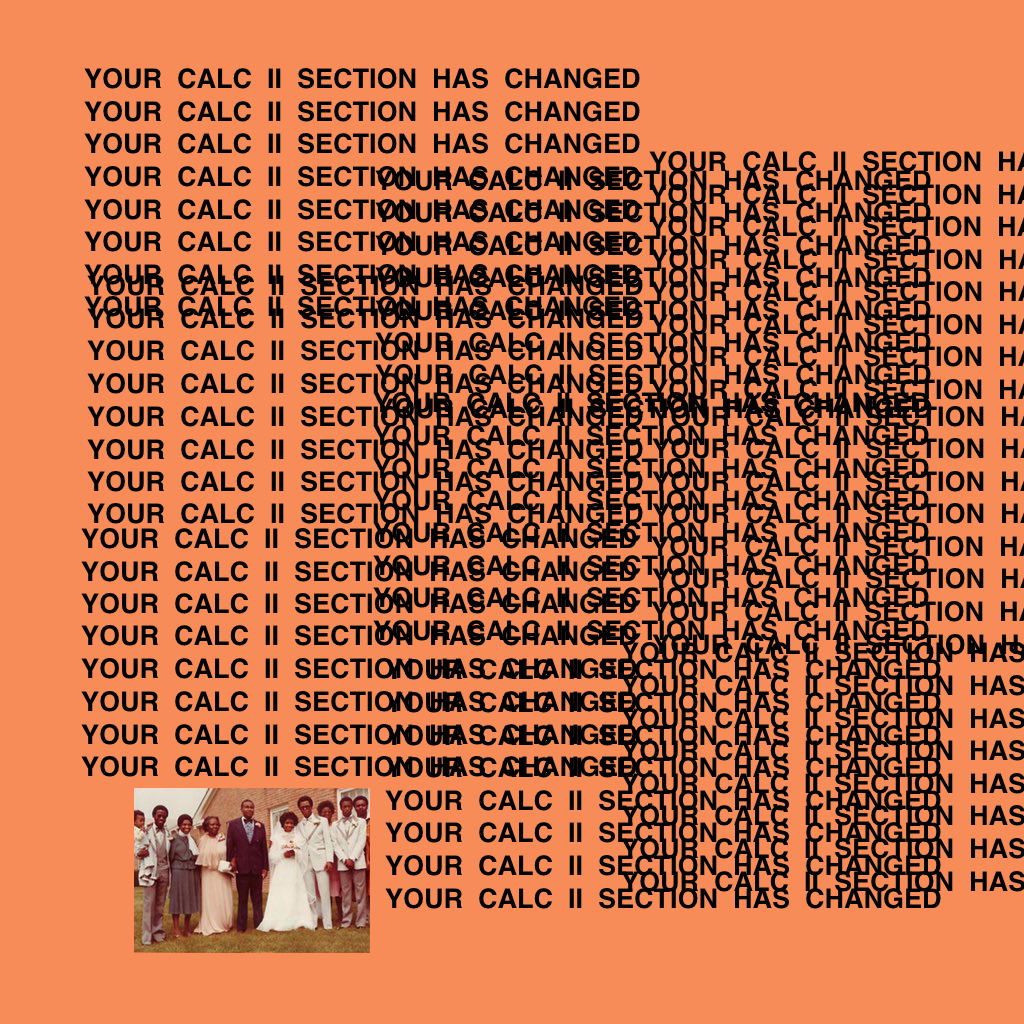 Tuesday is usually my designated day to plan out the rest of my school week; I can prioritize my assignments so that I am not overwhelmed with too much to do on a given day. I was having a good track with Tuesdays so far, until I was unfortunately presented with an e-mail one Tuesday that would not only shake up the rest of my week, but the rest of my semester.
"Your Calc II section has changed" the subject line read. I had heard about other students having their schedules switched suddenly but I thought I was safe, considering I was actually registered for my section and not waitlisted. How could this happen? Better yet, why did it happen on the day before the exam for the Calc section I apparently wasn't in anymore?
That night, I found myself in the company of some other students, reflecting on the matter and how others were affected much more severely, more so than me. It was amazing that our school could stay quiet about this scheduling issue, yet only act on it after students were settled in. Has no one set a precedent on how to voice issues as they arise so that no one gets royally screwed?
Has no one set a precedent on how to voice issues as they arise so that no one gets royally screwed?
Enter Kanye West. Impeccably timed with mine, Kanye had a stressful week of his own, predictably using Twitter as a means to vent. But between the sneak peeks of his third Yeezy collection and that infamous Bill Cosby tweet, what was perhaps most significant about his feed during this period were the tweets regarding the release of his latest album, The Life of Pablo, which was set to be released at the end of that week.
The creation of Pablo was documented heavily on the account, especially with photos of a notepad detailing the album's tracklist and title. A simple Google image search of "Kanye notepad" reveals the album in its many different forms, as tracks were moved around and potential studio collaborators left their mark on the page. The quick and admittedly sloppy marker scribbling on the page suggested urgency on Kanye's part to complete the record on time.
Here he was, an artist who is perhaps the biggest perfectionist in music, planning his seventh LP in the same way you would outline a project for a class. Kanye made sure to share this rushed process with anyone who cared to see it. Even after hyping Pablo for months, he still chose to update his fans about the obstacles he faced last-minute, just mere days before they were to expect the album.
If Kanye West can publicly disclose any issues surrounding an album to his potential music buyers, then any attentive institution should have the decency to do the same with their customers. Cooper is guilty of doing this far too late, consequently having to deal with the complaints from us, their paying customers, for not doing so in a timely manner.
If there is a scheduling problem, students should be notified immediately. That way, proper measures can be taken on the their part to fix it before the new semester starts, considering spring classes are registered well before winter break. Students were not even aware there was an issue until they were suddenly notified. Communication is key, and it has the Kanye West seal of approval.
Of course, it is unfair to compare a botched album release to a messy scheduling error. Yet a somewhat minor issue for some turned into a major inconvenience for many because of a lack of communication, something that was, in contrast, used positively by Kanye. This is not my way of asking for a completely transparent system, since I have no business in other students' schedules. Even so, anything would have been better than receiving an unexpected e-mail with a rather blunt subject line, weeks into the semester.
The Great Calculus Crisis of 2016 has been averted, but Cooper could definitely take a page out of Kanye's notepad on how to properly notify those affected about last-minute changes, just in case there's another occurrence. Because if you catch me on another Tuesday in the near future receiving a sudden burden like this again, well, this is way too much, I need a moment.