Toby Stein ( CE'18)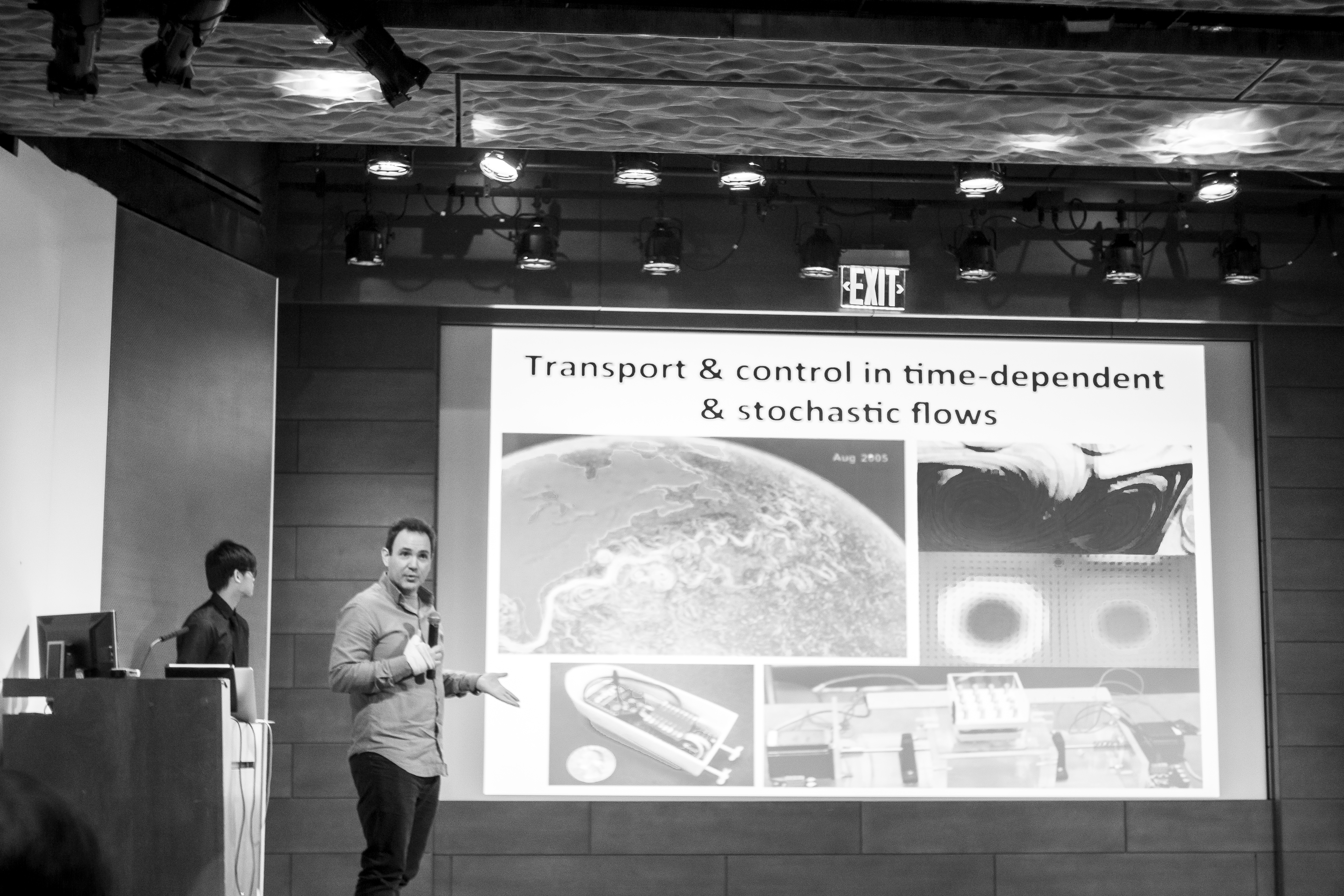 Professor Yecko (above) and Professor Baglione (below) present at the 2nd Annual March Madness event on Tuesday, March 29. Photos by Winter Leng (ChE '18).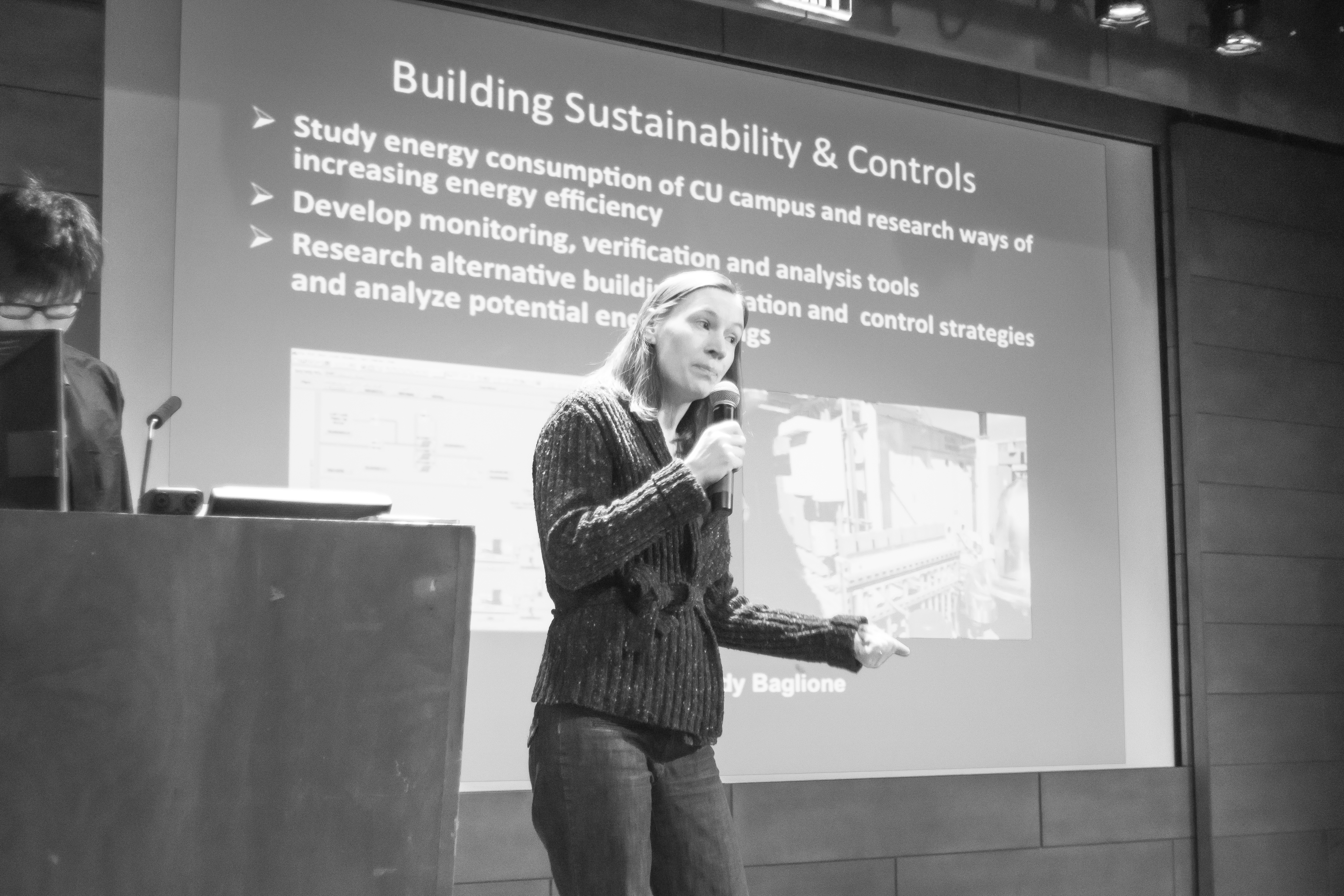 It was March, and it was Madness. What can only be summarized as a semi-packed Rose Auditorium gathered to hear our own professors orate on the topics that they held most near, and most dear to their hearts. As professors slowly trickled into Rose, the excitement in the air was palpable, like the buzz before a championship game. All week the professors practiced their three-minute drills. What they would do under pressure? How would they keep their composure after a call did not go their way? Only time would tell.
After a quick coin flip and introductory statement, Dean Anita Raja took the snap, and handed it off to the first back, perennial contender, Professor Mintchev. Starting of the game strong, and setting the bar high, Mintchev spoke about his interest in mathematical neuroscience, however, he drew a five yard penalty due to his lack of regard for the apparently strict 'only five words after the buzzer goes off' rule.  Following right after him was the rapid-fire duo of Professor Cataldo speaking about the green roof on the Javits Center, and then Professor Baglione explaining possible energy efficiency improvements to the engineering building, as well as research within the vibrations lab. Batting cleanup was Professor Davis who hit an absolute tape measure home run with his explanation of designing chemical processes that are more sustainable and have less impact of on the environment. Much to the tangible anticipation of everyone in the audience, Professor Yecko stormed the stage, ignoring the doctor's advice, and boldly playing through his broken hand to deliver a MVP performance in discussing the intricacies of transport and control in time dependent and stochastic flows. As the first quarter wrapped up, it was shaping up to be an absolute blowout, but the oncoming professors were confident primed for a strong inning in the next round.
Unfortunately, the second period began with a bit of a sad start, as Professor Topper was reported out for the rest of the game due to sickness. The fans, however, were still given a show, watching his power point in silence for the duration of what would be his time. The audience described it as "the most hard hitting presentation of the day" and "the silence spoke volumes to his research". Similarly, Professor Cumberbatch also reported an injury, as he had a case of 'being in Ghana', and his
presentation had to be delivered by his replacement: perennial senior Chris Curro. Blazing through the middle innings were Professor Dell with his description of engineering the impossible, Professor Raja with her crusade towards predicting preterm birth, and Professor Wolf with his use of high speed video cameras to study a variety of engineering and science topics as well as building with magnetic fields.
Quickly emerging from the locker room, with his "basement prototype" Professor Smyth explained how simple introductory linear algebra could be coupled with some cannibalized Logitech instruments to create a mouse that provided the user with motion with six degrees of freedom. Professor Fontaine quickly asserted his play calling expertise in demonstrating how you "cheat" to represent information with less data than the theory requires. Point guard Professor Sidebotham explained a new theory on space heating technology, much to the chagrin of the chilly audience members who were seemingly affected by the quick change in the rink's weather conditions.
The bottom half of the genetic engineering set was covered by outside hitter Professor Medvedik, as he explained what is innovative on the frontier of recombinant DNA technology. Next, Professor Luchtenburg discussing his research into modeling and feedback control of complex systems, with specific reference to the oil spill in the Gulf of Mexico. Professor Wootton's investigation into better classifying and quantifying sleep apnea put major points up on the scoreboard, and he left the stage confident that his final score would put his team over the top so that they could snag the victory.
Overall, March Madness was a resounding success yet again, drawing a massive crowd, young and old alike. If you were a complete hooligan of a human and did not show up, but are interested in doing some research into some of the presentations discussed above, I encourage you to talk to a professor, and find out what you can do this summer to help them out!