By Daniel Galperin (ChE '18)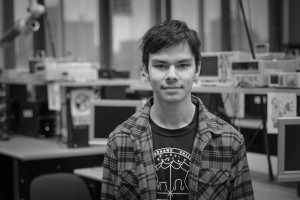 Meet Andrey Akhmetov (EE '20). Photo by Wentao Zhang (ChE '19).
Tell me about yourself. 
I'm Andrey, born in Moscow and raised in Niskayuna in upstate New York.
You've had your first almost-full week of classes. What is your first impression of Cooper?
Honestly, it has been a very natural transition for me from high school to Cooper. A lot of my high school education was project based regardless of whether I was in or out of class and I spent a lot of time in labs working on my own projects. I feel that it's the same way here but with much harder material. Obviously, the equipment is also much better than what I had in school.
What was your first impression socially?
Perfect fit for me. It's a small school and it's very easy to approach people. Many other schools I visited were depressing, sad and mechanical.
Glad to hear it. How was your summer?
I worked on a lot of personal programming, personal CPU design, and I was a student-IT worker in my high school. I designed a CPU using an FPGA (field-programmable gate array). An FPGA is a chip that is used for prototyping circuitry, which a user can program after purchase, hence the name. A lot of my work this summer was writing code for the FPGA and then testing to see if it does what I want. Unfortunately, it ended up being an unmarketable design, though it proved powerful as an academic learning tool.
Sounds like you have a good amount of computer engineering knowledge. Where did you pick all of this up?
Mostly self-study inspired by an electronics teacher in sophomore year who didn't know what an FPGA was and asked me to figure it out. I actually learned about it, planned a lesson on it and the teacher still uses my lesson in class.
What was the hardest project, assignment or activity you had in high school?
I was really into competitive robotics. I was a founding member of the robotics club in my school and the lead programmer for all four years. For three of those four years I was also the only programmer. Interestingly, the guy that
invented the Roomba vacuum started funding our robotics program after the team was established. The hardest part was keeping hardware in line with software deadlines. It's best described as playing Whac-a-Mole with bugs and workarounds. Actually, from all of those projects I started to develop a small optical navigation sensor for autonomous robots and I'm working on commercializing it now. The demand in robotics exists, and according to competitive robotics rules, they have to buy from companies, so I am working on becoming a one-person LLC.
What is your biggest regret from high school?
Ah, where do I start…probably not being broad enough in my academic interests? I focused too much on electrical engineering and robotics, and I only dabbled in mechanical engineering related work. I also regret not taking German earlier.
Okay, what do you look forward to most at Cooper?
I'm definitely excited for the academic side of Cooper. I'm looking forward to gaining real world knowledge. I'm also really interested in Formula SAE and the 3D Printing and Rapid Prototyping club. I'm also currently applying to work in Micro-lab on the 6th floor. ◊