By Monica Chen (ME '18)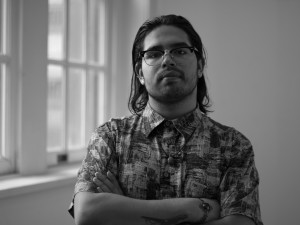 Meet Juan José García (Art '20). Photo by Wentao Zhang (ChE '19).
"I'm not willing to let go of being able to make art for the sake of art."
Why did you choose to come to Cooper? 
I was somewhat convinced I wasn't going to get into Cooper and I was looking at fashion design colleges like Central Saint Martins and Parsons Paris. Ironically though, those fell through because I couldn't afford them whereas Cooper offered me an amazing scholarship. It was just one of those things that make you think "oh, it must be a sign."
How did you hear of Cooper Union?
My first contact at Cooper was actually one of my best friends, Valerie Franco. We were really close friends in high school and Cooper was her dream school. I remember when she was doing her home test, I was thinking, "I am not applying there—it's too much." Then senior year came around and as my art started to evolve, I decided that it would be a nice challenge to try the home test.
Where are you from?
I am Colombian but I came to the US when I was 12. I've lived in Orlando, New Jersey, and  Miami. When I was 16, I convinced my mother to move north because she was having difficulty finding a job as she didn't know English. I, however, stayed in Miami and attended Design and Architecture Senior High School (DASH). I was confident that despite the fact that my mother moved away, my high school could help me achieve my goals in terms of college.
What did you think of the turmoil that happened at Cooper before you arrived?
I like that the politics makes you think about your own school and why these issues matter, especially when so many people can't afford to go to college. It also starts a conversation about college and higher education in general, so it actually made me very happy to see that the students at Cooper are taking the initiative to think about what is going on and engaging in an active conversation.
What interests or inspires you in your art?
It varies. About a year ago I was painting portraits of myself with makeup on as a means of exploring gender identity and sexual orientation. About 6 months ago, I started delving into my experience living alone as a teenager and the associated feelings of isolation and displacement. Right before coming to Cooper, I was exploring ideas of human processes; to me, that is what art is about. It's somewhat of a mirror reflecting how we interact as humans. Recently, I've been interested in the more abstract concept of exploring such processes and trying to map out these interactions.
So how does it feel to call New York City your home?
It's funny, Colombia is a well-developed country but as a kid, there's still that small third-world feeling of "America is America." I always dreamed of being able to live in a city like New York but it's still difficult to accept the fact that I am living here. It's weird because when significant things happen in your life, it's hard to accept that your dreams are taking form. I love it though, it's my city; I'm not a naïve person and yet I feel safe.
What was your impression of Cooper Union when you first arrived?
I had an idea of what the people were like because of my friend but I had never been to the school until move-in day. I couldn't make Admitted Students Day as I was preparing for my high school fashion show. Cooper is a very lively little hub and at first, I was overwhelmed just by being here (but in a good way).
Tell me more about your fashion show in high school.
DASH (NOT the Kardashian store) is a tiny school of 500 people in the middle of the design district in Miami. In sophomore year, students need to choose from five paths: fashion design, graphic design, industrial design, film and television, and architecture. I chose fashion design which came with a very rigorous workload. Our "senior thesis" was a project in which we had to design our own clothing and patterns and cut and sew our own fabric. My collection was a combination of my interpretation of modernity and my Colombian roots. It was a great experience and an amazing production and it's unbelievable that the show is entirely student-run.
So has this fashion show experience
inspired you to continue pursuing fashion design during or after Cooper?
Everyone at DASH was going to fashion design schools and I applied and got in, but I felt that none of the schools were a perfect fit for me as they were either in a place where I didn't think I'd flourish or were not in the urban setting I was looking for. When Cooper came about, I was very excited but it was conflicting because Cooper doesn't offer fashion design—it's just art. Then I sat down and really thought about it; people [from DASH] have done things that no one else has done before at DASH and I hadn't seen anyone approach fashion design from an art background. I had my practice with fashion design so I know what the technical skills are but I wanted to explore this more artistic and experimental side, and see how that plays out. I'm not willing to let go of being able to make art for the sake of art. I can create my own path in a way that I haven't seen people from my school do by going to art school and then figuring my way around and still do whatever I want to do. In order to create the kind of fashion design I wanted to make, I knew I had to be intense about my art. ◊