By Brandon Quinere (CE '19)
There's a scene in the TV series Silicon Valley where the gang at Pied Piper recruit a young programmer known as "The Carver" to configure their application to the cloud. After spending the night going through each line of code to fix an error, he crashes on the couch. "You said you could code for 48 hours straight." An extremely lethargic Carver replies, "How do you think I do that? Adderall." While there were no traces of Adderall at Cooper's third annual student hackathon over the weekend, there was a whole lot of caffeine.
HackCooper was held over a 24-hour period in the NAB, opening the doors of our building to students eager to explore their maker side. Whether you were new to hacking or already adept at a programming language, all students were encouraged to register and participate in this weekend-long event in the hopes of winning from a selection of prizes.
Using the resources at hand as well as their own individual skillsets, participating students at HackCooper teamed up with one another to brainstorm through the night and develop an original project. "Cooper's hackathon is all about giving students the time and resources to discover and explore work that really interests them," said coordinator Zach Tzavelis (ME '19) on the goals of HackCooper.
Submitted team creations were evaluated by a judging panel and appropriately awarded in a number of categories including Most Technical Hack, Best Data Privacy Hack, and the biggie: Best Overall Hack. Prizes for each award varied, given the wide variety of sponsors supporting the event including Facebook, LinkedIn, Bloomberg, Viacom, and Autodesk.
Mentors from the sponsors were also available for mentorships throughout the night, allowing students to communicate one-on-one with industry professionals about their hack. In addition, various tech talks were given in both Rose Auditorium and classrooms. Furthermore, Major League Hacking, the official student hackathon league backing HackCooper, made available different software packages and hardware for teams to use in their projects. And of course, in typical hackathon fashion, there was much "swag" to be given out.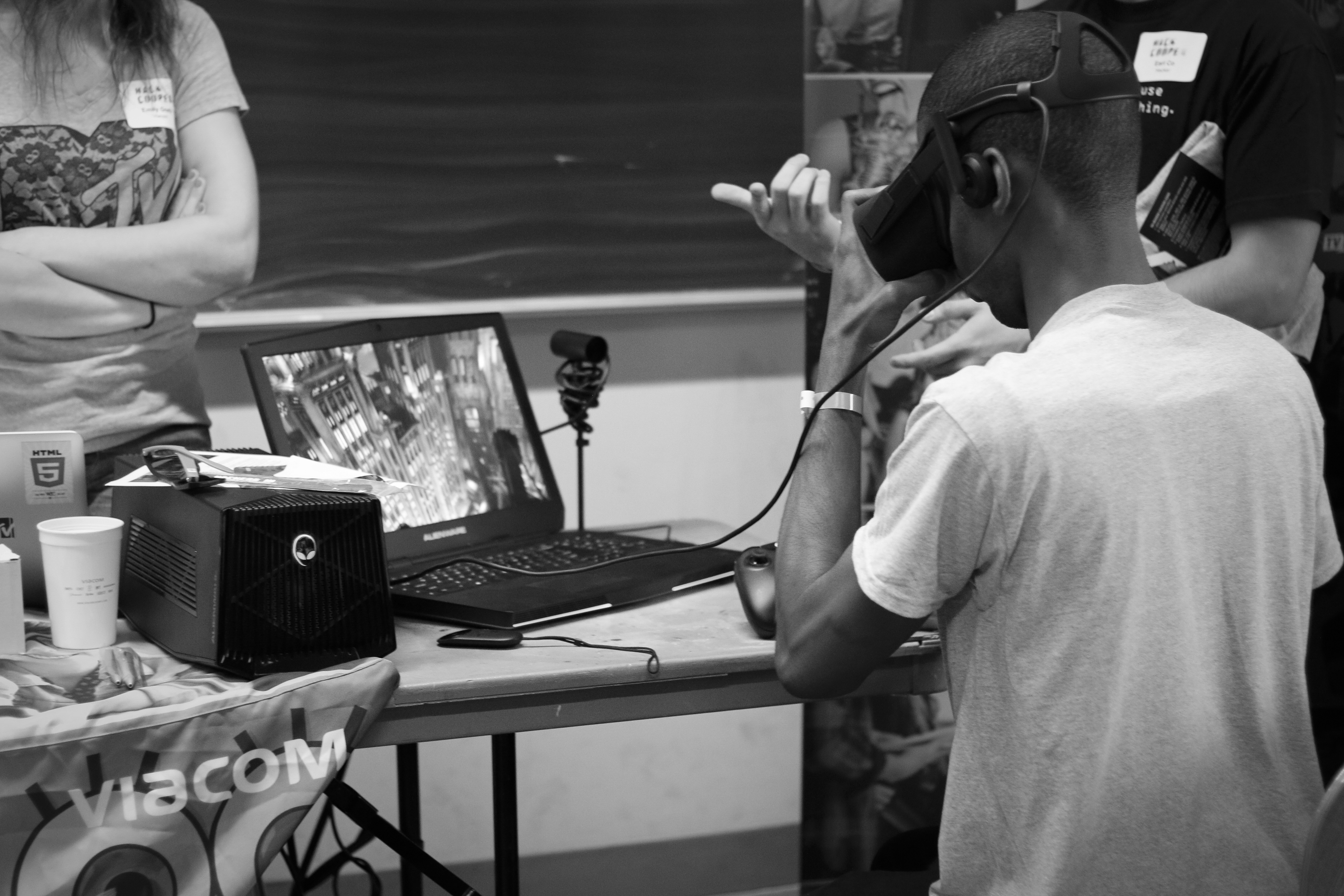 Designated classrooms and labs were open for teams to use, allowing them to camp out in their workspaces and develop their creation before the submission deadline in the morning. Because this was an overnight event, student coders were aware of the imminent risk of sleep deprivation, but excessive caffeine consumption was definitely not encouraged. The onsite rep from Major League Hacking, Li Chen, put it best: "If you've never had a Red Bull before, tonight's not the night to try it for the first time."
By the morning, familiar classroom arrangements were left unrecognizable as teams tirelessly worked to submit their hacks on time. After a preliminary round of judging on Sunday afternoon, the participants and judges gathered in Rose to see the eligible teams present and demo their projects onstage. Winners were determined and announced shortly after these final demos. This year's submissions can be found at: http://hackcooper2016.devpost.com/submissions
Best Overall Hack went to Concert.fish, a project made with the intent of making music listening more collaborative through listener feedback. Concert.fish was developed by the team consisting of Rafi Mueen (BSE '19), Michael Lendino (EE '20), Andrey Akhmetov (EE '20), Richard Yee (Art '18), and Michael Ossienov. The team was granted an all­-expenses-­paid trip to the Facebook headquarters in Menlo Park, CA to participate in Facebook's own hackathon. ◊