by Pranav Joneja (ME '18)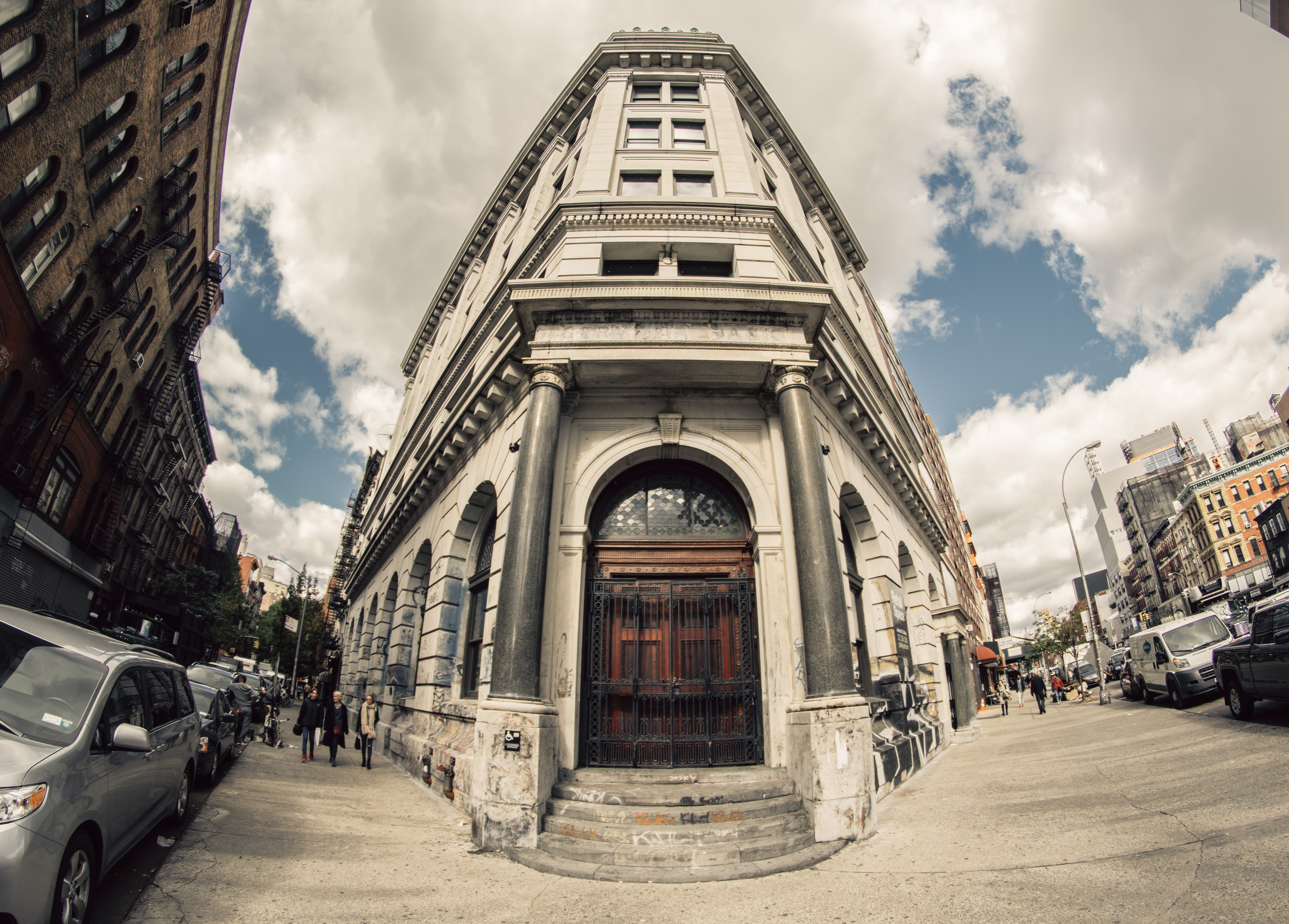 Just ten blocks south of Cooper's Foundation Building, the six-story building at 190 Bowery St. is a mystery. It contrasts the high-tech mid-rise buildings adjoining it with an air of regal Renaissance Revival architecture similar to the likes of Carnegie Hall and the Metropolitan Club.
But in its state today, to say the lower floors are covered in graffiti would be an understatement. It features overlapping affiches advertising scene music, a large announcement that "COST was here" and off-skilter block letters "NEKST" as tall as a person. It has been called Manhattan's Graffiti Mecca because even when the exterior is power-washed, it only serves to create a blank canvas for famous street artists like Keith Haring, Sean Griffin and others. In fact, when the building was designated a New York City Landmark in 2005 the street art was even approved to remain on the ground floor during the restoration process. The mix of graffiti on Renaissance Revival architecture is conspicuous, but it feels like the graffiti has always been there because it really has constantly been there—changing and renewing itself for decades.
The main entrance occupies the chamfered northwest corner of Spring Street and Bowery, projecting its stately presence down the whole block. Together with the second entrance, the building is barred forebodingly—one entrance with a heavy wrought-iron gate while the other shut firmly with a stout, solid oak door. And therein lies the mystery of this manor—almost no one has been inside in the last 50 years (except for a single, three-hour art show last year).
The building was built in 1899 and designed by Robert Maynicke, an alumnus of Cooper Union's School of Architecture, for use as Germania Bank's headquarters. At the time, Lower East Manhattan was known as Kleindeutschland or Little Germany and was home to nearly 25,000 German immigrants. As a bank building, it was fitted with all the fanciful fixtures of the time: a golden elevator (now encased in glass), multiple skylights, numerous atria and of course a bank vault—claimed to be the most secure in New York at the time. There was a spree of bank acquisitions and mergers in the '30s and so the building gladly continued to be operated by one bank after another… until 1966 when it was bought for around $100,000 by Jay Maisel to become his private residence and studio.
Jay Maisel is an alumnus of Cooper Union's School of Art and has a prominent career in photography, capturing photos of Marilyn Monroe and Miles Davis though he is even more famous for his photography of "light, color and gesture found in everyday life". He lived and worked at 190 Bowery with his wife (and daughter) for 48 years. According to an interview in New York Magazine, "the first, second, and third floors were gallery spaces for his photography and art projects. The fourth floor, which Maisel once rented out to Roy Lichtenstein, is a work-in-progress. The fifth has various workshops" and the sixth was for his family.
When he sold the building in February 2015, the real estate headlines screamed of numbers never-before-imagined in the crowded Manhattan real estate market: 35,000 square feet, 72 rooms, $55 million! Still, it was sold to real estate magnate Aby Rosen, who has since leased it out to become high-tech office space for a creative firm, Great Bowery. ◊