Jay Maisel is an illustrious photographer and celebrated alumnus of the School of Art. 
by Pranav Joneja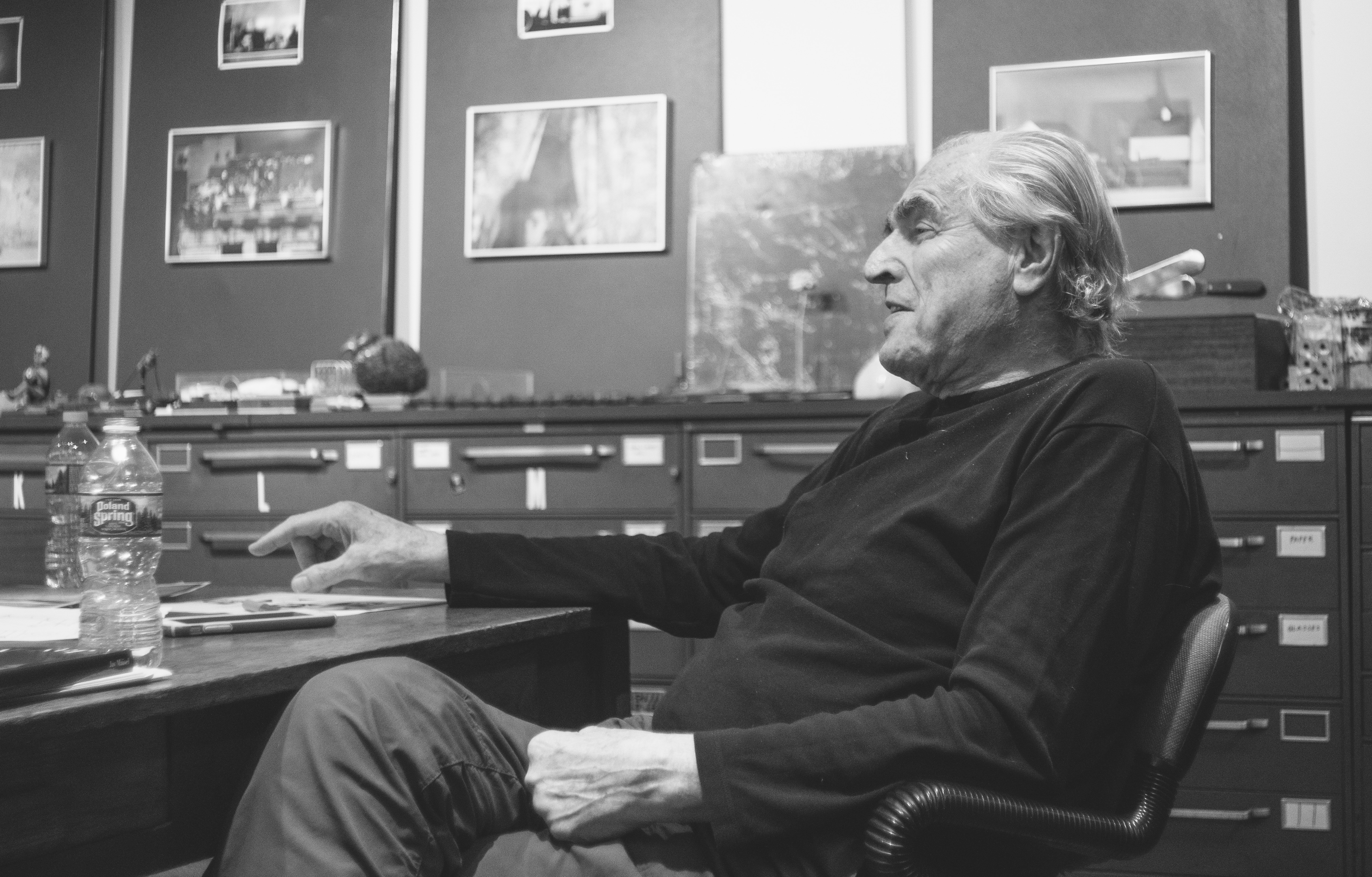 Have you come back to Cooper to visit recently?
I would pass there every day because I lived nearby. But I just haven't gone recently because now I live in Brooklyn and it's hard for me to walk now. I'm going to get double knee replacement surgery soon so I'm hoping that I will be able to get around after that. All my friends who have had new knees put in tell me about how they're out dancing now, so maybe if I can do that too, I'll come out there.
When I did live in Manhattan, I would try to go to the annual exhibit. It was always the same every year, but it was always fun!
–◊–
ON BEING AT COOPER
Did you have your own senior show when you graduated?
Yes, of course I did! I remember I had a sculpture of two people fucking. And the dean sternly told me:
"No, you cannot call it Copulating Couple!"
"Why?!?"
and he said—smacking the table—"Because people know what it is! You don't have to write it down!"
Tell me more about him.
His name was Shaw; he was the dean of the art school. He was a redheaded man with balding hair. He and I had lots of interchanges because I was always up in his office complaining about everything. Just before I was to graduate, I got a notice saying I was first in the class but I also got another notice saying I wasn't going to graduate because of my absences and my tardiness. So I went up to his office and I showed him the first notice in one hand and the second notice in the other… and he said "Well if we didn't keep a rein on you, you never would have shown up!"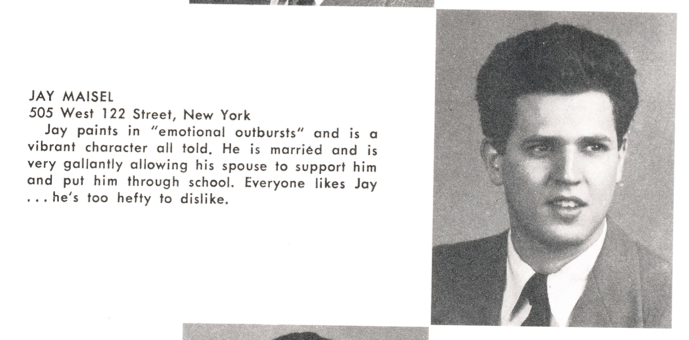 In the archives of the Library, I read that the selective service draft was in effect at that time. How did that affect you?
 Yes, we were in the middle of the Korean War when I graduated in 1952. Even before the draft, I told my father I was going to enlist and he said:
"You can't enlist because you'll die!"
"How can you be sure?"
"Because I will fucking kill you if you do."
But, seriously, I didn't really believe in that cockamamie war but I didn't want it hanging over my head the whole time.
Anyways, later on I was drafted and I went down to the examination at the draft office. The guy commanded everyone to do deep knee bends and I just stood there,
He said, "Okay, wise guy, what is it?"
"I can't do deep knee bends."
"Why not?"
I shrugged.
And he barked, "Well, you just stand there for four hours until we can get to you."
And I'm standing there thinking, "Stand here for four hours or go into the army…?" I was so impatient; the choice was starting to feel difficult.
Anyways, I stood there and they finally got to me. They needed to do more tests—I was there another hour!—and they discovered that I had cartilage problems in my knees. That's why I can't walk now. My knee saved my life [from the draft] but every once in a while it got worked up and it caused problems for my mobility.
Did you get up to any other antics while you were at Cooper?
Sometimes, school furniture broke and they would have to throw it out. One time there was this huge, ten-foot table that was a little damaged on one side. By all other means though, it was a great table—solid wood and heavy. So I took the table, put it on my head and carried it to 17th Street where I lived. I carried it up all the stairs and put it in my room against the wall… But that's when I realized I had the fucked up side facing outward. I tried turning it around but my apartment was so small I didn't have space. So I had to take it all the way back downstairs, outside onto the street, turn it around and bring it back inside.
What did you do during your free time, during breaks from school or summer?
I ate.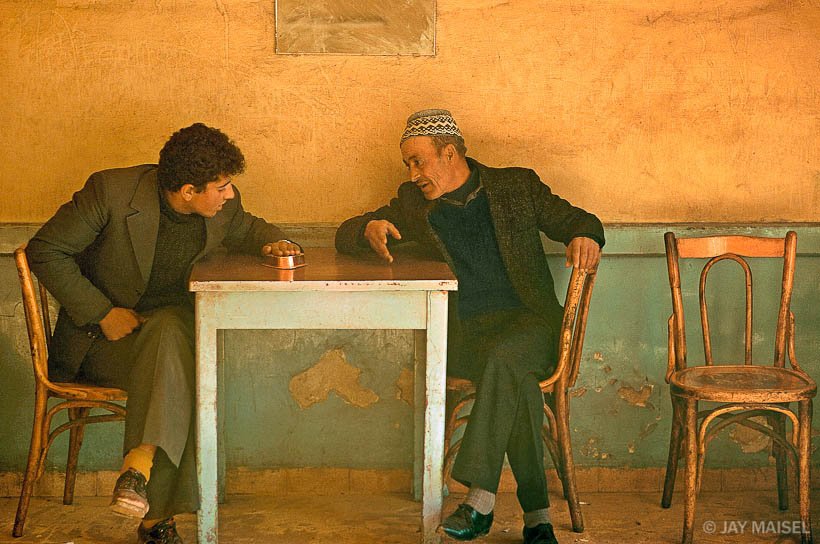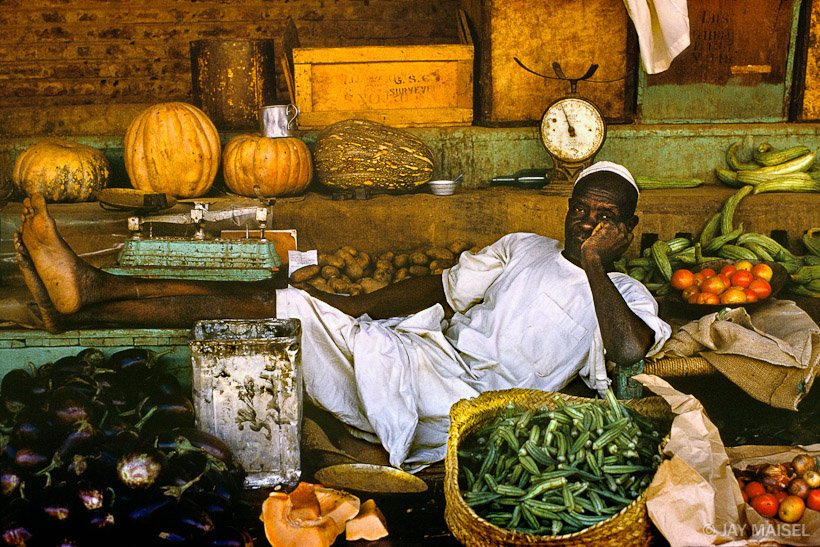 –◊–
ON HIS FIRST WIFE
I had gotten married at age twenty—which was bizarre. I got married to a woman I met at an art program just before Cooper. She was two years younger than me and her father was a wealthy lawyer at the time. She was also a painter and she went to Columbia while I went to Cooper—so when we compromised on where we would live, we decided to live on 116th Street. [What a compromise!]
She was a very bright woman and she was culturally much more aware than I was. See, you have to understand I was very limited being brought up in Brooklyn and just from her family background she had opportunities to learn so much about the world. She actually introduced me to a lot of art and music and culture.
She was a very terrific lady. Our marriage lasted eight months.
Whose idea was it to get married?
I think we both wanted to get married but we were just much too young. If anyone had just said to us "Go ahead, get married," we wouldn't have done it. But everyone told us we couldn't, so of course we went ahead and did!
At the time it wasn't uncommon to get married so young in the Midwest. It was the '50s, everyone was rushing to have their 2.6 kids and live in a house. But in New York, it was beyond stupid.
 –◊–
ON STUDYING AT YALE WITH JOSEF ALBERS
Yale attracted students from Cooper for two reasons: The first was of course the chance to work with Josef Albers. He was a very famous German painter involved in the Bauhaus and after escaping the Nazis, he came to America to teach at Black Mountain College. After that, he taught at Yale. He knew of Cooper Union's rigorous program and invited Cooper students because of that. The second reason was that after three years at Cooper, we only had certificates but doing just one year with Albers at Yale meant we got a Bachelors in Fine Arts.
Albers thought that your medium should not influence the product of your work—you should have complete control over your work. He's the exact opposite of Marshall McLuhan, who said "the medium is the message."
At first, I had a lot of difficulty learning from Albers. See, I've never been neat— I'm kind of a slob. While at Cooper, Morris Kantor, my teacher and famous painter himself, said my works were not paintings, they were "emotional outbursts." Meanwhile, Albers was very… German. He liked to be in control of everything. He said you should be able to paint in a white Palm Beach suit, while I couldn't paint in a Hazmat suit. I got paint everywhere!
He didn't like my paintings at all! He also gave a color course, which I excelled in because it was done in cut paper. But my paintings? No! It got so bad that I barricaded my studio so he couldn't get in and look at my work—I was so embarrassed.
I remember one time we were doing a color study and I had chosen to do it with Color Aid paper. I had done this 30in-by-40in piece that I was very proud of. And he looked at it from outside my booth—because that's where I had barricaded him to stand—and he said "Ach! Boy, now we finally begin to understand something about painting!" But then he pulled aside all the furniture and walked in and said "It's paper!" and walked away disappointed in me.
Another time, he invited his students to contribute to a book he was doing. I really liked doing color studies so I submitted this incredibly complicated piece—I cut out circles and placed them inside each other. It was one color, against another, over the background and then another one… And Albers thought it was great, he put it in his book. But before he did, he changed the colors!!! The book was eventually published, titled Interaction of Color—you might have heard of it— and it cost $3,500. The reason it was so expensive: each page was silkscreened and individually approved by Albers.
–◊–
ON FIRST GETTING STARTED IN THE PHOTOGRAPHY BUSINESS
I didn't start with photography until the second or third year at Cooper. The first real moment was—
There was this art history professor, Dr. Zucker. One time he was gesturing in class and I wasn't really listening to him anyways, so I took a picture. They ended up using that picture for a double page spread in the yearbook. Seeing your work reproduced on a double page… that was the first time something like that was done with my work.
What was the first moment where you felt you had really 'made it' / become successful?
Well, it's a really subtle thing. I got an assignment to travel across the United States to photograph cars in an experimental way. The two other people asked to do the same were Elliot Erwitt and Ersnt Haas. We weren't working together per se, but we were asked to do the same assignment. And these were two top fucking guys. Erwitt is still working today and he's a genius. Haas was my mentor. He didn't know it at the time—and later I got to know him better—but he was my hero!
But in my mind: if somebody thinks that I'm in this kind of company and working at their level, then I must have made it! 
What about your first exhibit?
A year after I got into the business, I got my first exhibit at Roy DeCarava's A Photographer's Gallery. A photographer friend of mine, Garry Winogrand—he's a contemporary of mine and I respected him very much, but he was also the most honest, tactless person in the world—when he came to the exhibit
He asked: "Who designed this exhibit [space]?"
"Well, I did"
"You did a good job, nobody's gonna see how bad the pictures are."
We were very good friends, but we fought a lot in jest. Garry once said to me:
"The reason your pictures suck is that they don't reflect the chaos of the world"
"And yours do?"
"Yes, mine reflect the chaos of the world!"
"So why do mine have to? You're taking care of it."
  –◊–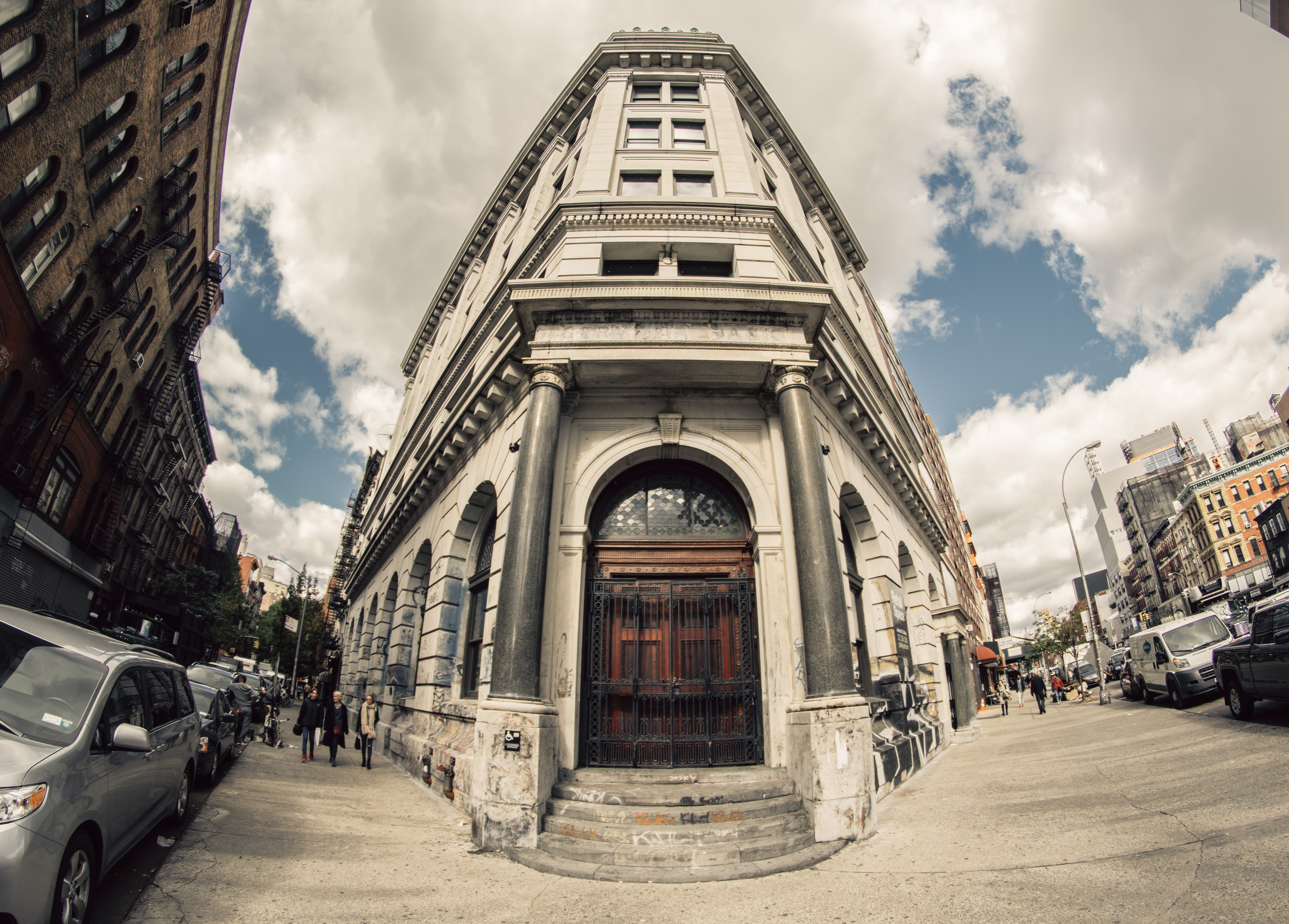 ON LIVING AT 190 BOWERY
When I was looking for a new place, it was the first building I even looked at. When the agent told me he was going to show me an abandoned bank, I had assumed it was a two-story bank somewhere—there were a number of them in town. But when I saw 190 Bowery, I said, "Are you out of your fucking mind? I can't do this!" And he said, "You can do it" with a smirk.
Since we were there already, I thought to myself I should take a look anyways. As he told me more about the place, I said, "Holy shit, there are 72 rooms in this place!? I don't know if I can do it!" And again he just said, "You can do it."
Of course it was later that I found out he had severely underestimated the cost of upkeep for the place. But still, it was a dream! I would never have to worry about space, I would always have someplace to put anything. And the fact that everyone told me I shouldn't do it—well I did it anyways. So I put in a down payment of a quarter of the $102,000 price and I bought it.
In the early years, the agent also found me some tenants to take up the third and fourth floors. I had artists Adolph Gottlieb and Roy Lichtenstein paying me $350 for 3,500 square feet. It wasn't a lot of money and eventually it wasn't worth the bother to rent, so I just stopped.
While I lived there, I did most of my work in the main room on the ground floor. It was 40-feet-by-60-feet and the ceiling was 20-feet high, so it was just a joy to be in. There was the old bank vault underneath it. We had gallery spaces on the second and third floors and the fourth floor was storage and guest rooms. The fifth floor was mainly workshops. And we lived on the sixth floor—my wife, daughter and I.
What do you use the bank vault for?
Funny you should ask. Everybody who came to the vault said, "Gee, what a great darkroom this would be." Or "Gee, this would be a terrific place to store wine." But this one guy came, looked around and said, "Finally, a place where I can masturbate in safety and privacy."
Everybody had an idea for what they would do for it, but I knew exactly what I was going to do with it. I stored all my important work, my negatives, my prints and transparencies and other important documents. That's what I did.
Tell me about the elevator.
There were two elevators, but the lines were cut in one of them when I got the building. So we cannibalized parts whenever we needed to fix something up in the first elevator. The elevator was copper and I would have to shine it up. When I got it, it was painted black and it was a lot of trouble to keep it shined up.
It also had an escape hatch.
An escape hatch out of the elevator?
Oh yeah. It would get stuck a lot and I would need to use the hatch to get out. Sometimes it would get stuck near a floor, so it was okay and you could climb out. Other times it would get stuck between floors, so it got very hairy. I used to keep a 12-foot telescoping ladder in the elevator so I could use it when I needed to.
What about the graffiti on the outside?
Well I don't have that problem anymore now that I live here [in Cobble Hill, Brooklyn]. And no, I don't miss it, Jesus! Ninety percent of it was shit!
There was one guy—Keith Haring, you might have heard of him—made art on my building and I absolutely loved it! But he did it in chalk, so it would wash off when it rained.
Early on, there were many times when I got so pissed off by all the tagging and graffiti even on my windows blocking the light. So I used to spend an entire weekend cleaning it off. But by the next week, it was all covered again because I had basically made them a new canvas.
In 2001, the city came and told me they could help clean it off if I agreed to it. See, they can't force me to remove it because it's a freedom of speech matter. But I agreed, and so they came and tested if it would even come off. Soon, they figured out how to do it and said they would come back tomorrow. The next day was September 11. They never came.
In previous interviews, you've said you'd never sell it. What changed?
Have you ever seen The Godfather? [Yeah.] He made me an offer I couldn't refuse. It was becoming untenable. When I bought the place, it cost me $200 to heat the place because gas was 10 cents a gallon. A few years ago, gas was four dollars a gallon. So it was $8,000  a month just to heat the damn place.
Someday I'm going to do a book about the place. I've got the pictures, and I'll do it someday…