by Miles Barber (CE '18)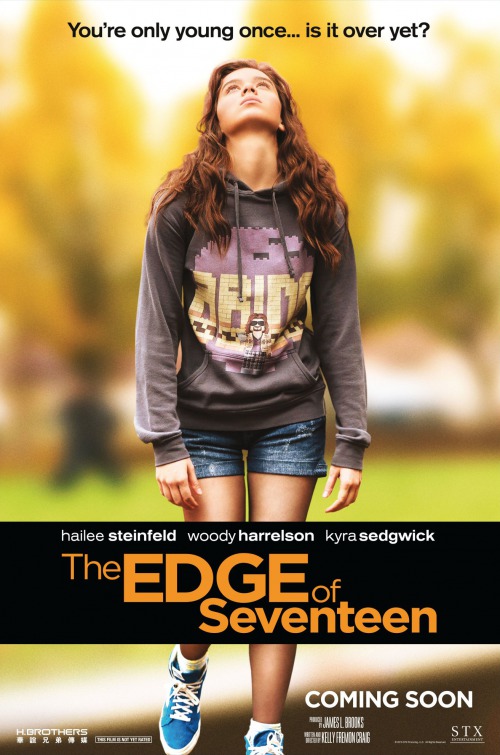 The Edge of Seventeen is about Nadine (Hailee Steinfeld), a high school junior who suffered a huge loss in the family a few years ago. She's bitter and annoyed at how life has turned out and resents her brother Darian (Blake Jenner) who just seems unfairly perfect. and now feels betrayed by her only friend Krista who seems to be prioritizing other people. Throw in a hilarious teacher, Mr. Bruner (Woody Harrelson) and some real emotion and you have a stellar coming-of-age story that is pleasantly surprising.
I wouldn't call this film a comedy, but there is a lot of humor, especially from Woody Harrelson. The situational awkwardness of so many of the scenes is also funny. Nadine is a pretty awkward person, but one of the characters in this film, Erwin, is hundreds of times more awkward. Usually I don't like awkward humor but it works in this film because Nadine's self-loathing is driven by her awkwardness.
The performances are really good too. Hailee Steinfeld has only really had smaller roles since her fantastic performance in True Grit, playing smaller characters in often mediocre movies. I'm so glad this film lets her really shine. Blake Jenner is really good as her brother too, giving a layered character some really powerful scenes towards the end. Even Woody Harrelson's character works on multiple levels.
What I'm really getting at here is that the writing in this film is pretty stellar. Not a single line of dialogue felt like it was fake or written for a movie. All of the characters had depth beyond what you might expect in a comedy or even your standard coming-of-age film.
Unfortunately, the film isn't without some flaws. Though I love the writing of the dialogue, the story is just a little messy in the middle of the film. There are just a few too many stories and characters set in motion for everybody to get enough time to shine. A lot of time is given to Erwin while less time was given to Krista, who should have been a little more central to the story. Still, it's impressive enough as it is that all of these characters have real depth.
Overall, The Edge of Seventeen delivers a solid coming-of-age story with layered characters, clever dialogue, and some real emotion towards the end. When characters feel something, you feel it too. Even though Nadine is such a bitter person, you feel for her pain and the seeming hopelessness of her situation and ultimately relate to her. ◊
Grade: A-