By Sam Jiang (ME '19)
Ominous black spikes point skywards in Cooper Square Park–it's impossible to miss the new additions to the Cooper skyline: The House of the Suicide and the House of the Mother of the Suicide, also known as the Jan Palach Memorial. Based on the designs of John Hejduk, a Czech-American architect who served as Cooper Union's founding Dean of Architecture from 1975 to 2000, the two installations blend sculpture and architecture, with the black structure–the Mother–containing a tiny room with a tiny window that forever watches over her Son.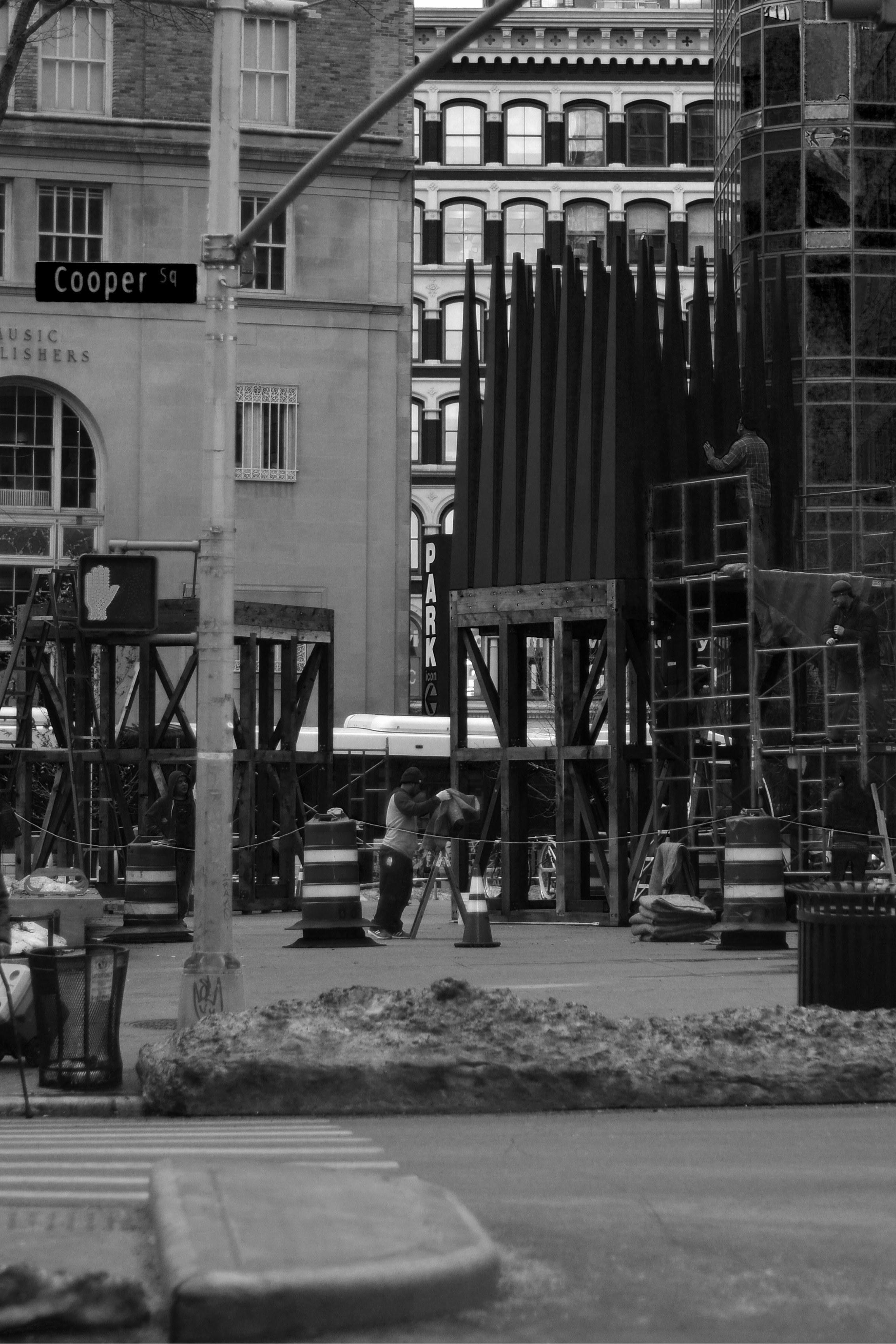 The Martyr
In 1968, the Soviet Union invaded Czechoslovakia, stomping out Alexander Dubček's liberal reforms and marking the end of the Prague Spring. In 1969, Jan Palach, a Czech university student, committed suicide by self-immolation in Wenceslas Square as a protest of the Soviet occupation and the demoralization of the Czech people, who had grown to accept their fates at the hand of the Soviets. His sacrifice galvanized the resistance: Jan Palach's funeral escalated into a massive protest against the Soviet occupation, with at least two others following in Palach's footsteps, also committing suicide by fire. David Shapiro, who was also a professor of architecture at Cooper, wrote a poem commemorating Palach, titled "The Funeral of Jan Palach". It was from this poem that Hejduk drew his inspiration for the House of the Suicide; Shapiro's poem is emblazoned on a plaque at the base of the sculpture.
The Memorial
Hejduk originally conceived of the project in 1980, with the intention of creating a permanent installation in Prague. It wasn't until 1986 that the first iteration of the sculpture was completed by students at the Georgia Institute of Technology in Atlanta. In 1991, the House of the Suicide finally came to Prague: Hejduk's second iteration of the project, a temporary installation, was dedicated to the people of Czechoslovakia and installed in the palace gardens at Prague. However, the wooden sculpture did not last long: the sculpture was dismantled several years later, damaged by a combination of poor maintenance and environmental deterioration. Plans for a permanent installation had been in the works ever since the original was dismantled. However, due to a series of delays, it wasn't until 2015–a decade and a half after Hejduk's passing–that a permanent version of the memorial installed in Prague's Jan Palach Square.
At Cooper
When the pieces of the memorial first appeared in front of the Foundation building, there was much speculation over the nature and the meaning of the strange, black spikes. Over the next two weeks, a team of students and alumni constructed the wooden scaffolding and installed the metal walls and spikes, completing the memorial to Jan Palach. The installation also doubles as a memorial to John Hejduk himself who, despite being a notable figure in the history of the Cooper Union, passed away without any widespread recognition. The installation will be on display in Cooper Square Park until June 11, 2017. ◊