By Gabriela Godlewski (CE '19) and Matthew Grattan (ChE '19)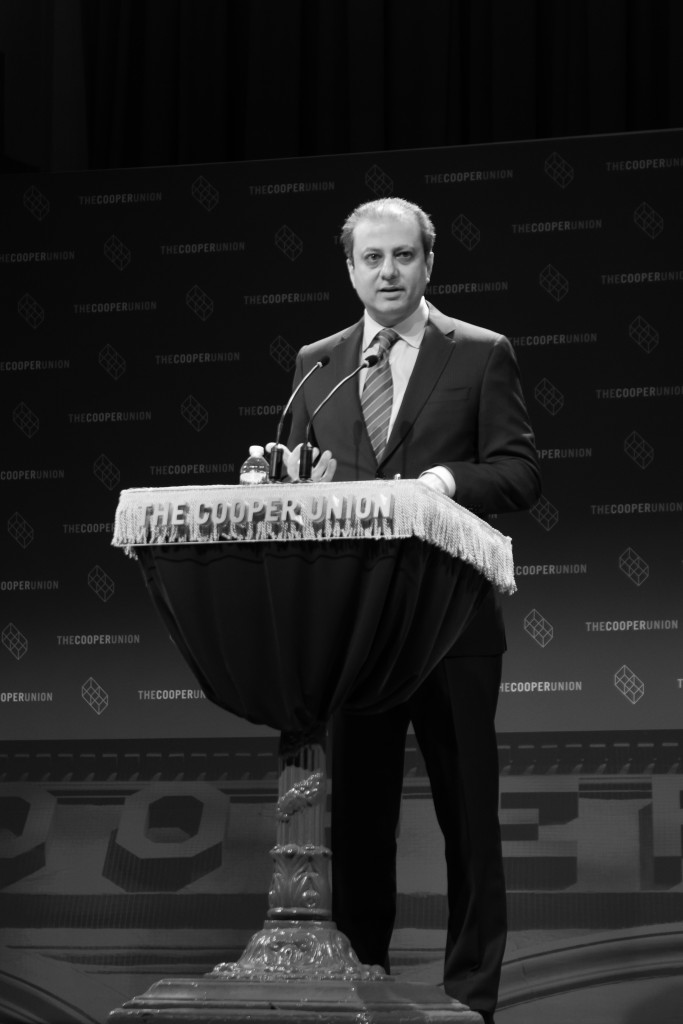 Preet Bharara, the former United States Attorney for the Southern district of New York, spoke to a packed Great Hall on Tuesday night, April 6—or as he put it—"improbably [addressed] a captive audience in a legendary hall where Abraham Lincoln once spoke." The "sold out" event was part of the 2017 John Jay Iselin Memorial Lecture Series, which commemorates the tenth president of The Cooper Union.
The lecture gained notoriety after the Trump administration fired Bharara for refusing to resign his post as U.S. Attorney. The incoming administration had previously allowed Bharara to keep the job but later changed its mind, as Bharara clarified. The free tickets available online were all reserved prior to the event, and the remaining seats—and standing room—were offered to Cooper students, faculty, and staff via a lottery. The event was also live-streamed on YouTube.
President Laura Sparks introduced the event, calling the evening "quintessential Cooper Union." She also stressed the importance of the Great Hall as the venue of many keynote speakers that influenced social and political change, such as Bernie Sanders, W.E.B. Du Bois, Susan B. Anthony, and Abraham Lincoln.
When President Sparks wrapped up her introduction, Preet Bharara took the stage, making his first public appearance since his firing. Bharara immediately warmed up the audience with a few jokes about crowd size, then spoke about his former career as an attorney general. Bharara has worked on gang-violence, local terrorism, and financial corruption on Wall Street, for which he is most known.
Bharara recalled his background as an immigrant from Punjab, India to the United States and how the opportunities in his new country played a big role in his success today. He praised the nation's system of laws, which despite flaws, allow every child the opportunity to rise higher than their parents could ever hope. "All of that," he added, "says a lot more about America than it does about me." Bharara also addressed hate crimes made against Indian Americans and immigrants. He praised the man who intervened and saved lives at a shooting in a bar in Kansas.
Bharara then turned his focus on the current state of politics. He first addressed the rumors about his own political aspirations: "I have no plans to enter politics," he said, "just like I have no plans to join the circus—no offense to the circus." He urged Americans to hold their political leaders accountable for their actions whenever necessary, and encouraged his listeners to welcome dissenting opinions.
At the end of the lecture, President Sparks returned to the stage to ask Bharara questions written by the Cooper community. When asked if he had advice for his successor, Bharara replied, "don't make the mistakes I made" and "be true to what you think is right." Sparks also asked why he thought he was fired. Bharara retorted, "beats the hell out of me!" and added that "there was a specific decision to change one's mind." ◊