By Amal Bukhari (ME '21)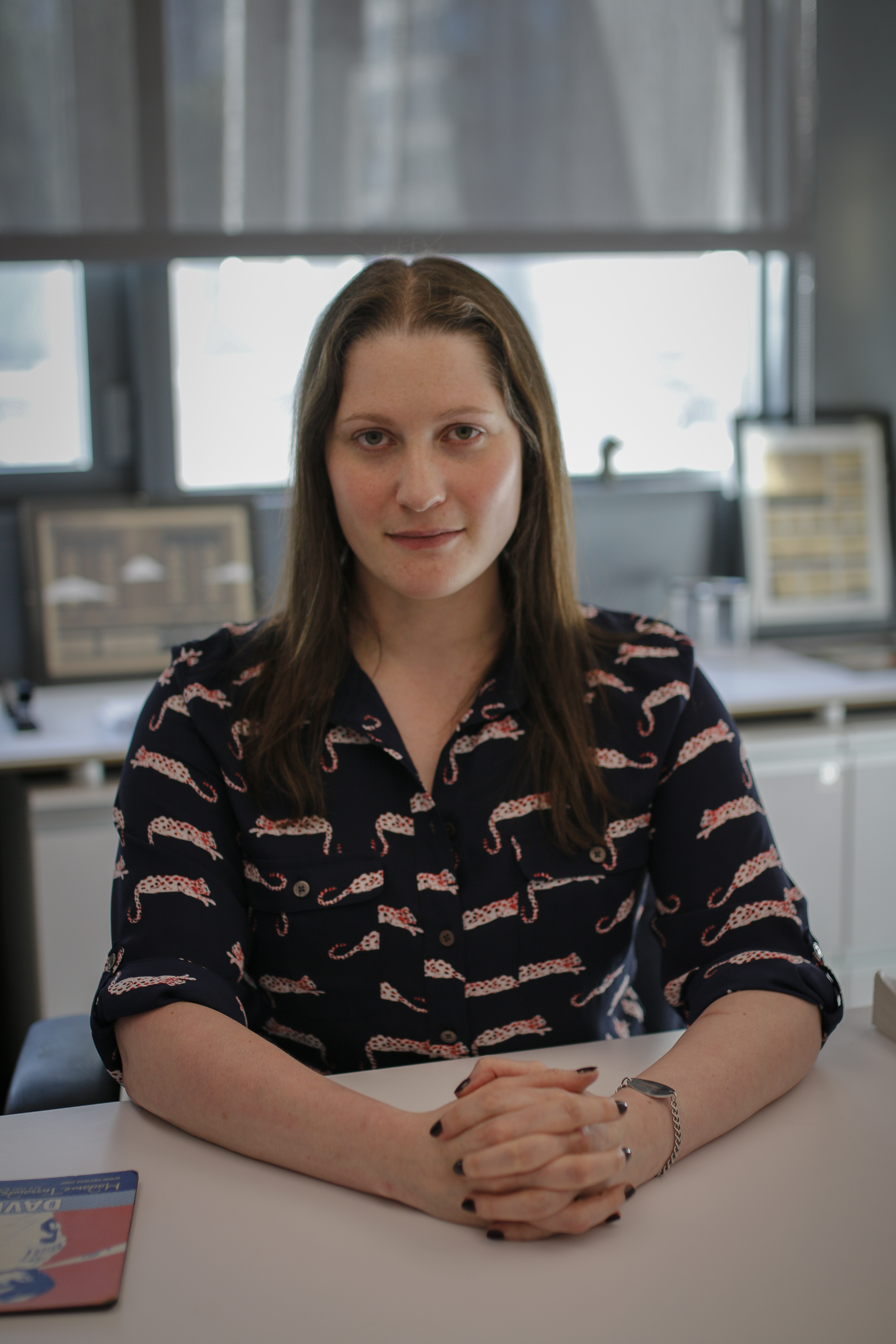 What classes will you be teaching at Cooper this year?
Right now, I'm teaching material science for chemical engineers which is a sophomore class. I also teach the senior separation process principles class. In the spring, my plan is to teach a graduate-level drug delivery class and the second semester of the senior lab.
I noticed you have a lot of teaching experience, including at other universities. What brought you to Cooper?
I'm from the area, and I know The Cooper Union. It's just one of those places that leaves you in awe. The faculty and student community really contributes to that. This is like a dream, and I never thought I'd get to be here. It's great to have students who are so passionate.
So, what do you feel is different about Cooper compared to other places?
It's a school that really values education, which is a rare thing nowadays. Finding faculty and students who are so invested in education is great. To be able to engage with students and them with my background and experiences is really exciting.
Speaking of your background in teaching, could you tell me about the "scientist in residence" program you participated in at Cornell?
There used to be a program run by the National Science Foundation called the Graduate STEM Fellows in K-12 Education. Schools would apply for grants and get graduate students to spend the summer working with a local elementary, middle or high school teacher. The teacher would work in my lab at Cornell, and we would do a project throughout the summer and then they would present it. I also got training on how to be a more effective communicator for younger generations. In graduate school you engage with people around your age and who know the same vocabulary. It's harder to convey ideas to people who aren't versed in your knowledge base.  The program helped me express scientific ideas at a different level.
During that school year I would drive to a high school in Elmira, NY. I went to a biology class and brought experiments with me every week. Since I do biomedical projects, I would be able to present them a pacemaker and say, "Maybe one of your relatives has one. This is what it looks like and this is how we make it." I was able to enhance their education, but it also enhanced mine. If you can't effectively articulate your stories, you're not going to be an effective educator. So, it was a really great experience for me.
I've noticed a lot of your interests lie in the biomedical realm. At the outset of your career did you always plan to combine chemical engineering with biomedical applications?
My family is a bunch of doctors. My father is a radiologist and my mother is a professor of biochemistry. My brother, who is now a surgeon, went into biomedical engineering for his undergraduate degree. I was thinking, "I can't do the same thing as my brother!" Instead, I decided on chemical engineering because I loved chemistry and I thought it would be a great marriage of my interests. I wound up becoming a chemist but I always liked medicine. I actually spent ten years volunteering in an Ambulance Corps. It was actually my brother who encouraged me to talk to his professor to help me figure out my next step. I thought I would go to graduate school for pharmacology, make drugs, and work with drug delivery. Instead, that professor told me that I could stay in engineering and be a biomedical engineer. His lab was actually biomedical and chemical. It's possible to do this biomedical research in engineering while tackling other areas, too. You use your expertise in engineering to do the whole set-up, not just to make one miniscule molecule in the lab. It was really cool to be able to go back and marry my chemical engineering experience and the experience I had as a chemist in a pharmaceutical company to solve medical problems. I fell in love with it. I loved the opportunity to help people more directly than I had been able to previously.
Wow, so do you think you'll be doing any research projects here at Cooper?
I actually have some interesting stuff going on right now. I have a collaboration going on with the Yale School of Medicine Otolaryngology Department, working on a device to help with post-surgical complications. I'd love bringing in Cooper students on that. If any students have ideas about drug delivery, wound healing, or anything like that I'm open to collaborate.
Can you tell me about the startup company you joined, iFyber?
My adviser in graduate school worked with Robert Langer, a Professor from MIT, during his postdoctoral fellowship. He's well-known for doing start-ups, and my adviser had a start-up with Dr. Langer. I wanted a chance to work in small industry since I had experience in big industry. I had a year to work on the project, so I built up a lab in a strip mall in Ithaca. There was a fume hood and very limited lab equipment. I was the chemist and had to make it happen. I drilled the safety chain for the nitrogen tank into the wall, when I needed ice for a chemical reaction I had to go down to the gas station for it, and I was also responsible for my own environmental health and safety concerns. For all the organic waste I had to figure out how to remove it regularly. It was DIY organic chemistry that married my organic chemistry background with my chemical engineering knowledge. It was a really formative experience, and because of it I'm comfortable setting up a lab and doing it all myself.
Just to clarify, your undergrad was in chemical engineering and your graduate work was in biomedicine?
Yes, my Master's, PhD, and postdoctoral research were under biomedical engineering and my undergrad was in chemical engineering. Although, biomedical is somewhat a catch-all word that really attracts any major that wants to help in medicine. My peers in graduate school included mechanical engineers and electrical engineers, and maybe only one of the 12 of us had done biomedical engineering in undergrad. It's an interesting world to be in since it's truly the field of helping people. I still feel like a chemical engineer, and an organic chemist. You never have to lose your roots; you just keep adding to them.
You have so many interests, what's your favorite thing to teach between chemistry and all the biomedical material?
That's a really hard question because I love teaching it all! Each class is a unique challenge. I love teaching organic chemistry because I have real-life pharmaceutical chemistry experience. Being able to show students alternate techniques and how that can improve a lab procedure is really enjoyable. For material science, I love showing students that the subject doesn't have to be a cut-and-dried experience. Materials are physical, so let's make things and touch them. I want to help students see how this can help them in the future. I am also a very tactile person so sometimes I want to see and feel materials before I work with them.
The separations class is a fun challenge because that was a class I loved in undergrad, so that's really great to teach. I'm excited for the drug delivery class because that's my specialty and it was a class I took with my adviser. I would love to build on these concepts because a lot of students don't know all the fundamentals to the different types of drug delivery. The senior lab will be really fun because I love working in labs. I can't pick a favorite! I love them all.
You and Professor Simson are both new hires, and are both women. How do feel about that?
It's incredible. I remember having a conversation with some undergraduate friends about a month ago and someone asked me, "How many female professors did you ever have in undergrad, for anything?" and I couldn't even think of one. I think I had one female professor for half of a lab class senior year. It was incredible to realize that now almost half the department is comprised of women, and a lot of classes are going to be taught by women. Hopefully there's no difference between a male and female professor but it's nice to see. I never had the experience of thinking "I can't do this because I'm a woman" because my mother became a biochemist at a time when being a woman in science wasn't looked well upon. It never dawned on me that I wouldn't be able to do this.
What was your favorite thing about your undergraduate experience?
I really loved doing the chemical engineering car. It's an annual student competition as a part of the American Institute of Chemical Engineers. It's about being able to master a chemical reaction based on the parameters you're given. You build a vehicle and they tell you about 30 minutes before the actual competition the distance it has to go and the weight of water it has to carry. You have to figure out how to calibrate your car. I joined it in sophomore year and by junior year I was captain of the team. We won regionals and placed fifth in nationals. Every four years they have an international chemical engineering conference where the competition is hosted. That year we got to compete in Scotland. In the international competition we placed sixth, which was great! Working with people in different grades than me, getting to travel around, being very involved and responsible for a project was really good. I hope to help with the ChemE car here, if they're open to it. ◊