by Pranav Joneja (ME '18)
Clio Newton addresses identity and femininity in her colossal portraits which she makes with charcoal and oil paints. Clio graduated from Cooper Union in 2011, then was a fellow at Florence Academy of Fine Art in Italy, and is now pursuing an MFA at Zurich University of the Arts in Switzerland.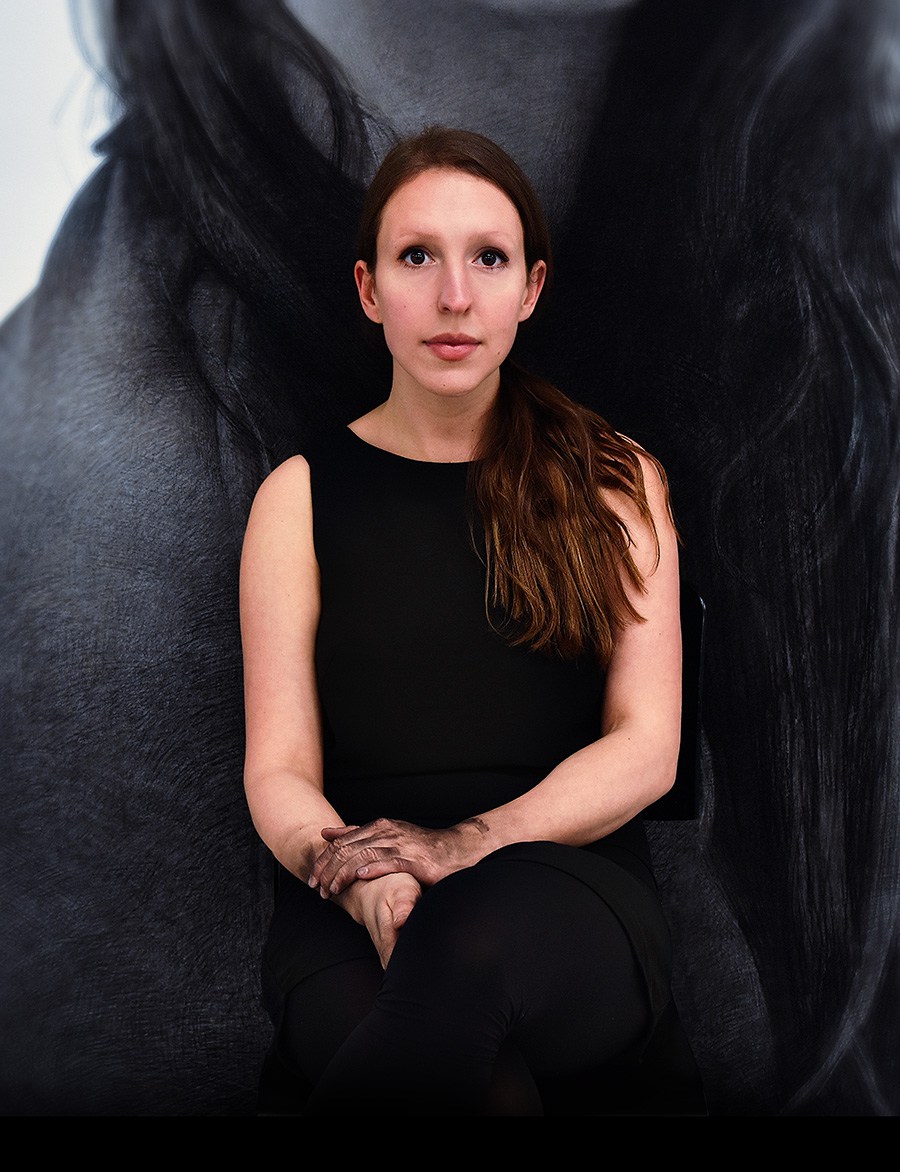 ON HER TIME AT COOPER UNION
Do you remember your first day here?
I remember being really overwhelmed with being in New York and all of a sudden being in this super avant-garde art program. I grew up painting in my bedroom and I had a pretty classical sensibility—I mean of course I was interested in contemporary artists as a teenager—but mostly I didn't know very much about post-modernism.
Cooper really pushed me to consider my work from a completely different, conceptual perspective. My work is very technical and I think being at any other school might have left me lost in my technique only. At Cooper, I had to force myself to think very conceptually, and also to work in different mediums like video, installations and performance art.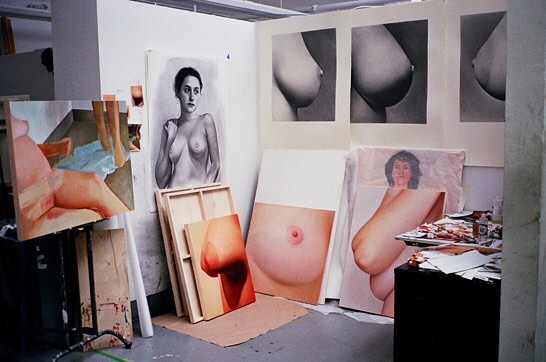 But actually, exploring all these different mediums made certain interests emerge for me. Separating myself from the thing that I knew I liked—which was the material aspect of painting and drawing—forced me to figure out what exactly I was interested in. In all my projects, regardless of medium, I found myself attracted to the same themes: I was interested in women and representations of women. And these are concepts that I'm still working on today. So then, when I did circle back to painting and drawing, I definitely had a deeper understanding for what I wanted from it.
I learned a lot about myself and my interests in art. I had to access my work in a way that wasn't so tactile or wasn't so immediately visual. It was challenging, but I really did enjoy it. For me, Cooper was the most valuable experience—I feel a lot of gratitude when I think back to my time there.
"You can take this icon of femininity that is soft,
but when you blow it up really big
it can be much more confrontational."

Did you always know that you would circle back to painting and drawing?
Yes! Definitely yes! My professors were always like "when you start out you think you're a painter, but then while you're here you're going to learn that you're actually into something entirely different!" But on the inside, I always knew I really was a painter.
What was your senior show about? 
My last show at Cooper was mostly breast drawings. One of them was a giant profile of a breast that was 12 feet by 16 feet. It was featured in the Village Voice actually.
I was thinking a lot about symbolism and scale. You can take this icon of femininity that is soft and has a connotation of maternity and fertility, but when you blow it up really big it can be much more confrontational.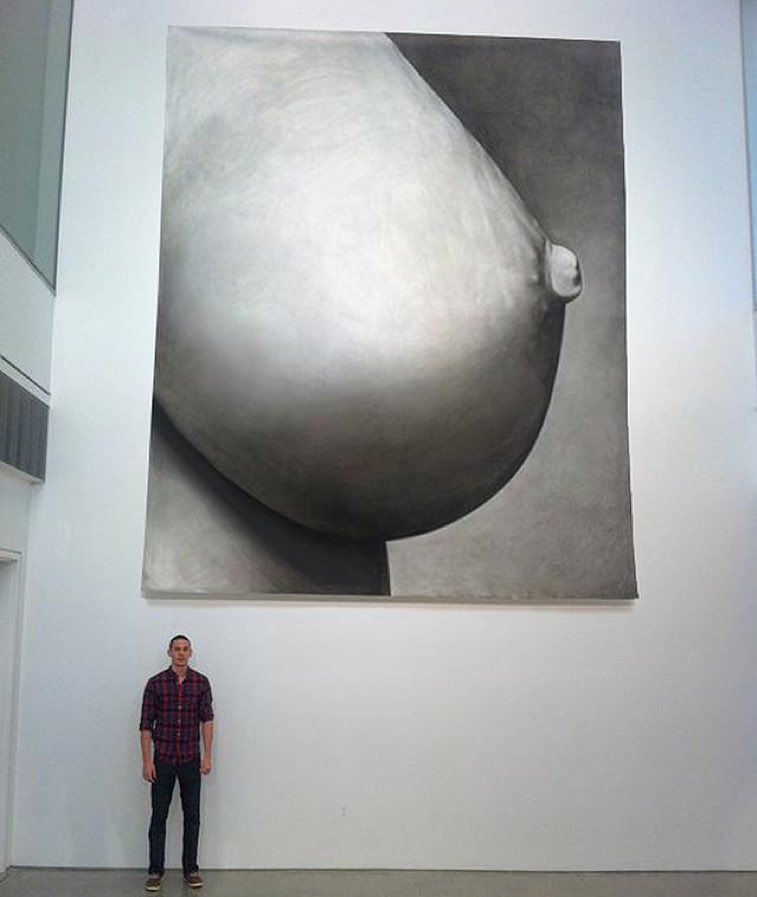 ON PRESIDENTIAL PORTRAITS
"It's so strange to think that these portraits I made
are political statements without me realizing
that they are political at all."
In the NAB, there are a series of charcoal portraits you drew of Cooper Union's presidents. How did that come about?
Well, it was May or June of my graduating year (2011) and at the time President Campbell's tenure had just ended and Jamshed Bharucha was announced as the next president. Someone in the administration reached out to me to commission portraits of all the past presidents and also one of Bharucha. They wanted all of them done in like 4 weeks so that they were ready in time for his inauguration. I made a schedule to make one portrait a day—which was crazy—and then also kept a buffer of a few days at the end in case I needed to redo any of them.
It was an interesting challenge because the only source material I had were historical materials, like newspaper clippings from the 30's. In fact, for Peter Cooper and Abram Hewitt, I only had illustrations. Basically, the reference materials all came from different sources, but I had to make the whole series of portraits look consistent. (In contrast, that's not how I work today. Now, I use my own drawings and photos of people to make portraits.)
[Clio and I talked for some time about the events after 2011. It was discovered that the actions of George Campbell, Jamshed Bharucha and the Board of Trustees resulted in the dismantling our 150-year-old mission of free education. We also discussed how students fought tuition through protests; the resistance in the form of Free Cooper Union; and how the community fought the administration through a lawsuit]
Have you seen the portraits since you made them?
No. I'd be very embarrassed if I saw them today.
I drew the portraits before any of that was uncovered. It was before it was announced that the school would no longer be tuition-free, and really, it was before anyone in the community was even aware of financial irresponsibility in the administration. In the months after I made those portraits, when all of that did come out, I felt very uncomfortable. I had been put in this situation where my work paid homage to these… men but really I—nor anyone in the community—knew nothing at the time about what Campbell had done and what Bharucha would do.
How does this commission fit into the context of your chosen art practice? Was there any conflict for you personally in making them?
At the time, I was really honored that the school had invited a student to do that. It was the first time I was being paid money to do what I had gone to school for, so it was gratifying that sense.
But, there certainly was a disconnect because I didn't know these men personally. A portrait is a really intimate thing and it's important to know who you're drawing. Also, I actually haven't drawn men at all since that assignment. Currently, all the portraits that I make are of women that I get to know personally.
My friends have teased me a little since that time, specifically about the portrait of George Campbell. The administration gave me photos of him as reference material, and he looks like a superhero. His shoulders are back and he's looking up and he's there's glamorous lighting on his smile. Since I was working off the material they gave me, his portrait ended up looking very regal and proud. After everything went down, people criticized me for it, saying "why did you draw him like an Adonis?" It's so strange to think that these portraits I made are political statements without me realizing that they are political at all.
You might not have heard about your portraits' context today. About two years ago, towards the tail end of all that, a student removed the portraits of Campbell and Bharucha to make the statement that they don't belong there and commemorating them is ridiculous. Even today, there are just two hooks on the bare wall where those two portraits had been.
Really? I had no idea about that. If the current student body feels that's appropriate (to take them down), then as an alum, I completely support their decision. I feel that the students are intelligent and I think they know what they're doing.
At the start of 2017, Cooper Union got a new President. Her name is Laura Sparks and she's our first female president. She's held the office for almost a year but does not have a portrait… yet. Would you be interested?
I would love to! Especially because I exclusively draw women now. I'm very interested in representing women in art because so often, historically, women have been represented by men. I think it's important to reclaim the representation of women from a woman's perspective. I would be super thrilled to make a portrait of her!
(Editor's Note: nobody in President Sparks' office had prior knowledge of this interview)
If and when you draw her, how would you want to display her portrait, given that the portraits of the previous two presidents have been removed? Do you leave the gap on the wall, or do you find a way to fill the space?
I haven't been at Cooper for a very long time and even though I have feel strongly attached to my memory of Cooper, I know I'm disconnected to Cooper today.
I would want to do what the student body felt comfortable with. If a student removed the two portraits and the student body agrees with that decision, then I think that's appropriate. I think there's something very poetic about the hooks on the wall, actually. If students want to leave a gap on the wall to pose the question of why there aren't presidential portraits there and to remember what happened at our school during that time, then I would also agree.
As a student, I really enjoy hearing you say that. Thank you!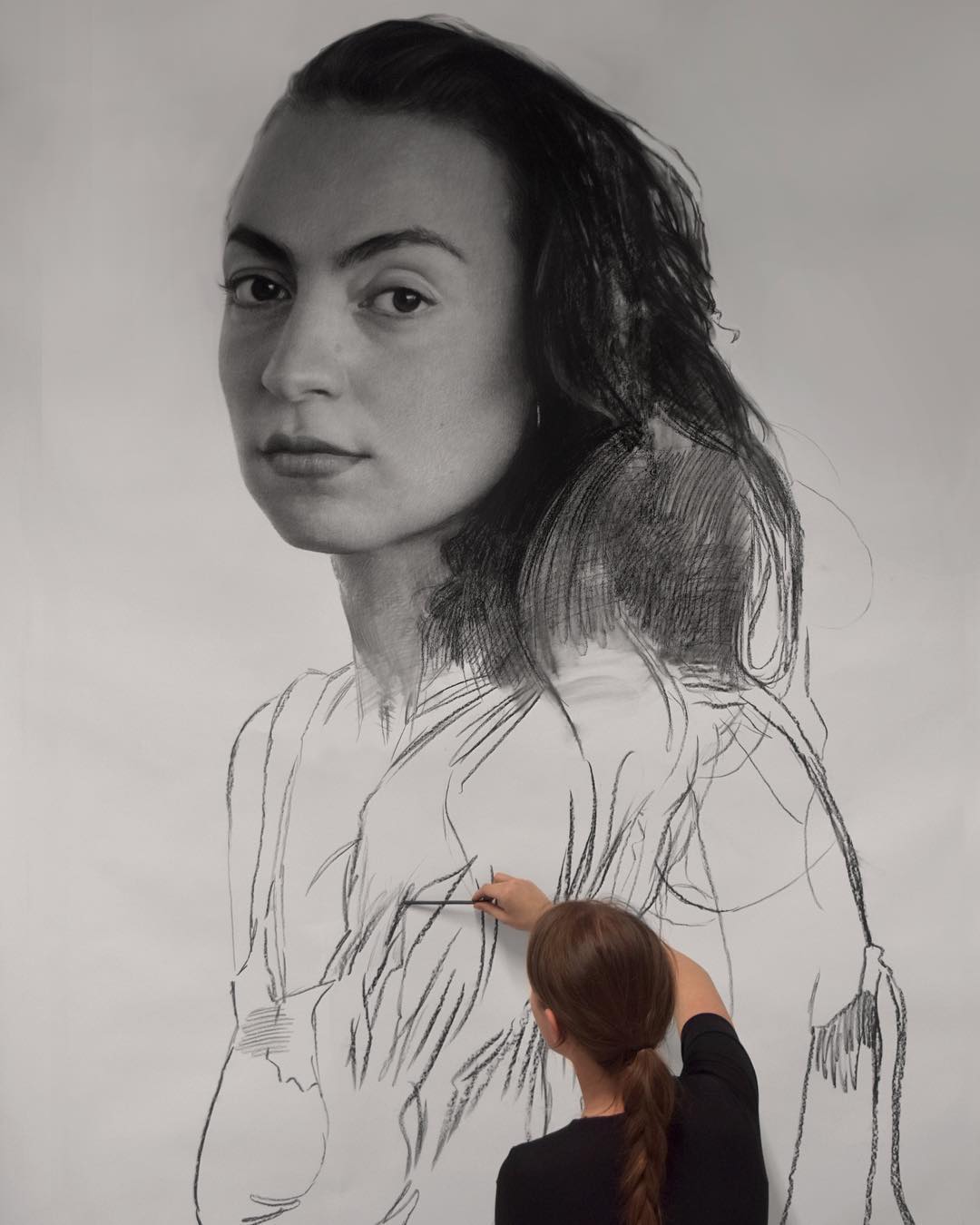 ON HER RECENT PROJECT 
Clio's work was recently shown at Jungkunst [translated: "Young Art"], a group show and festival held at a large industrial space in Switzerland that attracted 10,000 people.
Tell me about the work you showed at Jungkunst. 
I'm showing a collection of portraits about expatriation. When I moved to Zurich, I was thinking a lot about how identity relates to the city you're inhabiting. Moving to a new city can change what you call yourself. For example, you don't have to live in New York for a very long time before you begin to call yourself a New Yorker, but in Zurich, a person whose family has been here for 20 generations still might not consider themselves a Zuricher.
In this project, I met women who moved to Zurich, talked with them about their experience of making Zurich a second-home and then made portraits of all of them individually.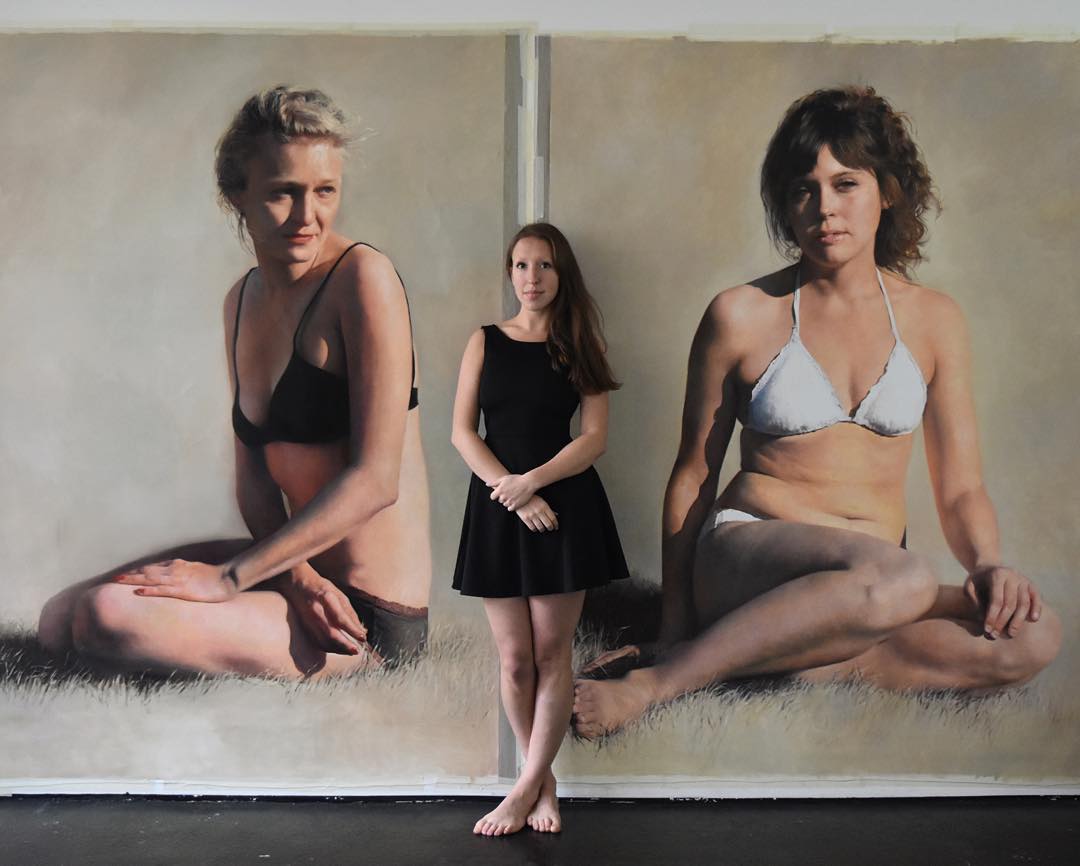 How did you meet these women?
 I put up advertisements around the city and also online. Then I met each woman who contacted me and eventually made portraits of all of them. So actually, that meant the women chose me.
With each of them, the first meeting was always a bit tense. I think they didn't really know what to expect or what I wanted from them. I would usually buy them a coffee so we could sit together for a long time while I asked a lot of questions. Specifically, I asked about how their previous experiences informed how they experienced Zurich. From all of them collectively, I learned that it has a lot to do with expectations: before coming to a new city, you imagine what it will be like and sets the baseline for what you expect.
While I was with them, I would also make small drawings and take photos of them. Afterwards, I would go back to my studio and use my drawings and photo references to make a big portrait.
They all have different life experiences—they come from different places—but they all were connected to one space and time. They all chose to be an outsider in a new city; they all had personal expectations when they chose to make Zurich their new home; but they also all chose to meet a stranger (me) without any expectations.
What happened when you showed them your portraits?
I invited all of them to a previous exhibition where I was showing these portraits. That was really strange for me because I had been living with these giant portraits together in my studio, so it felt like they all knew each other. But, when they all came to the show, they were actually meeting each other for the first time. It was quite surreal!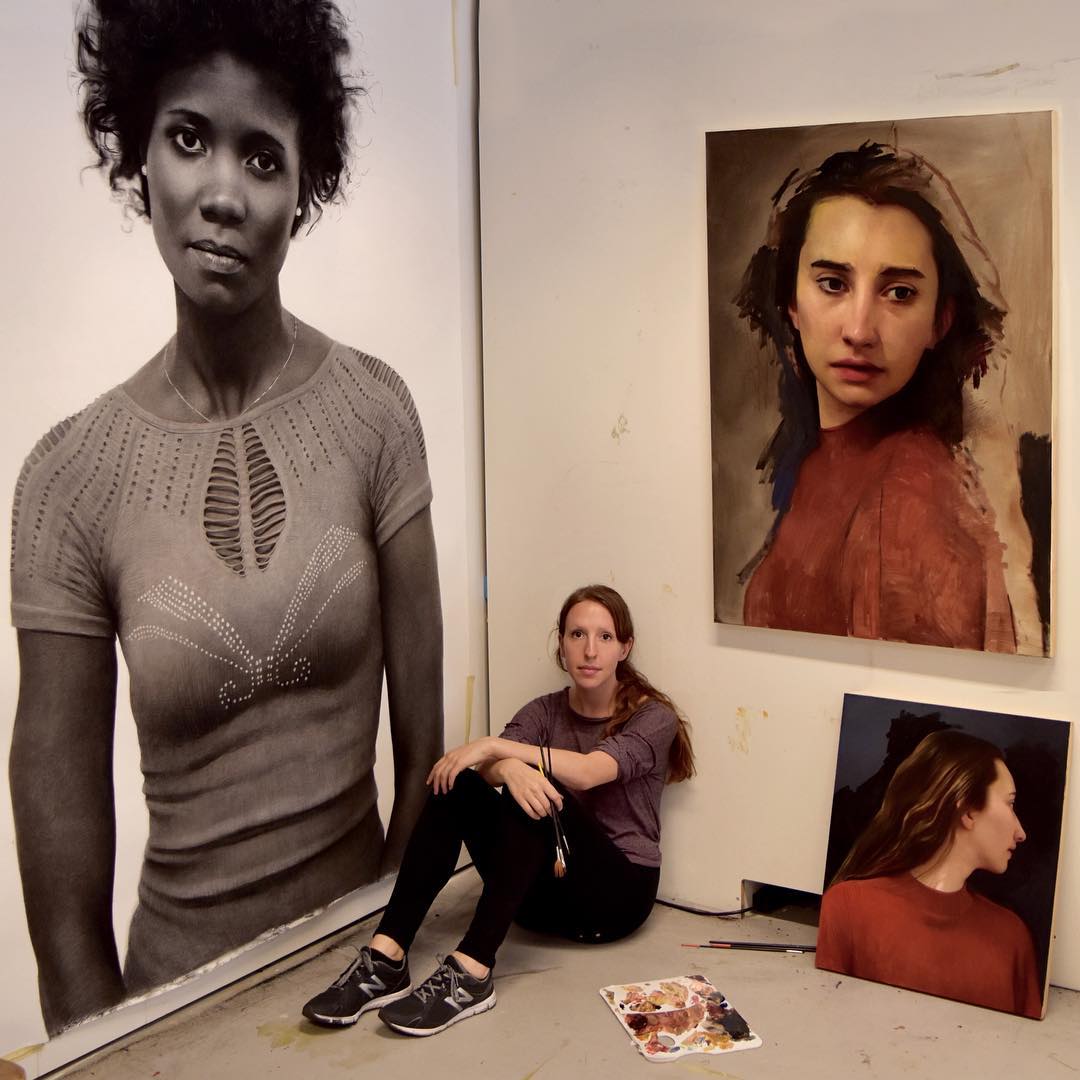 Do you have any advice for art students at Cooper?
First, to travel a lot. I learned so much about myself by traveling. I was only able to travel, to move to Italy and Switzerland, by applying to fellowships and residency programs.
Second, to treat your dreams like they're your job. That will increase the likelihood that they will become your job. (Maybe you can write it in a way that doesn't sound so cheesy.)
And third, to anyone about to graduate: Cooper is potent. It's very intense and you're learning so much and there's so much going on… and then all that ends. I had a difficult time emotionally with that. All my friends scattered all over the world and I felt that I had no idea what direction to go. I wish someone had told me that it's okay, it's totally normal and that there's no rush. Life has a way and you just need to be open to opportunities and possibilities.