By Matthew Grattan (BSE '19)
A student trustee is a full voting member of The Cooper Union's Board of Trustees. So, that means you'll attend quarterly Board meetings, sit on committees, participate in discussions, and vote on important Board decisions. What's the Board of Trustees? The Board oversees the long-term plans of the school—things like yearly finances, fundraising, or Cooper's plan back to free tuition. "If you're interest is in big picture strategy," writes Board of Trustees Chair Rachel L. Warren in a letter to prospective student trustee candidates, "[…] then Board service might be for you."
Only first- or second-year artists and first-, second-, or third-year architects can run. Why? Two reasons: (1) Student trustees serve for two years, which means you have to be an undergraduate at Cooper for the next two years. (2) A student from the engineering school was appointed to trustee last year, so the engineering school is barred from running this year.
For clarification, the process for a student to become a student trustee works as such: through ranked voting, the students choose their top three candidates to become trustee, and the board will appoint one candidate from these three to the position of student trustee.
Candidates need 100 signatures to run, and 50 must be from a different school. You can find the nomination form here, and it's due this Friday, April 13 to the Office of Student Affairs (third of the dorms). Need help finding engineers? Try Frankie's Café.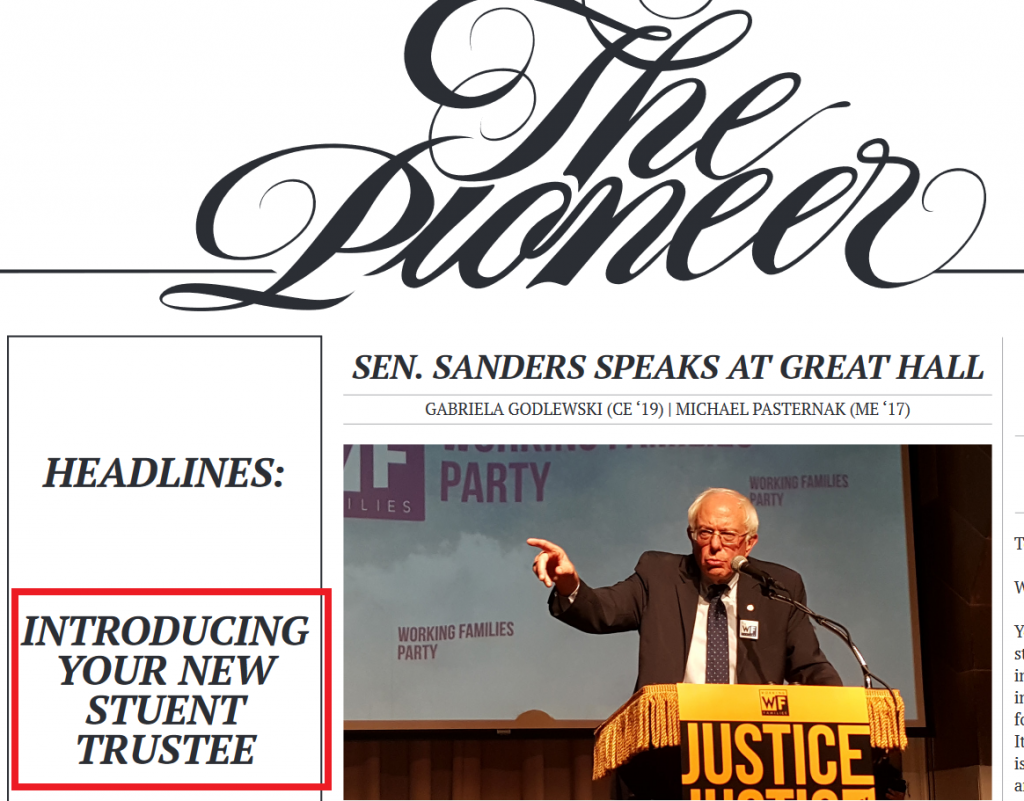 Like the rest of the Board of Trustees, student trustees must sign a non-disclosure agreement, which is essentially a legally binding document in which the signatory agrees to keep confidential information confidential. The student trustee must also sign and abide by the Code of Ethics and Conduct for board members.
There must be a student trustee serving on the Governance Committee and the Free Education Committee. There are two student trustees, so typically, if one serves on the Governance Committee, then the other serves on the Free Education Committee. In addition, student trustees may choose to serve on other committees, like the Student Affairs Committee or the Alumni Affairs Committee. Keep in mind, however, that each committee has quarterly meetings, which can quickly add to your time commitment.
You represent students from all three schools—well, sort of. Technically, you act in the best interests of the students of The Cooper Union. What "representation" really means has been a point of contention in recent years. Feel like discussing the meaning further? Come to The Pioneer's student trustee forum on Monday, April 16 at 9 p.m. in LL101, NAB.