By Jenna Scott (CE '21) and Courtney Chiu (ChE '21)

Can you tell us about yourself?
Sure! My name is Mili Shah, I'm a professor here in the Math Department. I grew up in south Georgia, hence the accent. I went to Emory for undergrad and Rice University for grad school. And then I was a professor at Loyola University in Maryland for 11 years.
How did you hear about Cooper?
I was actually kind of just walking around, and I saw it, and I started reading up about it. I was looking for schools that valued teaching but also valued math and math teaching. So I was trying to find a place that was teaching-oriented, had strong students, and this kind of all fit the bill. And my research has a lot of engineering applications so I was like "this seems like a pretty amazing fit."
Can you talk a little bit more about your research?
Sure! So I'm an applied mathematician — what does that mean? I like to gather basically any kind of idea, or any kind of project and see how math can help. Right now, I'm working with the National Institute of Standards and Technology, otherwise known as NIST. I've been working with them since 2009. I work in a manufacturing lab, and they have a bunch of types of robotic arms and different types of robots. They're looking at exoskeletons and they're trying to evaluate how well they work. This is a government agency that's all about standards. The question becomes "which robot is better than the other robots?" so how do you do that? How do you create an idea of "best"? So you have to come up with metrics. You start to figure out that for metrics you have to have some kind of mathematical model, some kind of mathematical expression, and how do you do that? So that's why they brought me on board. These types of robotic arms have different types of sensors, they gather different types of data — how do you put all this data in a coordinated system, how do you come up with a metric system to evaluate how well they gather that data? These are all the types of questions that they're looking at and questions that I'm trying to help them with.
How do you continue to work with them from all the way up here?
There's a lot of teleworking, a lot of emails of course, and I'm also taking trips back and forth. It's a mixture of a lot of different things. Right now we're working on a project with evaluating exoskeletons, so they have quite a few people that they're going to be testing exoskeletons on and they're collecting a lot of data, so I'm helping with evaluation — and coming up with metrics for that evaluation — of exoskeletons. That's my current project.
Is there any research that you're going to start here at Cooper?
Yeah! A lot of the projects that I've been working on so far with NIST I'm planning on continuing. I have quite a few research directions that I want to go in. I'm also looking for students to help out and have some ideas. I'm always looking for new projects. I think the city's amazing, and it seems that a lot of my colleagues have projects that they might want a mathematical perspective on. I'm always happy to help out. The NIST project was just a colleague of a colleague who had a problem and they reached out. I was able to help them, and that's how this whole area of research started. I knew nothing about robotics before 2009. It's really fun — that's something I love, love about mathematics is how it can be so application-based and I feel like we can help almost anybody, regardless of your field.
Is there an upper-level math elective that you want to teach, existing or otherwise?
My area's numerical linear algebra, it's a subset of numerical analysis. I think my students have already heard me plug linear algebra — take as much linear algebra as possible. I know there's Intro to Linear Algebra and there's another Linear Algebra that they're offering this semester. I'm thinking of a Computational Linear Algebra course. Yeah, linear algebra, linear algebra, linear algebra.
The STEM field in general is very male-dominated: how does it feel being a professor who is female in this field?
That's really a great question. There can be some challenges. I have been told that I am not what people may necessarily think of when they think of a math professor, but I think that that is something that I am really happy about, because I think that math should be for everybody, and so you can be a woman, you can be super feminine, you can be those things and still want to study STEM and want to study math. It was challenging getting to this position in a lot of ways, but it's also really really awesome to prove that you can do really really well.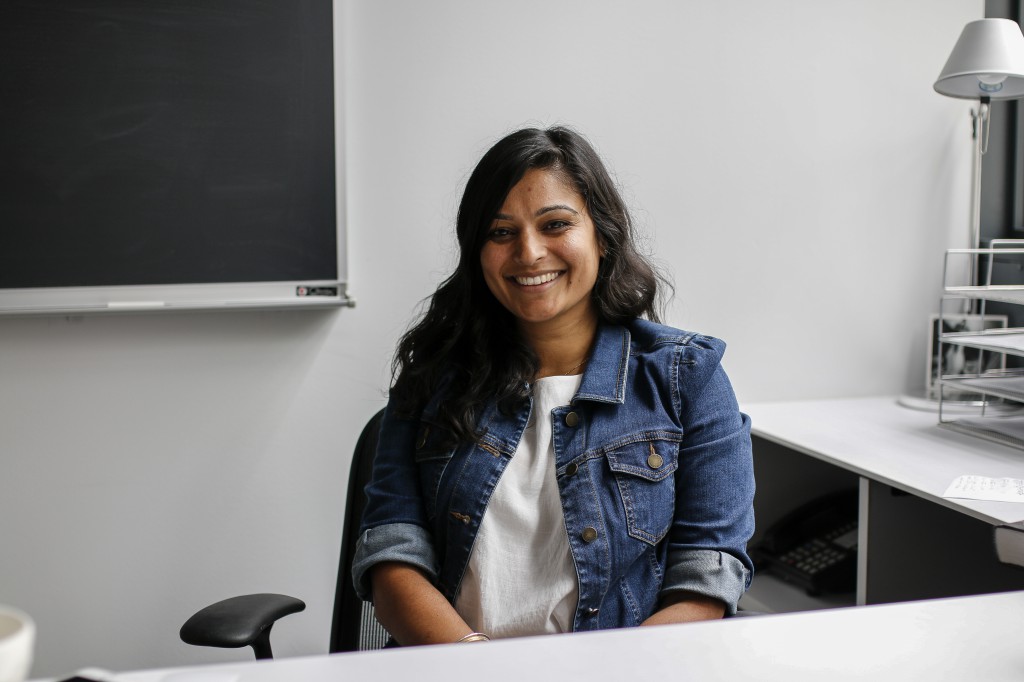 I think you might be our first female math professor.
You'd have to ask Om Agrawal about that. I could talk about that in more detail, maybe at a different time. But it's fun. It's also really really fun. I like to be something that people aren't expecting.
I'm also from Maryland, what's your opinion on Old Bay? [Old bay is a spice blend traditionally used for seafood but in Maryland used for literally anything and everything.]
I gotta have it on my French Fries. It's pretty amazing. I like Old Bay French Fries dipped in honey mustard. I don't know if that's a wrong thing or not, but yeah.
I think every single restaurant on the Eastern Shore of Maryland has that exact menu item.
That's one of my go-tos. I haven't had it in a while. Loyola had a big canister of Old Bay in the cafeterias.
How are you liking New York?
I'm really loving it. It's totally growing on me. I love to eat, so of course the city's been amazing. I love how there's always something going on. There's just an energy in the city that just makes me smile every single day. I find it charming in a lot of ways.
Are there any tourist attractions you haven't seen yet but want to?
I've done quite a bit. I love going to the museums: over the summer I tried to go to a different museum every week, so I've gone through quite a bit. Maybe taking the ferry to the Statue of Liberty? I did that when I was really young, but I haven't done that since.
Have you been to Governor's Island?
No! That's another one. I've become really obsessed with Rockaway Beach, that's my happy place to go on the ferry, which I think passes Governor's Island. I've heard it's really nice to bike there. Now that we're talking about it, I think I want to go to the Dia, the upstate one, I think it's in Beacon? There are a few art museums outside of the city that I'm really interested in going to.
What's your favorite meal that you've had in New York?
That's a loaded question. I guess most recently I've been to the Tokyo Record Bar, it's on Macdougal? It's a pretty intimate place. It was amazing. One of the best meals I've had in a while. They have a really interesting taste on fusion food. It was a good dinner.
What do you do in your free time?
Eat! I'd say, eat, and go to museums, and go to Rockaway Beach. Those are definitely my top three things to do.
There are some small things that make my day completely, like seeing dogs on my walk to school in the mornings. Do you have anything similar?
Just walking around the city. Something interesting and unique, you see that every day you walk around the city. The other night I was walking back from campus and I saw this guy riding his bicycle, but his whole outfit was lit up, including his bicycle, including lights on the spokes of the wheels. So he was just — I mean, he had a hat, he had lights on his face, I mean everything! How could you not smile when you see something like that?
Is Cooper different from what you expected?
I don't know if I would say it's different, but I was very surprised at how excited the students were about learning. I was expecting it, but I was pleasantly like "Woah, it really is happening." But everyone's been like super excited and super into it, it's been pretty awesome. You've all been awesome and energetic, which I think is really great.