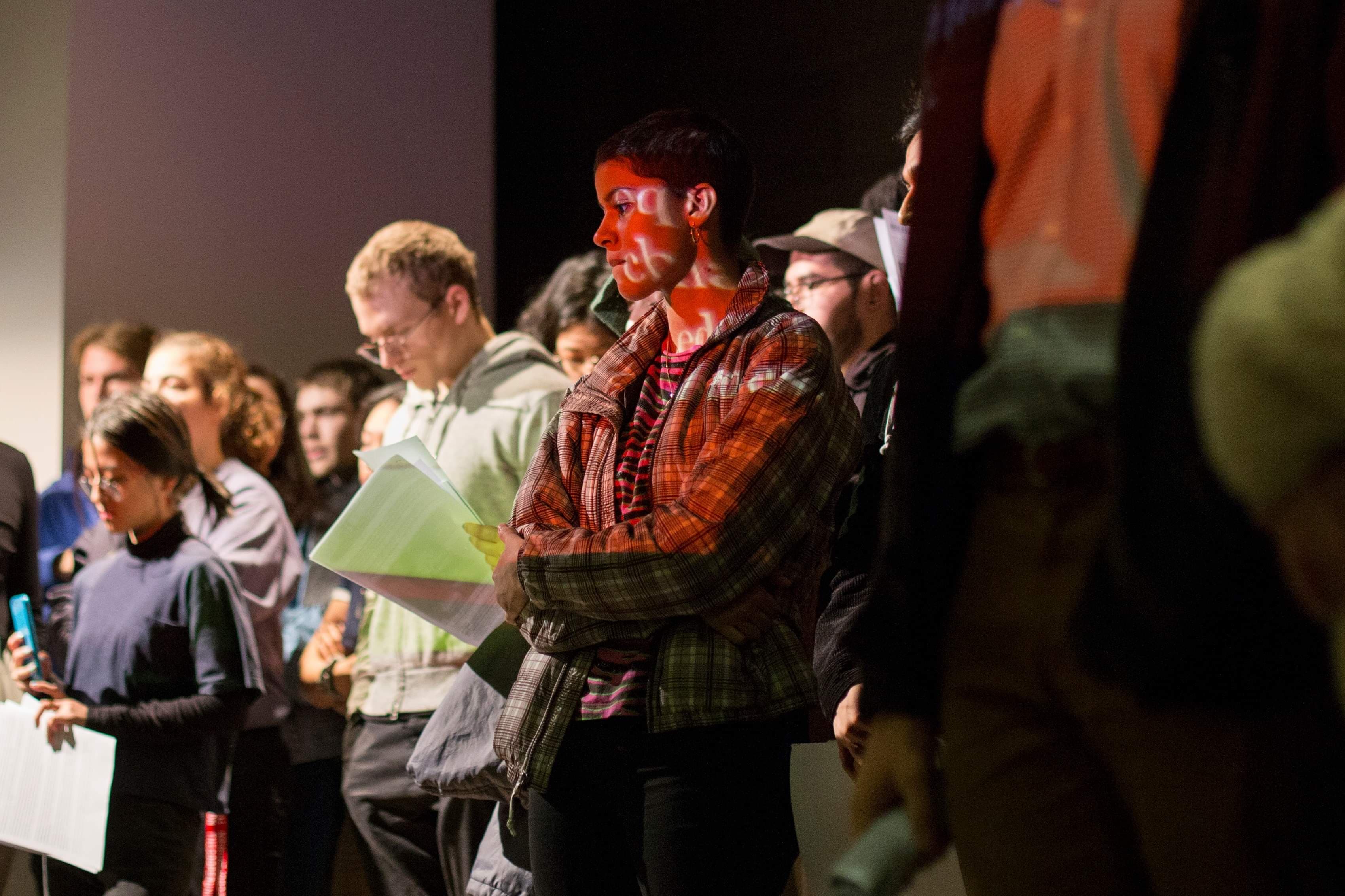 By Matthew Grattan (BSE '19)
Photo by Julius Freyra (CE '21), courtesy of Humans of Cooper Union
The third course of the mandatory humanities and social sciences core curriculum is entitled HSS-3: The Making of Modern Society. "Once I remembered that, it was ridiculous for me to say that modern society as it exists today only exists because of Europe," said Mahmoud Khair-Eldin (CE '21) over the phone one night last week.
Khair-Eldin was one of the many students who gathered in Rose Auditorium last week during the HSS-3 lecture to protest. Students occupied the stage in complete silence as the lecture slides were projected onto them instead of the screen behind them. The protestors, who also call themselves the HSS Movement, see the core curriculum as decidedly Eurocentric and find a lack of racial sensitivity among some of the department's faculty.
"I didn't appreciate that this was the history I was being given when it's not a complete history," expressed Khair-Eldin. Disillusion regarding the core HSS curriculum has been a common thread among students for years, and frustrations peaked with an assertive poster campaign preceding the protest. "The posters were a final straw, a last ditch effort," he explained. "Otherwise, the complaints weren't being heard. This isn't a new issue, even specifically for HSS-3."
In 2016, over 300 students signed a petition calling for more diverse HSS curricula and faculty. According to Professor of History Atina Grossmann, the head lecturer for HSS-3, she and Professor Ninad Pandit, a postdoctoral fellow in social science, "significantly changed" the reading materials for HSS-3 in response to the 2016 student petition. However, the new readings seemed to be a stopgap measure.
"They've added optional readings by people of color; they've thrown that onto the syllabus," said Khair-Eldin. "Our problem is that these readings aren't discussed in class, they aren't brought up, and they aren't integrated into the curriculum."
Transforming the curriculum would require changing the perception of HSS within The Cooper Union. The core HSS curriculum is held somewhat subordinate to those of the art, architecture, and engineering schools.
But simply adding more classes to the core curriculum would not necessarily make the sequence more diverse or inclusive. "You can throw all these documents at us, but at the end of the day, if the curriculum itself is what's broken, and you just say that we need more time, then you're not actually going to fix anything," said Khair-Eldin.
In addition to curricular changes, the protesters are demanding a more diverse HSS faculty, according to a pamphlet written by the HSS Movement. Currently, all nine of the full-time HSS faculty are white.
Another issue raised by protestors—perhaps stemming from faculty's racial composition—is the lack of racial sensitivity from some professors. A diverse teaching staff could provide empathy and perspective to students of color, beyond simply charging the current faculty with being more mindful of their actions in the classroom.
"I think that by having a more diverse staff they'd be able to better address certain situations," expressed Khair-Eldin. "I feel that they'd be able to offer insight that makes a little more sense in terms of context of being a person of color."
The core classes are the focal point of the movement to decolonize the HSS curriculum precisely because they are mandatory for all students. Some detractors of the protest question why dissatisfied students can't just take more HSS electives. But students' schedules are not always flexible enough to accommodate desired HSS electives, so the core is sometimes the first and last chance for a humanities education.
"I'm majoring in engineering and I don't get many opportunities outside of that to learn about humanities, or history, or anything that isn't engineering," said Khair-Eldin. "I'm not here at Cooper to learn about European history. What it boils down to is that I have to fulfill a humanities requirement, and that requirement isn't being supplemented to me in a way that feels meaningful."
As an aside, Khair-Eldin mused that the narrowness of the engineering curriculum "is another flaw that Cooper has that we could talk about for ages." Likely, similar conversations could be had about the architecture and art curricula. Still, these conversations are mere subsets of an ongoing debate about the future of The Cooper Union.
But, Khair-Eldin said, "we're not there yet."