By Ky Yurchuk CE'23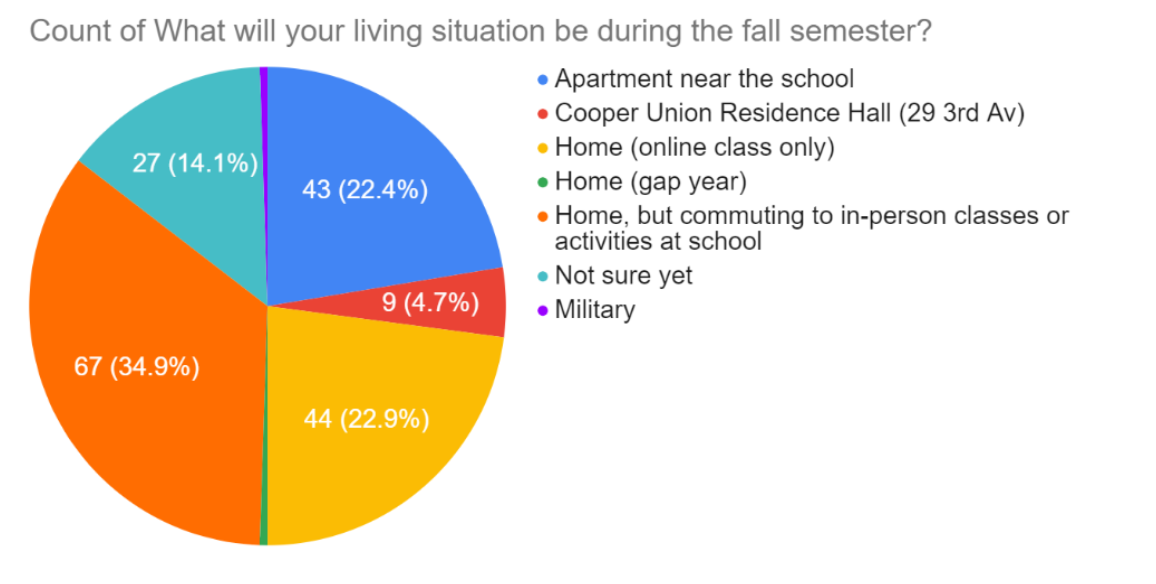 Spring 2020 was a semester of many firsts for Cooper students. It was the first time architecture students had studio without an actual studio. It was the first time electrical engineering students couldn't do their homework on the sixth floor. It was the first time the Art School's End of Year Show had to be virtual. Despite all the changes happening to the curriculum, the largest change by far has been the physical distance that we put between us. The residence hall was almost empty in the second half of the spring semester and will only be at half-capacity in the fall. However, as August 31st quickly approaches, many still seem unsure of how open the building will operate, and thus are confused as to whether they should try to get to city in some capacity. With that said, The Pioneer reached out to students, both incoming and returning, to ask them where they plan to be in the fall.

Of the 192 responses, 61 were from Architects, 123 from Engineers, and 8 from Artists. The Class of 2022 was most responsive, but 2021, 2023, 2024, and 2025 were all represented as well. 43 students have apartments near the school where they will live in the fall. 112 have decided to stay home, but of those 112, 67 have decided to commute to Cooper should there be in-person classes or shops available. 9 are going to live in the residence hall (welcome to Cooper, guys!). One has decided to take a gap year and join the military.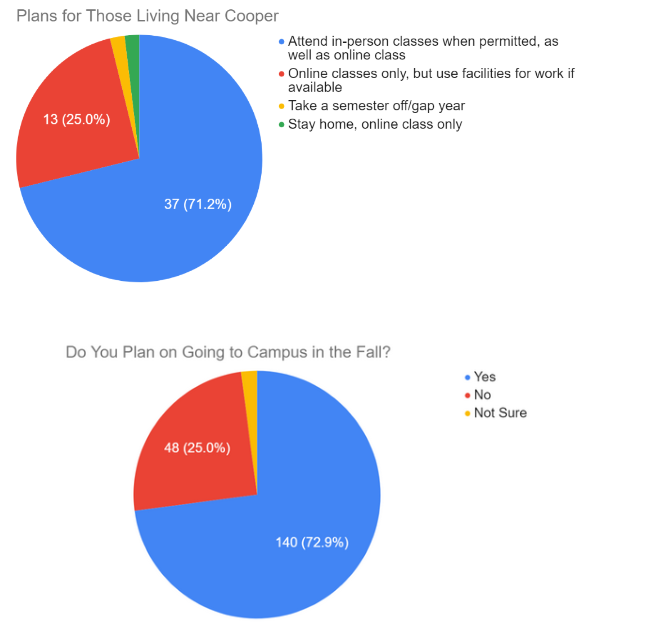 It should be noted that almost everyone who will live in an apartment near the school wants to attend in-person classes or use facilities for work. Combined with the 67 students from home who want to commute, a considerable number of students are interested in seeing the Foundation Building and NAB in September. Unfortunately, we live in a time where conditions change with the wind, and as Cooper attempts to adapt to rapidly changing policies regarding the coronavirus, it is unclear at this time what classes or how many students will be on campus in the fall. Thus, 26 people said that they were unsure of what their housing situation will be in the fall. However, of those 26, 14 also stated that they would prefer to attend in-person classes when available.

It does not come as a surprise that a majority of students are itching to return to campus in the fall. Cooper is known for its collaborative environment andthe large-scale projects that its students create. We thrive when we are together, and we all want to be together again.It's a tough call, as well as a tough transition. Despite the introduction to online learning last semester, it is still jarring to think that our highly hands-on classes will most likely be online again. Perhaps this semester they will be more organized and efficient, and the return to traditional grading may make us more attentive during online lectures. But nothing will compare to the day we return to Cooper Square. 
Please be aware that this was an anonymous survey; we didn't go verifying leases for apartments or asking for home office/studio setups (although we'd love to hear from you if you have a dope setup!).As such, we cannot guarantee that everyone is following through with the answer they submitted. As we have learned, a lot can change in a month.  Though the lack of clarity is frustrating for everyone, we at the Pioneer thinka little solace can be found in knowing what your student body is up to in the fall.  
Best wishes in the upcoming semester.