Jenna Lee (ME '15)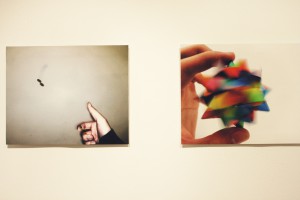 An old adage claims that "everyone is an artist", but is it really true?
This year's exhibition, "How Do We Look?" shows an attempt to use science and technology as a foundation for art by engineering students in last semester's Scientific Photography class. Can photographs express motions? Time? Right next to the entrance of the exhibition, Michael Pimpinella's (ME '14) work asks these questions to the audience. Against the preconception that photography is a static art form, students including Ferdy Budhidharma (ChE '14), Joann Lee (ChE '13) and Eric Leong (ME '14) toy with time and the photographic medium.
Their work has the theme of motion and time in common, skillfully depicting the lapse of time in a single snapshot. Some raises more fundamental questions about our perception of the world: Mindy Wong in work identifies herself using a collection of magnified images of her hair, skin and other parts of her body.
Robert Yankou (ME '13), on the other hand, questions our understanding of "color", as it is mathematically displayed using a limited, discrete set of numbers.
William Biesiadecki (ME '14) questions how reliable our memory is, comparing human memories to evanescent ripples on the pond.
Elizabeth Kilson (EE '14) tries to get the closest view on animals using her camera, offering a different look on the small creatures we run into every day. There are also explorations on technology of photography, as Uyên Nguyễn's (ME '14) holograms, or Victor Chen's (EE '13) attempt to abandon normal flat images and to see the world in a different angle, a distorted, fish-eye way.
All in all, the exhibition shows that engineers can also be great artists, raising similar questions as artists do, only using more scientific tools such as microscopes and infrared lights. Would it be a mere coincidence that Joann Lee's pictures strikingly resemble Magritte's The Empire of Light?
Photos by Jenna Lee (ME'15)