By Robert Godkin (ChE '18)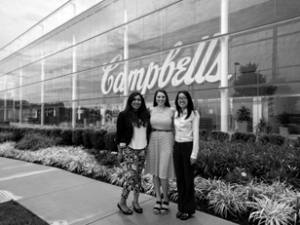 "I interned at Campbell's Soup in Camden, NJ for 12 weeks and was working under the Soup Team in Research &
Development (R&D). My main project involved analyzing starches used in soups, and I worked to optimize conditions for the starches to make the processes more efficient.
In R&D, there is a part called Process R&D, and I worked with process engineers on a daily basis. I also interacted with product developers and culinary professionals, as well as my fellow interns! I was the only intern in Soup R&D though. I also worked alongside Science & Technology and Pilot Plant Operations divisions, both of which were very informative.
The work was really interesting and I liked that I was able to work in different environments: the lab, kitchen, and pilot plant, for example. The research I was doing was valued and would have an impact on the development of products! So exciting! It's hard to compare it to what I do at Cooper. I was learning a lot of fundamentals and knowledge at Cooper, and I'd learn about the applications, but the internship was different. Working in industry gives you another experience, and I was seeing first-hand how my work could be applied in the real-world.
My favorite part of my internship was the people. Everyone was super friendly, helpful, and approachable! Whenever I had a question, whether it was something small or not, they were all supportive and willing to help. I wish I could have stayed longer at my internship and learned more—there is nothing negative to say!
I learned a lot over this internship, but I think my biggest takeaway was seeing what working in industry was like. This was my first industry experience. Previously, I've had summer research experiences at universities, but working in corporate R&D gave me a new perspective. I have a better idea of what I want to do after college, and I could see myself working in an R&D position and doing process engineering."