Anamika Singh (Art '17)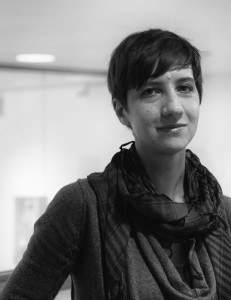 The Cooper Pioneer recently conversed with Stamatina Gregory, the newly appointed Associate Dean of Art, via email.
The Cooper Pioneer: What was your first experience with Cooper Union?
Stamatina Gregory: It was somewhat mythic. I attended a small parochial high school for girls in Brooklyn, and the claim to fame by the very inspirational art teacher there was that one of his students had gotten into the Cooper Union. Right then, as an aspiring painter, I decided to apply. But by the time I was a senior, though I was very interested in contemporary art, I had begun to identify as a reader and writer, rather than as a maker. So I studied art history and German literature at NYU, near Cooper–but also far away from it—so it's interesting to be here in a very different role.
TCP: Can explain your role as Associate Dean and the responsibilities that come with this position?
SG: My role is extraordinarily varied within the school—I'm already involved in many different initiatives in programs, assessment, and development. I work closely with the Dean on day-to-day operations of the school, on developing new graduate programs, and I'll also be working on accreditation, which is a cyclical and ongoing process. At some point I anticipate teaching also, and I'm really looking forward to that.
TCP: You have extensive experience with a variety of colleges and universities. How do you believe these experiences will influence your coming time at Cooper Union? What drew you to the Cooper Union?
SG: In the past, it's been wonderful to work with a really diverse student body at CUNY, working to reach students primarily interested in things outside of art, as well as having both abundant resources and savvy students in the Ivy League. But Cooper is the best of all worlds: an extraordinary and diverse student body and a faculty of artists making some of the most critically important work today. I'm always interested in digging under the surface of the art world as part of my practice, and that inevitably leads to the foundations of how we construct artists in our society–through pedagogy.
TCP: With the new policy of tuition being instated next year, what changes do you see occurring in the School of Art?
SG: Change might be less tangible to me than to someone who has spent much of their career here. There are changes tied both to tuition and to the ongoing effort to avoid it, and that is the development of excellent graduate programs, which is positive. Even having been here only a short while, -remaining an active place for social critique and institutional critique – a longer process rather than the short reactions generated by crisis. [sic]
TCP: What are some visions you have as you assume this position?
SG: I would love to see more interdisciplinarity. Truly exciting projects are being forged between architects, artists and engineers out there in the world, and it would be good to find some platforms and initiatives for that to happen meaningfully here. And of course, I want to continue the school's engagement with important institutions and practices outside its walls.
TCP: How has interaction with the faculty and student body been so far?
SG: On the whole, excellent. Although, more than any other place I have been, Cooper unfolds slowly: it seems like a very tight and complicated family, with memories and histories and loves that run deep.
TCP: Do you have a personal motto or mantra that you apply to your professional career?
SG: I love the idea of a personal mantra, because it seems so stable and soothing. But we work in a world in which beliefs and assumptions can and must be subject to change, and that includes how I approach my work. One question I continually ask myself in my work is: so what? What is it about this project or job or conversation that is meaningful now, and what is at stake? It's both a place to end, and a place to start. ◊
Photo Credit: Vincent Wai Him Hui (Arch '15)