By Brandon Quinere (CE '19)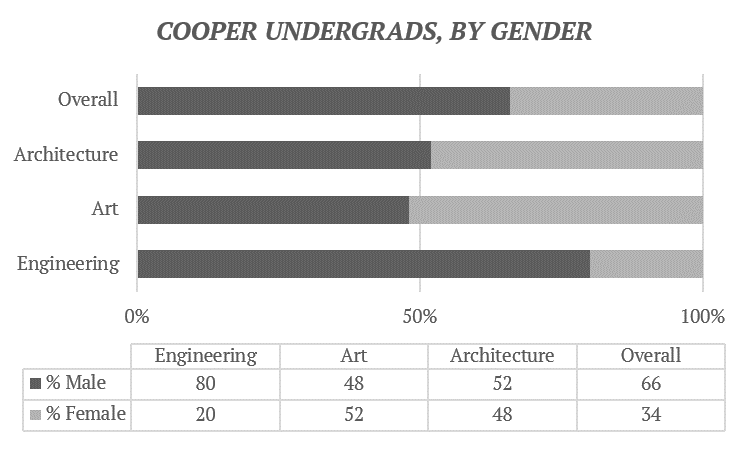 Last November, the Faculty-Student Senate released a statement to the Cooper community adopting a resolution that addresses the gender disparity in the School of Engineering. As advisors to the President and Board of Trustees, the Senate requested that a strategic plan be devised to increase the applicant pool specifically for female students pursuing engineering at Cooper. The Pioneer had the opportunity to speak to Senate Chair Stan Mintchev, Vice-Chair Sam Keene, and Secretary Julie Castelluzzo on how diversifying the engineering major is crucial for the school.
According to the American Society for Engineering Education, of all the bachelor's degrees in engineering awarded in 2015, women earned only 19.9% of them, a small improvement from the 19.3% reported nine years ago in 2006. This gender gap is further represented in the workforce, with The Chronicle of Higher Education reporting that 12% of all engineering jobs were held by women in 2013.
For larger schools whose STEM programs represent only a small portion of the types of curricula available for students, this particular issue may go unnoticed. In the case for Cooper, whose schools are split between three programs, it becomes harder to see past that gap, as explained by Professor Keene, "The gender disparity issue is really not an issue in the schools of Art and Architecture. They are much closer to a 50/50 ratio, so that is why this particular resolution was specific to the School of Engineering."
Perhaps most unfortunately, an overall disinterest in the field is not why women are less inclined to be enrolled in college engineering programs. At often times, the role of intimidation and a lack of comfort comes into play, especially in male-dominated learning environments. "I had been hearing anecdotally for some time that there were issues of harassment in the School of Engineering," described Professor Keene on how the issue of gender disparity was brought to the Senate floor. "The more I heard, the more convinced I was that there was a problem."
Discussions and workshops about sexual harassment and consent have become more prominent at Cooper to avoid the possibility of a student having their scholarly path derailed because of someone else's inappropriate campus behavior. A popular opinion piece published by The New York Times last year investigated sexual harassment in science, revealing that women in STEM even felt motivated to quit their programs because of unwanted advances by their male colleagues.
Beyond the fear of sexual harassment, female students may also feel that they are not equipped with the skills that their male peers have in terms of performance. A lack of female representation may discourage female students from pursuing STEM fields at a young age, simply because the industry is so commonly depicted as primarily male. Developing strategies and better support systems to encourage more female students in engineering can greatly dispel these false narratives.
The intersection of gender and race also plays a pivotal role in terms of better representation in STEM. A study conducted by the Society of Women Engineers revealed that in comparison to their white male colleagues, women engineers and engineers of color felt more of a need to prove themselves to gain respect, potentially demoralizing further interest in their field. (On a related note: as a celebration of diversity on Martin Luther King Jr. Day, Cooper sponsored a free screening of Hidden Figures, a film about black women mathematicians Katherine G. Johnson, Dorothy Vaughan, and Mary Jackson and their success at NASA.)
The Faculty-Student Senate stressed a need to improve the overall campus environment at Cooper by improving female outreach of prospective applicants in future classes. Within the School of Engineering, the Senate foresees an increase in comfort for female students in a more inclusive environment: "We feel there needs to be a critical mass of women students, so that they can form study groups, work on group projects, or attend a class where they are not the only women present."
Because the Senate's role at Cooper is advisory, meaning they do not specify how goals should be implemented, they believe the Board of Trustees, Administration, and Office of Admissions can move forward with their requests by better prioritizing this issue and formulating a detailed plan to increase the female applicant pool. Still, the Senate is not advocating for a different admissions process for female engineering students; the goal is to recruit more women without tampering with existing admissions criteria.
As a message to current students at Cooper, the Faculty-Student Senate had the following to say on how they can assist in closing the gender gap for future classes at the School of Engineering:
Having an open dialogue around these topics is the beginning. Talk to the other students in your major and in other programs as well. Talk to female faculty in the School of Engineering about their opinions and experiences. Discuss it with students you know at other engineering schools. Consider your choices of words more carefully; for example, joking about rape is not funny to the survivor who overhears you. Educate yourself on the meaning of consent and why it's important.
Female engineering students at Cooper who are interested in taking a more active role as role models could talk to their Dean, people in student services, and people in the Admissions office about how they can get more involved in communicating with prospective students.
Furthermore, if you are aware of specifics that place Cooper at a disadvantage with regards to the recruitment or retention of female students, make yourself heard. General information about the student experience, how institutional resources play into all of this, how current students describe Cooper to prospective applicants (e.g. younger cohorts from their high school, friends, neighbors, etc.), or how upperclassmen describe the Cooper experience to current freshmen would be of tremendous value to the Senate subcommittee.
Cooper students who would like to contribute to this ongoing conversation with any comments or advice for the Senate may contact Professor Keene (keene@cooper.edu). By recruiting more women in the School of Engineering, Cooper would be making great strides in diversifying future work environments and inspiring the next generation of women engineers. Representation in any field is very important; it assures the underrepresented that they too can succeed in environments that are not dominated by people who identify with them. ◊