Matthew Lee (ME '15)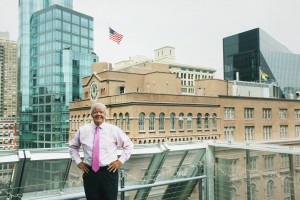 This past Tuesday, the Cooper Pioneer (TCP) sat down with Dean Baker (DB) to discuss his new role as Dean of Student affairs.
TCP: How many years have you been at Cooper?
DB: This is the start of my 48th academic year.
TCP: Please describe how you were informed of your new position as Dean of Student Affairs?
DB: During the process after Dean Lemiesz, the administration talked to about assuming the responsibilities. It was very recent.
TCP: Were you previously aware you may be chosen? Have you ever asked for the position?
DB: No.
TCP: A lot of us at Cooper have many things to manage. What do you specifically do to stay sane while running both the athletics program as Dean of Athletics, and acting as Dean of Student Affairs? Any time management tips?
DB: The most important ingredient is the dedication and the relationship with the students, the second thing is the commitment to the school, and the third thing is that as a Cooper Union person you don't rely so much on sleep. I think the passion that all of us have, the initiatives that we all want to take, the creative juices we all have all blends together. There's 24 hours in a day, and some people know how to manage their time better than other. At Cooper Union you have the time to not only focus but you have the time to be creative, and that's unlike any other school in the word and I think that's the blend of it. There's always time to do things.
TCP: With your added responsibilities do you feel you have less time for anything else in the day?
DB: I make time. I'm thinking about the students, I'm thinking about the school. If I commute 5 hours a day, I'm thinking about who I'm going to see; the person I feel sorry for is the first person I see because I might be thinking about something else for 2 hours while driving in. I plan my day, but I also have to be flexible. It adds another dimension to the students and myself sharing something that's going to make this place better.
TCP: How do you like the role so far?
DB: I'm enjoying every minute of it because I think there's a level of energy – everyone is wishing me well and encouraging me – and there's an energy of the incoming students that is just remarkable.
TCP: Any interesting stories?
DB: Look at what happened at Cape Cod. You look at everything we introduce: are we professors? coaches? administrators? friends? What goes on up there, the dynamic of what goes on up there […] I think everybody felt they were more committed to what they were doing and more committed to helping me and helping us. I saw something I hadn't seen since I was a little kid up in Cape Cod:
One squirrel is up in a tree. The squirrel is out at the end of the tree. Now their food is free – they're not going to the supermarket, but they have to get it seasonal. So one of them instead of taking individual acorns, this squirrel got creative and started shaking the branch. And then the nuts would fall down to the ground. So that to me is a Cooper Union story, in the sense that the Cooper Union person realizes where he/she is: they have to be efficient, then they have to take those nuts and bury them and prepare for exams or the future. The other squirrels going around picking up nuts from the ground. The Cooper Union squirrel is taking care of business.
TCP: The email we all received stated you "will take on the leadership responsibility for Student Services in the interim." Do you know if the administration is actively searching for a permanent dean?
DB: I think that the position is gonna be now called Student Affairs. I think what they are pursuing is having me fill that administrative position. The first thing we did was to elevate Chris Chamberlin to the Associate Dean position. And I don't think there's too many people walking around with 3 Dean titles and I don't want to be greedy.
TCP: They built you this office in 3C [in the dorms]. How was that move?
DB: The move was to save money in 30 Cooper: they are condensing six floors to four. So we were selected to come over here. Financial Aid is being put in with Admissions, which most schools do. So that's going to free up some floors. So they asked us – Career Services, Athletics – to come over here in the dorms to have one office. They're going next door with the residential offices, and they put me over here in 3C. But originally [former] Dean Lemiesz selected this place for me, she selected this spot. This move was taking place before she left. Now we have to figure out the office space, figure out how public it's going to be, how private it's going to be, so students will have access and [so that] it's not geographically ugly over at 30 Cooper Square. We're going to be amongst the students.
I was originally in the Foundation Building. When they renovated in '72 I went to the Engineering Building. From the engineering I went to the Hewitt Building for about 20 years. From the Hewitt Building I went to 30 Cooper Square. So this is the 5th place we've been to.
TCP: What is next for the future of Cooper?
DB: It's going to be a transition that has never be experience before at Cooper Union. I am extremely optimistic in the school's ability and the student's ability to improve the product, to raise the interest, and also to keep the level of intensity, creativity, and excellence that we always have. I think that we want to encourage the excellence of the students and continue to maintain the integrity of the institution.
I think I'm known for saving money and raising money. That's one of my major functions. Also we raise awareness and raise integrity of the things we get associated with. With the changes that are going to affect incoming students, it's incumbent for us to maintain that integrity. I just found out we are the Number One rated school for Regional Colleges (North) in US News. That's definitely because of my new promotion!
Photos by Jenna Lee (ME'15)