By Brandon Quinere (CE'19)
The Pioneer had the chance to sit down and talk with newly-elected Student Trustee Julian Mayfield (Art '18) about his role and how students can become more politically involved at Cooper.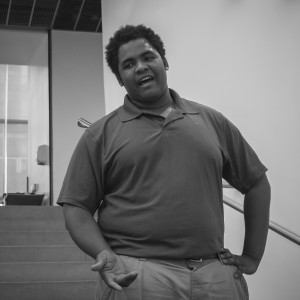 Julian Mayfield (Art '18) was elected Student Trustee in May, 2016. He serves on the Free Education Commitee of the Board. Photo by Yifei Simon Shao (ME '19).
What are your feelings about being elected as our new Student Trustee? 
Julian Mayfield: There's a lot of work that needs to be done and I feel pressured towards fulfilling my duties in a way that satisfies how I interpret the ethics behind this institution per the Consent Decree. There's also expectations from people who encouraged me to run for the position, though their expectations are definitely not tempering any of my decision-making. But I definitely feel a desire to get to it and do the best that I can here.
[Editor's note: The Consent Decree is an agreement worked out by New York's Attorney General and signed by both the Board of Trustees and the Committee to Save Cooper Union (the litigators in the lawsuit over previous years). The Consent Decree outlines specific measures that the Board must enforce in order "to return Cooper Union to a sustainable, full-tuition scholarship model."]
Are you excited to get started?
I really wanted to fully grasp the scope of my responsibilities to the beneficiaries of the Cooper community before I jumped in. Luckily, I had a small period of time where I basically got to shadow the Student Trustees at the time (Jessica Marshall (EE '17) and Monica Abdallah (ChE '17)) and observe their participation at the meetings. It was encouraging to be reminded that I too have the ability to be as active and forthright with my opinion. There's a gap in expertise that I want to bridge immediately and it's not something I'm going to learn overnight, but I definitely will do the best I can and really try to protect things in this institution that might be overlooked.
Did you feel a shift in going from a student vying for Trustee as to now, acting as one?
Not necessarily. In my relationship with students, I don't think me acting as a Trustee is something a lot of students think about. With teachers and the other Trustees, there really isn't too much of a shift either. The shift was in myself and discovering a greater appreciation for impartiality in my decision-making, as well as a need to avoid the politics of it all. There are politics, but that's beside the point when it comes to something as big as keeping this whole situation afloat.
Now that you have been elected, have any students reached out to you in your new role? 
Yes, and I highly encourage more too! It hasn't necessarily been people whom I've never talked to stopping me in the hallway, but people who I have previous rapport with have definitely felt comfortable coming in and trying to stay within the information flow. And I appreciate it, it's important that we don't feel alienated from the Board and can continue to stay informed.
For the new school year, what issues do you anticipate will be discussed between you and the Board?
Well I'm on the Free Education Committee and there's definitely a lot more work being done there. With that comes a lot more contention and tougher decisions that will need to be made. If you've read the quarterly Board report that was released in June, you'll know that there's a lot that goes from declaring a commitment to actually perfecting these decisions and agreements. That's definitely going to be a prime focus as soon as we get all of the methodologies set and our strategies finalized.
This is your introduction to a lot of the freshmen unfamiliar with you or your role. To those new students, how would you describe what you can do for them? 
It's hard to really put that into words because the Trustee position isn't necessarily something that can have immediate or direct impact into student lives. A lot of it is management of other people who are going to be committing actions. What I can do is talk to the new students if they need to stay informed and be made aware of resources that can help them become more politically involved in the institution. It's the most we really can do at this point; to make sure that when things change, they aren't changing in a way that will negatively impact the institution. And if it does turn towards that direction, then I have no interest in being part of decisions that will destroy the quality of current or future students' experiences here.
Do you have any advice for students both new and old who want to become more involved in Cooper affairs?
It can be anything from getting involved in Student Council or forming an affinity group and just speaking out. E-mail campaigns, making posters, talking to your professors about these issues. They have a lot of opinions and have watched this cycle for a lot longer than us and will keep seeing it after we're gone. They can offer a lot of real insight and have been some of the people who have kept me the most informed about political changes in this institution. Ultimately, make sure that every one of your friends are informed of events. Do whatever needs to be done so that you don't go down without a fight. ◊